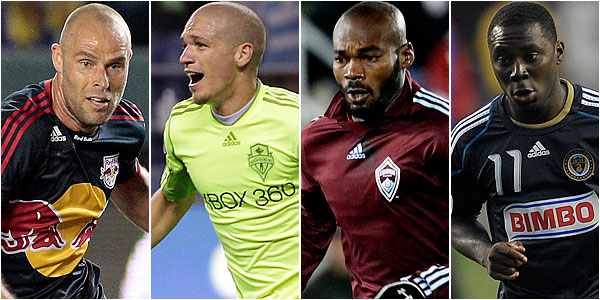 Some of the players to watch in this year's playoffs (from left to right): New York's Joel Lindpere, Seattle's Osvaldo Alonso, Colorado's Omar Cummings and Philadelphia's Freddy Adu. (AP file photos)
With the conference semifinal round of the MLS Cup Playoffs starting tonight in Utah, I thought today would be a good day to offer some analysis of the four matchups. So here goes. I'll get to the Union last, if only to make sure that you actually read the whole thing.
The schedule of game times and TV information is here.
Western Conference
W1. Los Angeles Galaxy vs. WC4. New York Red Bulls
Key matchup: New York goalkeeper Frank Rost vs. Los Angeles forward Chad Barrett
In the last few years, New York's biggest weakness hasn't been a lack of attacking firepower. It hasn't even been gaffe-prone center back Tim Ream. It's been in goal. That's why the Red Bulls brought in Rost, a 38-year-old German, midway through the season.
But he hasn't been all that great. It says something that the number of games in which Rost has allowed no goals is the same as the number of games in which he has given up two or more. There have been five in each column, out of a total of eleven games played for New York.
Barrett's game isn't as pretty as that of Landon Donovan, or even Robbie Keane. But for as much as he has been criticized by fans across MLS (especially in Toronto), he also scored in three of the Galaxy's last five regular-season games. If he's on form against the Red Bulls, New York will be in big trouble.
Player to watch: New York midfielder Joel Lindpere
The spotlight in this series will be on both teams' big stars, in particular Thierry Henry and David Beckham, and there's good reason for that. Lindpere won't mind, though, if no one pays attention to him. He has been the Red Bulls' heart and soul for the last two years, constantly pushing his higher-paid teammates to work as hard as he does.
One can only wonder how good New York would be if they actually listened.
Prediction: A 1-1 draw at Red Bull Arena and a 1-0 Galaxy win at the Home Depot Center. Los Angeles advances 2-1 on aggregate. Make it 16 seasons and counting without an MLS Cup for New York.

W2. Seattle Sounders vs. W3. Real Salt Lake
Key matchup: Seattle forward Fredy Montero vs. Real Salt Lake defender Nat Borchers
You can probably count on one hand the number of forwards in MLS who are better than Montero, and you can probably count on the other hand the number of defenders in MLS who are better than Borchers.
Montero has been on quite a hot streak of late, with six goals and four assists in the Sounders' last eight games. The only game since the start of July in which Montero did not start was the Union's visit to Seattle, and it's not a coincidence that the Sounders lost that game 2-0.
Borchers is a major reason why RSL only allowed 36 goals all season, tied with the Union for the second-lowest total in MLS. Even more impressively, he only committed 14 fouls in 2,547 minutes played across 30 games this season. No other defender in the league with more than 2,500 minutes played this year committed that few fouls.
Player to watch: Seattle midfielder Osvaldo Alonso
One of the league's best holding midfielders, Alonso is a legitimate candidate for this year's MLS MVP award. He doesn't have gaudy statistics, in part because his biggest moments came in the U.S. Open Cup and CONCACAF Champions League.
Alonso is a tremendous player, though. He does all of Seattle's dirty work in midfield, so that guys like Montero and Mauro Rosales can be in the spotlight.
Prediction: A 2-1 win for Real Salt Lake at Rio Tinto Stadium, and a 2-1 win for the Sounders at CenturyLink Field. Seattle takes the series with a goal in overtime, to the delight of what will be the largest crowd for any game in this year's playoffs.

Eastern Conference
E1. Sporting Kansas City vs. WC2. Colorado Rapids
Key matchup: Sporting Kansas City's Graham Zusi vs. Colorado's Jeff Larentowicz
It tells you something about how Rapids coach Gary Smith wants his team to play that Larentowicz, a Chestnut Hill Academy alumnus, is Colorado's most creative midfielder. On any other team - including the U.S. national team - he's a holding midfielder.
Larentowicz's role in this series became even bigger when the Rapids announced Friday that midfieler Jamie Smith tore an ACL in Colorado's 1-0 wild card-round win over Columbus. That is a huge boost for Kansas City, but it won't make the Rapids any more inclined to open up their offense.
Zusi's task will be to get past Larentowicz, and supply service to Kansas City's three-forward front line. If he can do that, the East's best team will host the conference final. If Larentowicz is able to shut Zusi down, the Rapids will pull off the upset.
Player to watch: Colorado forward Omar Cummings
The Jamaican forward is one of MLS' fastest players and deadliest finishers. If Cummings gets out in the open field on a counter-attack, he's almost impossible to stop. Everybody in the league knows it, but actually being able to do something to contain him is a different matter.
Prediction: A 1-0 Colorado win at Dick's Sporting Goods Park and a 1-1 draw at Livestrong Sporting Park. The Rapids advance 2-1 on aggregate. Of the four series, this is the pick I'm least confident in.

E2. Houston Dynamo vs. E3. Philadelphia Union
Key matchup: Houston's Brad Davis vs. Philadelphia's Sheanon Williams
There are very few players in MLS with left feet as talented and creative as the one Brad Davis possesses. Davis has pace, vision, and the ability to hit pinpoint crosses from almost anywhere. He started all 34 of Houston's games this year, registering four goals and a league-high 16 assists. For all of those reasons, I voted for Davis as MLS' MVP this season.
It is a subject of some conversation on the national soccer scene that Davis has yet to be even called into a training camp by new U.S. national team coach Jurgen Klinsmann. If ever there was a time for Davis to make a statement about his potential, it's right now.
Williams does very well when he gets forward on the right wing, but against Davis he's going to have to stay back more often. It's worth noting that Davis did not register any goals or assists in Houston's two games against Philadelphia this year. Let's see if Williams can keep Davis quiet this time around.
Player to watch: Philadelphia midfielder Freddy Adu
Yes, really. Here's why. The Union have to score multiple goals in the first leg. Not should, or might, or can. They have to. Anything less will give Houston momentum going south for the second leg of the series. That will put real pressure on the Union's offense, especially Sébastien Le Toux.
But if the Dynamo focus too much on containing Le Toux, I would not be surprised if Adu steps up. He's had enough time in Philadelphia now to be at the pace required in MLS, and he has a track record of playing big in big games.
In my feature story about the ties between the Union and Adu's 2004 D.C. United squad, I wrote at the very end about how the Union have "spent the last few months making sure its instruments are in tune." When I think about that analogy, I think about Adu more than anyone else. Now the time has come for him to show what he's really got.
Prediction: A 2-1 Philadelphia win at PPL Park, and a 1-1 draw at Robertson Stadium. Philadelphia advances 3-2 on aggregate, but it won't be easy. Buckle your seatbelts for what could be a pretty wild ride through the playoffs.