30 Days of WrestleMania: Looking back at WrestleMania VI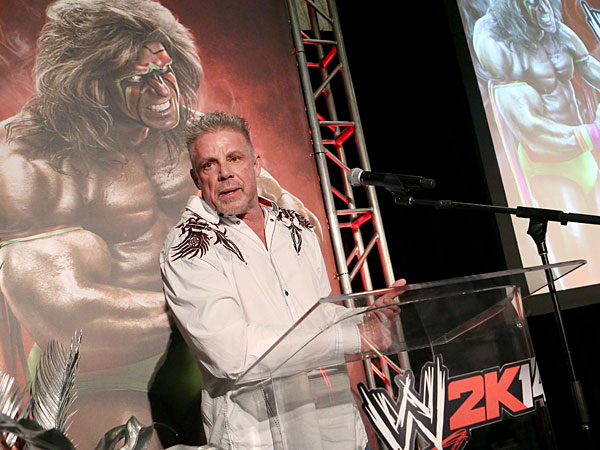 Because of the WWE Network, fans can now watch every single WrestleMania from start to finish.
30 Days of WrestleMania: Looking back at WrestleMania VI

Because of the WWE Network, fans can now watch every single WrestleMania from start to finish.

So, for 30 days leading up to WrestleMania XXX, we will take an extensive look back at each event from the very first, to the most recent.
Here's the WrestleManias we've covered so far:
WM I
|
WM II
|
WM III
|
WM IV
|
WM V
|

WrestleMania VI
Date: April 1, 1990
Venue: SkyDome (now Rogers Center), Toronto, Ontario, Canada
Attendance: 67,678
Match Results:
Rick "The Model" Martel def. Koko B. Ware
World Tag Team Championship – Demolition (Ax & Smash) def. Colossal Connection (Andre the Giant & Haku) w/Bobby "The Brain" Heenan
Earthquake w/Jimmy Hart def. Hercules
Brutus "The Barber" Beefcake def. Mr. Perfect w/The Genius
"Rowdy" Roddy Piper vs. Bad News Brown went to a no contest
The Hart Foundation (Bret Hart & Jim "The Anvil" Neidhart) def. The Bolsheviks (Nikolai Volkoff & Boris Zhukov)
The Barbarian w/Bobby "The Brain" Heenan def. Tito Santana
Dusty Rhodes & Sapphire w/Elizabeth def. Randy "Macho King" Savage & Queen Sherri
The Orient Express (Sato & Tanaka) w/Mr. Fuji def. The Rockers by count-out
Hacksaw Jim Duggan def. Dino Bravo w/Earthquake & Jimmy Hart
Million Dollar Championship – "Million Dollar Man" Ted DiBiase w/Virgil def. Jake "The Snake" Roberts by count-out
Big Boss Man def. Akeem w/Slick
"Ravishing" Rick Rude w/Bobby "The Brain" Heenan def. Jimmy "Superfly" Snuka
Title vs. Title – Ultimate Warrior def. Hulk Hogan to retain Intercontinental Championship & win WWE Championship
Observations:
- This was the first WrestleMania to take place outside of the United States. The event has taken place outside of the United States only one other time, which was in Toronto again in 2002.
- Because this WrestleMania took place in a stadium, we saw the return of the ring carts, which drove the wrestlers to the ring for their matches. I never understood the point of them. It's not like the wrestlers are incapable of walking long distances. Plus, the main event didn't even use them. I guess WWE saw them as an unnecessary expense moving forward because they haven't been used for a WrestleMania since.
- The Hogan-Warrior match wasn't a technical masterpiece, but like Hogan-Andre, it served its purpose. It put more than 67,000 butts in the seats and told a story that had a lot of drama attached to it. This was the first time two fan favorites went at it in the main event, which split the crowd, but still added to the drama.
- It was kind of startling to see the kind of shape Andre the Giant was in during the tag team title match. Andre the Giant's body had been breaking down for years to that point, but it was very noticeable at WrestleMania VI. WWE never showed him getting into the ring and he never officially got into the match. His partner Haku did all of the work. He did manage to land some offense from the ring apron, but Haku carried the load for his team in the ring. Andre the Giant was more active after the match when he had finally had enough of Bobby Heenan, but even that wasn't a whole lot. This turned out to be Andre's final official WrestleMania match.
- In a stunt that would never fly today and to be quite honest, I don't how it got on television back then, Roddy Piper painted himself half black for his match against Bad News Brown. Piper doing so was reminiscent of minstrel show, which would have caused quite the uproar in today's society. Although that wasn't his intent, people would have still saw it that way, especially since was going up against a black man. The funny part is that Piper couldn't get the paint off after the match and was forced to fly all the way home to Portland, Ore. looking like that. According to Piper, there was clear solution that was supposed to help get the paint off, but Andre the Giant poured it all out and replaced it with water. Unbeknownst to Piper, he tried using the water thinking it was the solution, which caused his skin to bleed.
- For the first time, WWE had announced where the next WrestleMania would take place. It ran multiple promos throughout the show announcing that WrestleMania VII would take place in the Los Angeles Memorial Coliseum in Los Angeles. WWE was hoping to sell more than 100,000 tickets to the event. This of course did not happen as the event was moved to the Los Angeles Sports Arena due to security concerns.
- Hulk Hogan and Ultimate Warrior cut two loud, boisterous and ridiculous promos before their match, which was par for the course in 1990. Most wrestling promos consisted of a lot of yelling, screaming and grunts and these two were the best at it. As cheesy as it looks now, it worked back then and sold more than 67,000 tickets.
- The complete opposite of Hogan and Warrior was Jake Roberts, who quietly told fans exactly what he was going to do in the ring. He was such a stark contrast to the maddening promos most wrestlers were cutting during this time period. Roberts was articulate and thoughtful, which made his promos, which helped set him apart from everyone else. He was ahead of his time in that respect.
- Roberts cut his great promo before his match against Ted DiBiase and the match itself was very, very good, in my opinion. However, one thing stood out to me, and that was the fans in Toronto doing the wave. If this happened today, it would be seen as the fans getting bored and merely entertaining themselves. But in 1990, WWE thought it was the greatest thing and showed it going around multiple times.
- This was Dusty Rhodes' WrestleMania debut and he was all decked out in those horrible polka dots. Horrible polka dots aside, he was apart of history during this event as he teamed with Sweet Sapphire to go against Randy Savage and Queen Sherri in what was built as the first-ever mixed tag match in the WWE.
- Rhythm and Blues (Honky Tonk Man & Greg "The Hammer" Valentine) performed a song during the show and were driven to the ring in a pink Cadillac. The interesting thing was that the driver of the car was none other than Diamond Dallas Page. Page's next WrestleMania appearance was in the SkyDome again in 2002. By the way, Valentine looked very uncomfortable working that singing gimmick with Honky Tonk Man. He may have actually loved it, but it sure didn't look like it.
- Jim Duggan was a big babyface in the United States partially because he always carried the American flag with him to the ring. Despite being in Canada, he still carried the flag to the ring with him on this night, which didn't go over so well with the Canadians in attendance.