Archive: September, 2013
Michael Klein, Philly.com
Royal Cracovia - a European bistro along White Horse Pike in Magnolia, N.J., that developer Stanislaw "Stosh" Stachowski built for a reported $3.5 million - will open later this month.
The first event, Oct. 24, will be a $50-a-ticket party benefiting Durand Academy & Community Services, which serves special-needs children and adults.
Royal Cracovia (510 White Horse Pike South, Magnolia, on the former site of Magnolia Diner) is due to open to the public the next day.
Michael Klein, Philly.com
Winberie's, on Valley Forge Road near Chesterbrook in Wayne, has a top-to-bottom redo at the hands of corporate master Select Restaurants Inc,
It's now Black Powder Tavern, making a nod to the building's history. Legend has it that Friedrich Von Steuben designated the tavern as a secret black powder munitions stash for Continental army couriers during the winter of 1777-78.
Menu covers small plates, soups, salads, pastas, burgers, sandwiches, large plates and dessert; a few sample dishes include Cheesy Devils on Horseback (dates stuffed with gorgonzola and wrapped in applewood smoked bacon); pastrami-smoked salmon Reuben; Victory Beer-battered fish and chips; and Cajun mac and cheese.
Michael Klein, Philly.com
A little froyo after that South Philly cheesesteak?
The Ninth Street storefront next to Geno's Steaks that was O Sandwiches and most recently a branch of hot-doggery Underdogs is now a Zoey's Yogurt Bar (1205 S. Ninth St., 267-928-4501).
Owner Tom Clatterbuck told me that he had planned to close over the weekend by 11 p.m. but that warm-weather crowds kept his staff on the scales till 3 a.m.
Michael Klein, Philly.com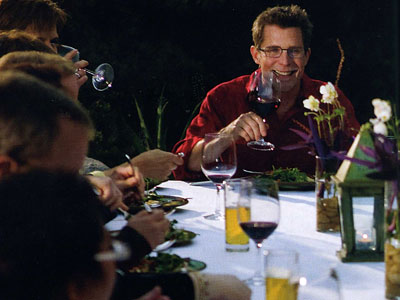 The Daily Pennsylvanian reports that Rick Bayless, the Chicago-based Mexican chef and cookbook author, will open a cafe in late winter at Penn's ARCH building at 36th Street and Locust Walk, now under renovations.
Though the article did not identify the new restaurant, it's lilkely Tortas Frontera, one of Bayless' casual brands; there's a new location at O'Hare Airport in Chicago. He also owns Frontera Grill and Topolobampo.
"Philadelphia has really come on to the scene as one of the great restaurant cities," Bayless was quoted. He mentioned that he has been exploring the idea of working at college campuses because the college years are "formative."
Michael Klein, Philly.com
Angela Vendetti cites slow business and poor prospects for growth for her decision to close the Brewerytown location of her Mugshots coffeehouse.
Although that stretch of West Girard now is showing signs of life - witness the recent openings of Rybrew and Shifty's Taco - Vendetti said, "That isn't enough. It's just not working."
Mugshots got help at the outset from a $50,000 Restore Retail Incentive grant, which helped with equipment and constuction at 2831 W. Girard Ave. Vendetti said that location had "three years of breaking even."
Michael Klein, Philly.com
Two restaurant weeks are closing out: Tonight (Friday, Sept. 27) is the finale of Center City District Restaurant Week, where $35 buys you a three-course dinner. Sunday, Sept. 29 is the wrap of Main Line Restaurant Week.
Sunday happens to be National Coffee Day, and the freebies and deals are astounding. (See here.)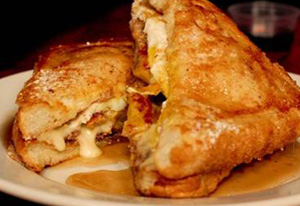 Weekend brunch starts Sunday at Lucky's Last Chance in Manayunk, which has been racking up awards this year (first place at Burger Brawl for their PB & Bacon Burger, and a silver medal at the Hot Diggity/South Street Headhouse District's Dog Days of Summer Hot Dog Cook-off). Star item is the breakfast burger, which brings you French Toast-style Texas Toast wrapping up a cheeseburger, a fried egg, and country sausage. Sort of a Monte Cristo on steroids. (Photo at right by Marcos Espinoza.) Also drool-worthy: the porkroll express dog, which is a hot dog made of pork roll, wrapped in cheese and topped with an over-easy egg; and the pumpkin pancakes, which are aided and abetted by the addition of Southern Tier Pumking to the batter.
Michael Klein, Philly.com
Father-daughter duo Bernard and Chloe Grigri are hammering out The Good King Tavern at 614 S. Seventh St., the former Chick's Social at Seventh and Kater.
They hope to open by the end of October.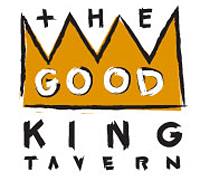 Chloe Grigri has been in and out of the restaurant biz. Her father, whose career is in retail, is pursuing his dream.
Michael Klein, Philly.com
Lorenzo & Sons, the South Street pizza destination that bounced back last spring from a major fire, is poised to get a deal to bake and sell pizzas at the Wells Fargo Center.
Though Lorenzo's Giuseppe Pulizzi and reps of the arena had nothing to say, my insiders suggest that an announcement will be made soon, and that the Wells Fargo pies will be the same 28-inchers that yield freakishly enormous slices. It will be interesting to watch the in-seat dribbling during Sixers games.
I have not heard a timetable for the debut.