Archive: September, 2012
Center City carb fans have their date and time now:
Tuesday, Oct. 2 Wednesday, Oct. 3 at 7 a.m. <move-up
Federal Donuts, the South Philly coffee, donuts-and-fried-chicken shop that's gotten national attention, will open at 1632 Sansom St.
Michael Klein
Free beer!
Schuylkill County's Yuengling will award a bottle of beer to all persons 21 or over at one of 250 participating bars at 6:30 p.m. Friday, Sept. 28.
Brewery owner Dick Yuengling will lead a toast from the South Philly Chickie's & Pete's (15th and Packer), and the festivities will be shown live on Comcast SportsNet - because beer is a sport.
Michael Klein
Curious about the top sellers of wine and spirits in Philadelphia?
According to data provided by the Liquor Control Board, its top customer is the Del Frisco's steakhouse at 15th and Chestnut Streets. It bought more than $879,000 in hooch from the state system; at markups of two to three times, it's safe to say that the restaurant generated at least $1.7 million from those sales alone.
Important note: These numbers do not reflect sales of beer and malt beverages.
Michael Klein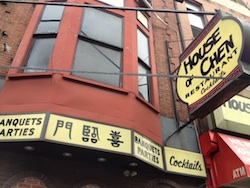 Yakitori Boy is getting competition in the karaoke space in Chinatown.
The former House of Chen (932 Race St.) is being reconfigured as a still-unnamed Cantonese restaurant on the ground floor with two floors of karaoke above: six private rooms on the second floor and two larger rooms on the third.
The crew from Banana Leaf on Arch Street is behind it.
Michael Klein
Two transplanted Michiganders - having sold their restaurant in Myrtle Beach, S.C. - heard that "Philly is the hottest food area in the Northeast," says Gregg Methot.
He and partner Dawn Hone have taken over the Santa Fe Burrito Company at 212 S. 11th St. and are creating the optimistically named Famous Detroit Coney Company. They say they're about 80 days out - but then they have never dealt with Philly's byzantine Health and L&I Departments.
Menu, built around the signature Detroit Coney Island hot dog, sounds like fast-food heaven (and thank goodness they're a block from Jefferson's ER):
Michael Klein
Two completely different vibes are at work at the two dining options at the Hotel Monaco, due to open Oct. 4 at the corner of Fifth and Chestnut Streets, in the former Lafayette Building.
The Red Owl Tavern - with its wide-open, industrial look (pulleys, white steel girders, reclaimed barn siding) - will serve locally sourced American fare and cocktails. There will be a to-go counter (called "on the fly") for lunch with sandwiches and salads, and desserts in the evening. Not counting the cafe at the Bourse, it's the first restaurant along Independence Mall in modern times - outdoor seating is in the works. Many seats look out into the mall - particularly those on a mezzanine.
There's a chef's table in the basement next to the building's original vault. Average check: breakfast around $12, lunch $19 and dinner $47. Cocktails for both Red Owl and Stratus in the $8-14 range. At opening, it will serve breakfast and dinner. Lunch starts the week of Oct. 15, with weekend brunch to follow shortly thereafter. Dinner menu is here.
Michael Klein
If at first you don't succeed on Top Chef, just appear on Life After Top Chef.
The Bravo spinoff - premiering at 10 p.m. Oct. 3 - will follow four chef'testants in their post-reality lives: Richard Blais, Fabio Viviani, Spike Mendelsohn, and Somerton's Jennifer Carroll.
During her two appearances on Top Chef, Carroll was chef at 10 Arts, in the employ of chef Eric Ripert. (She had worked for Ripert at his New York landmark Le Bernardin.) Almost exactly one year ago, Carroll resigned from 10 Arts at the Ritz-Carlton, saying she wanted to open her own restaurant in her hometown.
Michael Klein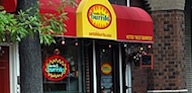 Santa Fe Burrito Co.'s location across the way from Thomas Jefferson University Hospital - at 212 S. 11th St. - has shut down after more than a decade.
The Wynnewood location remains.
Company owner Jordan Arnold owns the bricks on 11th Street, and I'm awaiting a return call to see what's next.