Archive: August, 2010
Michael Klein, Philly.com
In certain circles, you can elicit a chuckle by mentioning "943" and "Sticks & Stones."
The two restaurants -- 943 is an Argentinean-Italian BYOB at 943 S. Ninth St. and Sticks & Stones is a bar-restaurant at 1909 E. Passyunk Ave. -- have been in development for two years.
But based on earnest chats with the owners, their completions are in sight.
Michael Klein, Philly.com

With the Flyers' season on the way, Comcast SportsNet has made a couple changes.
It's brought up Lisa Hillary, who covered the Washington Capitals for three seasons for SportsNet in the D.C. area, to be the network's Flyers beat reporter.
This has led to the promotion of Flyers reporter John Boruk, who becomes a full-time anchor and reporter.
Michael Klein, Philly.com

Chicago to Philly to Chicago to Philly.
Such is the recent career path of Lauren Cohn, who on Sept. 7 will start as a reporter/fill-in anchor on Fox29's 5, 6, and 10 p.m. newscasts.
Cohn, a native New Yorker who worked early on in Cleveland, started at the ABC station in Chicago in 1993 before moving on to the city's Fox station. In 2004, she joined NBC10 in Philadelphia, doing weekend anchoring, fill-in at MSNBC, and the WB17 news. In 2007, it was back to the Fox station in Chicago.
Michael Klein, Philly.com
Susanna Foo has opened a stand in the Lancaster County Farmer's Market in Wayne, selling dumplings and such Wednesdays, Fridays, and Saturdays.

Shundeez, the Perisian BYOB in the old Roller's restaurant space at the upper end of Chestnut Hill, has closed after five years. Owner Maurice Lavasani blames the economy but says he will return to selling to-go at the Chestnut Hill Farmer's Market about Oct. 1.

Chip Roman, chef/owner of Blackfish in Conshohocken, just wrapped two weeks of work in the kitchen at the French Laundry in Yountville, Calif., as a learning experience. He also is scheduled to put in time at Le Bernardin in the next few months to study under Eric Ripert. Roman also has an Oct. 18 date at the James Beard House; here's the menu.
Michael Klein, Philly.com
Marcie Turney and Valerie Safran, whose business and personal world is bounded by the 100 block of South 13th Street, at 5 p.m. Wednesday (Sept. 1) will open Barbuzzo. (It's at 110 S. 13th, smack next door to Zavino and the couple's flower shop Verde, and is their first restaurant with a bar and liquor license.)
The Mediterranean-farmhouse theme is designed to complement their other two restaurants, Lolita (Mexican, two doors up the street) and Bindi (Indian, across the street). For chef Turney, it marks a return to the region she covered during previous stops at Audrey Claire and Valanni.
Turney is doing her own smoking and pickling and her menu is full of rustic treats such as "pig popcorn" (house-smoked pork rinds), boquerones, marrow bones, pizzas, the Valencian noodle-fish dish called fideuà, and pastas. Dishes are $18 and under. It'll be open for dinner only from the start; lunch and brunch will be tacked on.
Michael Klein, Philly.com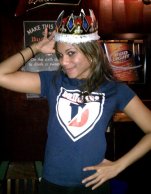 All hail Penn grad student Lisel Parillon, who Friday night finished a triple crown of taco-eating.
On Aug. 20, she ate 33 tacos in 12.5 minutes at Drinker's West.
Three days later, she completed the challenge at Drinker's Pub in 13 minutes.
Michael Klein, Philly.com
We're headed into the homestretch of the baseball season.
Combine that with the extra-inning games of late, and Phillies fans have been subjected to more than their share of repetitive commercials from a certain office-supply house (which will remain nameless because, well, why give it any publicity?).
Time for an Philly Insider poll.
Poll: Worst Phillies commercial?

(958 votes)
Michael Klein, Philly.com

Siobhan Allgood, the Rockledge native who appeared on Season 7 of Fox's Hell's Kitchen, just landed the exec chef's job at West Side Gravy, Alex Capasso's new comfort-fooder in Collingswood.
The ahi tuna sandwich from the TV show -- aka "Tuna from Hell" -- is on the menu, which reflects her modifications.