Archive: July, 2013
Michael Klein, Philly.com
The fourth season of Food Network's The Great Food Truck Race - in which teams of restaurant rookies drive around the country for the chance to win a truck of their own - will feature three guys from Northeast Philly, a first for the Tyler Florence-hosted series. Premiere will be 9 p.m. Sunday, Aug. 18.
Of course, Philly's Finest Sambonis' signature item had to be the Philly cheesesteak. "That was laid out for us," said Joe Toner, whose partners on the road were childhood buddies Erik Thompson and Chris Turchi, all of whom attended Archbishop Ryan. (They'll be on ABC's Good Morning America on Thursday, Aug. 15.)
"You think we were going to make foie gras sandwiches?"
Michael Klein, Philly.com
"LIVE's Truckin' Amazing Cook-Off," a feature on the morning show Live with Kelly and Michael, has narrowed its field to two finalists.
Mustache Mobile - the food truck run by Mike Hauke of the Atlantic City sandwich shop Tony Boloney's - is up against What the FORK from Scranton.
Hauke's signature is the cheesesteak olé - which tucks 10-spice sirloin steak, fried onions, Jack cheese and homemade buttermilk-chipotle ranch on a roll - while the Scranton truck makes (yawn) pulled-pork tacos.
Michael Klein, Philly.com
Comes a time in a fine-dining-oriented restaurateur's career when he realizes that while white-tablecloth BYOB elegance might be lovely in a dry town, it's the more wallet-friendly concepts that tend to generate income.
After making a go of it in downtown Collingswood with Blackbird Dining Establishment and the less-expensive West Side Gravy, chef Alex Capasso went the burger route by converting the duopoly into Benny's Burger Joint, a sit-downer that opened this week in the former Woolworth's store at 712 Haddon Ave. It's named after his 9-year-old son. (Capasso said he was still negotiating for a new, liquor-licensed location for Blackbird in Center City.)
The renovation, which took less than a month, preserved the space's bones. Instead of framed prints, though, the walls are festooned with 1980s-theme, cartoon-style murals by Suzanne Rende - all the better to go with the retro video games scattered throughout the place.
Michael Klein, Philly.com
Victory Brewing Co. is making another move in Chester County.
You might say that business is mushrooming.
It is planning a brewpub in Kennett Square, and will occupy all 8,234 square feet of the bottom floor of a four-story, luxury apartment complex called Magnolia Place. The developer, Kennett Realty, is owned and operated by the Pia Group, which also own Kaolin Mushroom Farms Inc. and South Mill Mushroom Sales.
Michael Klein, Philly.com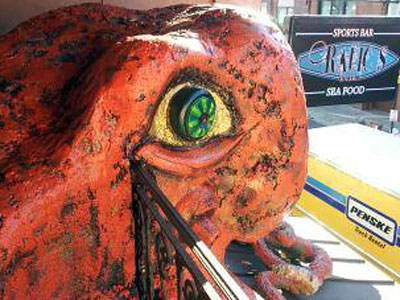 David Ralic, who opened Ralic's on South at 119 South St. last December, says he's trimming hours as he plots a retooling of the seafood-centric bar.
Come fall, there will be a small renovation, a new menu and a new name.
For now, it's open from 4 to 10 p.m. weekdays, noon to 10 p.m. weekends.
Michael Klein, Philly.com
Penn grad David Fine is creating what he believes is Philadelphia's only food truck serving bagels.
Schmear It - a nod to the Yiddishism for spread - is due to roll out in mid-August; its locations will include Love Park and Drexel U. The bagel menu will push Fine on the road early for breakfast service, seguing into lunch.
The concept is like "Cold Stone Creamery for bagels," Fine told me. He starts with bagels from South Street Philly Bagels in Queen Village and offers build-your-own sandwiches based on a spread such as cream cheese, peanut butter, a vegan tofu and nut spread, tuna salad, or egg salad. Customers add ingredients to yield a custom sandwich, such as low-fat cream cheese, mango, and Sriracha or peanut butter, Nutella, and bananas. He'll serve La Colombe coffee.
Michael Klein, Philly.com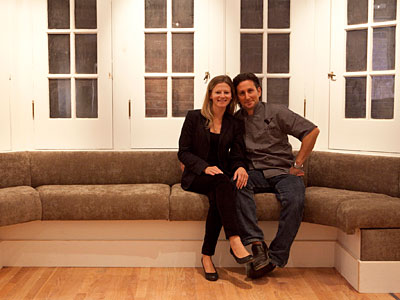 Here's something different for the Poconos - the land of heart-shaped bathtubs:
Vegan cooking.
Skytop Lodge in Skytop, Pa., is running a health-and-wellness series in September and October. As part of it, guests can order vegan dishes created by Rich Landau of Center City's Vedge.
Michael Klein, Philly.com
A start-up microbrewery will begin construction soon in Cherry Hill Business Park, in what was the first home of Flying Fish Brewing Co. before its move to larger digs in Somerdale.
Co-owner Jamie Queli, an institutional banker by day and homebrewer by night, calls it Forgotten Boardwalk Brewing. "We hope to be offbeat," she said, adding that the tasting room would have a 19th-century vibe with old-fashioned funhouse-style games. As for beers, "we'll do flavor profiles that are not out there."
She and her silent partner will aim for 5,000 barrels in the first year.