Archive: July, 2012
Michael Klein, Philly.com
Since Susanna Foo went the way of a Chipotle, Rittenhouse has lacked a high-style, business/date-appropriate Asian option.
Enter the polished Jane G's, which opened this week at 1930 Chestnut St. (215-563-8800), the corner of 20th Street. (This baby has been in the works since September 2010.)
Jane G is Jane Guo, who used to own Noodle Heaven on Broad Street. She has Noodle Panda restaurants in Pottstown and Reading.
Michael Klein, Philly.com
Four years after taking a sabbatical as he fought leukemia, sandwich guru John Bucci Jr. of John's Roast Pork is making his return to full-time work on Monday, Aug. 6.
"It's a beautiful thing," Bucci told me, referring to the love and support that he and his family - who worked the stand at Snyder Avenue and Weccacoe Street in South Philly - received during his bone-marrow transplant, his treatment, and recovery.
Michael Klein, Philly.com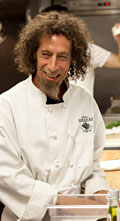 David Ansill has settled in nicely at Bar Ferdinand in Northern Liberties, five weeks after owner Owen Kamihira flew him back to his hometown to escape an uncomfortable professional situation in Jamaica.
The two go back to the olden days of Copabanana in the '80s. Ansill and Kamihira's brother Eben motorcycled through Spain together. Which helps, since Ansill is now doing Spanish. His resume includes his own Pif and Ansill Food + Wine, plus Ladder 15, Serrano, The Continental, Lucy's Hat Shop, and Judy's Cafe.
Ansill's own menu will debut in late September. But starting Aug. 2 and running every Thursday night, he'll do a $40 tasting menu. Thursday's features the tomato: a first course of Heirloom Tomato Gazpacho, crab; a second of Oil Poached Cherry Tomatoes, olive purée; followed by Spanish Tuna, tomato saffron conserva; local tomatoes, mint, olive oil; Pan Con Tomate, jamon serrano; Grilled Mackerel, tomato water, artichokes; Lamb, pine nuts, roasted tomato rioja; and an eighth course of dessert.
Michael Klein, Philly.com
David Katz has closed Meme, his American bistro at 22d and Spruce Streets, after nearly four years.
Part of the "whatwhat?" is the status of an Aug. 5 popup dinner by Matyson's Ben Puchowitz and Shawn Darragh to show off their Cheu Noodle Bar. Puchowitz says he's not sure if the location will hold, as he'd have to obtain insurance for one day. (Update: It's postponed.)
Here's a ringing three-bell endorsement by Craig LaBan from February.
Michael Klein, Philly.com
Twenty-nine years ago, Kevin and Janet Meeker opened Philadelphia Fish & Company at 207 Chestnut St., one of the city's better seafooders in its day. Three years ago, they switched the concept to barbecue, bringing in specialist Tom Stewart as a partner in Q BBQ.
And after Tuesday, July 31, the spot will go dark.
The Meekers did not renew the lease. "I never like closing a business, but this is not as bad as closing [Philadelphia] Fish," he told me. "It's just amazing and gratifying to see how far we have come in all these years. We are truly one of the great restaurant cities."
Michael Klein, Philly.com
Anthony Bourdain spent two nights out in Philly last week shooting his new show The Layover.
One was spent at Amis restaurant, in the company of chef Brad Spence. Bourdain then hung out with Paesano's owner Peter McAndrews and Han Dynasty's Han Chiang at their eateries.
We've seen this before.
Michael Klein, Philly.com
Eleven years in downtown West Chester. Rave reviews from every food publication.
And now it seems as if anyone holding a gift certificate to Gilmore's restaurant is out of luck.
The restaurant closed after dinner July 14.
Michael Klein, Philly.com
The Smoke Truck - featuring the BBQ prowess of Mississippian Mark A. Coates backed by Chris Martino - impressed the judges and was named victor of the Vendy Cup at the second annual Vendy Awards on Saturday at the lot at 39th and Market Streets.
People's Choice winner was Vernalicious - Verna Swerdlow and David Jurkofsky's comfort-fooder - and Best Dessert honors went to Lil' Pop Shop - Jeanne Chang and Vince Tseng's popsicle company
The Vendy Awards are an annual event organized by the Street Vendor Project at the Urban Justice Center, a membership-based organization of more than 1,300 vendors. The Vendys were a fundraiser for The Food Trust, a Philadelphia-based nonprofit organization that strives to make healthy food available to all.