Archive: July, 2009
Michael Klein, Philly.com
Chris Dhmitri is marking his first year as owner of Bliss (220 S. Broad St.) and his 50th anniversary in the restaurant business by knocking 50 percent off his bar menu for the month of August.
This will mean $6 martinis, glasses of wines for $4 to $7, and shrimp tempura for $7.50.
Among Dhmitri's restaurants were Kanpai at NewMarket (now a hole in the ground) and Chris' Jazz Café in Center City (which he later sold). Dhmitri plans to change Bliss' facade this fall.
View Larger Map
Michael Klein, Philly.com
During a break in filming the James L. Brooks comedy on Thursday (7/30), Owen Wilson got in some bike time, taking a spin on Market Street on the Drexel campus.
Helmet, Owen?
Michael Klein, Philly.com
In a bid to keep the peace at Citizens Bank Park, the Phillies wanted to cloak or replace the 16-by-16-foot Mets banner at the top of the set decoration at the Billy Joel/Elton John concerts tonight and Saturday.
Alas, they could not find anything suitable.
Joel will wear a Phillies jacket for at least part of the show and will make some sort of joking reference to the Mets and their 10-games-back status
Michael Klein, Philly.com
How about two respected chefs setting up in Manayunk?
Just met with Matt Levin and Joseph Scarpone, who each has a project underway on the upper end of Main Street. Both are partners with real estate developers Richard Rivera and Rob Nydick. Both are aiming at mid-fall.
Scarpone, who previously ran Sovalo, a polished, three-bell California-style bistro in Northern Liberties, is going into 4359 Main St. with a paninoteca/wine bar called agiato. It's formerly a store called Susan's New Attic. Think Le Pain Quotidien here: Setup will resemble a Tuscan cafe with a 10-seat community table and 20 other seats. Menu includes small plates, pressed sandwiches, salads, in-house-made mozzarella and breads, and a tight wine list of mainly Californians. It will be open from breakfast till late evening. Here's the menu.
Michael Klein, Philly.com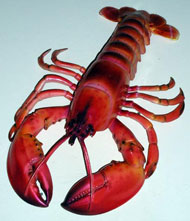 Actual message from Alison Barshak at Alison two in Fort Washington:
Lobsters Gone Wild and a Cry for Help
Thursday, July 30
We would like to take a moment to talk to you about something very serious. Packs of stray lobsters are trying to take over our kitchen. We have managed to keep them at bay and temporarily contain them. Please help us by adopting a FREE lobster Thursday, July 30th, and we will show our appreciation by preparing them with butter, lemon, and lots of love for all who come out to enjoy.

For reservations, call 215-591-0200.

Michael Klein, Philly.com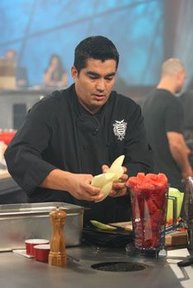 Philly chefs will be represented on the two major culinary reality series.
Aug. 19 will see the premiere of the sixth season of Bravo's Top Chef with Jennifer Carroll of 10 Arts and Jennifer Zavala of El Camino Real.
Oct. 4 will be the premiere of Food Network's The Next Iron Chef and I've learned that Jose Garces will be one of 10 contestants. In four years, Garces has built a mini-empire - Amada, Tinto, Distrito and Chifa in Philadelphia, Mercat a la Planxa in his native Chicago, and next month, Village Whiskey near Rittenhouse Square. His cookbook Latin Evolution came out last year and he's supposedly partnering with the state Liquor Control Board on a bistro/wine store at 1111-13 Locust St. in Washington Square West. (I hear that the LCB started construction on the wine store last week.)
Michael Klein, Philly.com
Beer aficionado Chris Fetfatzes and his girlfriend, marketing whiz Heather Annechiarico, are setting up shop in the former Bella Vista Beer Distributors location on the southwest corner of 11th and Fitzwater Streets. That slice of South Philly is known as Hawthorne.
Hence, the name Hawthornes.
Fetfatzes -- whose father owns the beer biz, now located at 11th and Catharine -- insists that Hawthornes won't be a restaurant. It'll be a "homey cafe-slash-gourmet deli-slash-brunch-spot-slash-bottle shop," with prepared food to go and a changing menu of food based on local, seasonal ingredients. Cheese plates, too.
View Larger Map
Michael Klein, Philly.com
Better start buying octopus futures.
Dmitri Chimes, whose Dmitri's at Third and Catharine and 23d and Pine are perched atop most best-of lists for down-home Greek dining, is plotting a third location.
He told me that next week, he will sign a lease at 944 N. Second St. in Northern Liberties, the corner spot at Second and Laurel that's been a couple of short-lived coffee bars, including Elixir Cafe.
View Larger Map