Archive: June, 2013
Michael Klein, Philly.com
Wednesday, July 3 will be last call at georges', the restaurant Georges Perrier opened 12 years ago in what is now the Eagle Shops on Lancaster Avenue in Wayne.
A source close to the restaurant said current management was reconfiguring it into a new concept.
The restaurant seemed to rebrand frequently, as it also was known as Le Mas Perrier and Le Mas.
Michael Klein, Philly.com
The two Chops steak houses - in Bala Cynwyd and at 700 Walnut St. - will shut down after business Saturday, June 29, said owner Alex Plotkin.
Plotkin - who opened at 401 City Ave. in fall 2002 and the Washington Square offshoot in spring 2010 - said he ceded the restaurants to his investors. The spaces likely would be converted into office space, he said..
The 401 City Ave. location is an office building (and a former Marabella's reataurant). The Washington Square location was a PSFS bank that had been converted into a restaurant for the short-lived Oceanaire chain.
Michael Klein, Philly.com
You're seeing less of Brad Spence these days, and the chef/partner at Amis in Washington Square West wants it that way.
Spence, 36, has shed 38 pounds through a combination of exercise (including jujitsu and boxing) and eating better. Cracking the 200-pound mark drew a "right on" on Twitter from mentor and partner Marc Vetri the other day.
You'd think that being a chef around food all day would be a challenge. "It might be tougher for you," he explained. "But I'm around good stuff - fresh vegetables, fresh meats."
Michael Klein, Philly.com
Le Viet, the high-style Vietnamese bar/restaurant on the edge of the Italian Market, has unloosed a line of finger foods, including sweet and tangy wings, summer rolls and the Le Viet Slider you see here.
It's a sandwich of grilled beef, pork, chicken or shrimp, served on a steamed bun with carrots, scallion, cucumber and hoisin sauce. And only $2 each.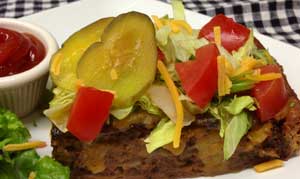 Cheeseburger pie? Everybody's doing cheeseburgers. Not too many people are making pies. But Holly Ricciardi has rolled out a cheeseburger pie at Magpie artisan pie boutique, 1622 South St. She combines seared ground sirloin and sharp Wisconsin cheddar, and tops it with iceberg lettuce, tomato and dill pickle slices for $9.50. And no, the photo does not do it justice.
Michael Klein, Philly.com
Mackenzie Hilton racked up a bunch of praise at Washington Square West's Mercato, including a win on the Food Network's Chopped, before she left for San Francisco.
A year and a half later, she's back in the neighborhood at The Tavern, the newly retailored subterranean space at 243 S. Camac St. (215-545-1102) below Tavern on Camac. It used to be Terra before owner Steve Carlino and director of operations Randal Mrazik got to work on it.
The Tavern is being focused on a late-night spot, given that it opens at 6 p.m. and keeps its kitchen open till 3 a.m. every night except Tuesday. Expect many industry people and entertainers in the seats.
Michael Klein, Philly.com
Earlier this month saw the opening of the Philly branch of 3rd Ward, the Brooklyn "makerspace" that allows everyday people to take classes in metalworking, woodworking, jewelry-making, textiles and the like.
The project has another Brooklyn connection. Josh Grinker and Tracy Young of Park Slope's Stone Park Cafe are on board to open a restaurant on the ground-floor of 3rd Ward's building, in a onetime church and later a box factory at 1227 N. Fourth St., just north of Girard.
Grinker tells me that they have no name, firm concept, or timeline - other than it will serve breakfast, lunch and dinner, and will have a liquor license.
Michael Klein, Philly.com
Brewerytown is getting a taco shop in early August.
Shifty's Taco is rising inside a storefront at 2730 W. Girard Ave.
The project was born last August. Jeb Woody, who owns the two Honey's Sit N Eat diners, was on vacation with his wife, Ellen Mogell, and friends Bob and Joanne Aretz.
Michael Klein, Philly.com
Bryan Sikora is back in business today (6/27), as he and his wife, Andrea, soft-open La Fia Bakery + Market + Bistro, at Fifth and Market Streets in downtown Wilmington, catercorner from World Cafe Live at the Queen (421 N. Market St., 302-543-5574).
Today is the launch of the market side of the corner property, which sells gourmet groceries and to-go breakfast and lunch sandwiches, salads and other prepared foods.
The bistro side is up for a July 9 debut, serving lunch and dinner Tuesday to Saturday (8 a.m. to 10 p.m. weekdays, 10 a.m. to 11 p.m. Saturdays).