Archive: June, 2012
Michael Klein
Moon Krapugthong of Manayunk's Chabaa Thai is looking at a July 20 opening of Yanako, her long-planned Japanese restaurant just down the street at 4255 Main St.
I'm told that the bi-level space will have an 18-foot sushi bar in an "atrium" and carry a sexy design by a team of Philadelphia University architecture grads.
Chef Haruo Ige, who's been "in residence" at Chabaa Thai, will be chef.
Michael Klein
La Petite Dauphine, an upscale-casual coffeehouse and BYOB cafe, opened this morning (6/29) in the high-ceilinged mid-19th-century brownstone at 2029 Walnut St. (267-324-5244), next to the new Vernick Food & Drink.
For the name, owner David Smith, a Francophile and former manager at Le Bec-Fin, plays on Marie Antoinette before she became queen of France.
At first, La Petite Dauphine offers pastries from Au Fournil and illy coffees (7 a.m. weekdays, 8 a.m. weekends), followed at 11 a.m. by a menu of cheeses and desserts. Yes, cart fans. Smith has carts for each.
Michael Klein
Next time someone sneers there's no menu ambition to be had in the suburbs, steer him to Lansdowne. (You can also put him on a Media-Elwyn train, for that matter.)
NoBL, a Mediterranean small-plate BYO from Stephen Wagner at the nearby Sycamore, opened Tuesday (6/26) in a long-ago hardware store at 24 N. Lansdowne Ave. It's a block off Baltimore Avenue - north, to be exact - which explains the NoBL name.
The early crowds tell good things about British-born Sam Jacobson's menu, particularly moussaka; mussels with garlic and chorizo broth; papparadelle with chicken livers; grilled octopus; grilled artichokes; and 10-inch grilled pizzas.
Michael Klein
Greek immigrant Andy Kamaratos, who opened his first diner in 1976, will roll back the prices on 14-ounce Certified Angus New York strips and ribeye steaks at his Andy's Diner locations (Trevose, Conshohocken, and Springfield, Delaware County) on Saturday, June 30.
How about a steak dinner for $6.95? The Bureau of Labor Statistics calculator says $6.95 in '76 has about $28 of buying power today - which means that Kamaratos' regular price of $19.95 for the same chow is a relative bargain.
The beef is accompanied by soup, salad bar, bread and a baked potato or side of vegetables.
Michael Klein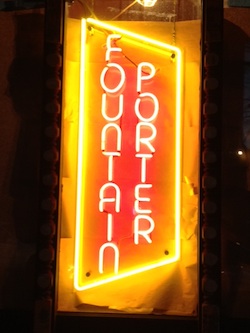 That neon glow at 10th and Tasker Streets in South Philly is a taste of the neighborhood's next bar, due to open just after Labor Day.
It's Fountain Porter at 1601 S. 10th St., which was a search-engine-non-optimized bar called 1601 before it closed in spring 2011.
Fountain Porter operating partner Evan Clancy (a former GM at South Philly Tap Room) describes his joint as an old-school, owner-run corner bar with 20 drafts, affordable wine, and a menu to be determined. "Nothing pretentious." He's partnered with Scott Pawlicky. Both work at the Kite & Key in Franklintown. (Though K&K's Jim Kirk has an ownership interest in Fountain Porter, Clancy emphasizes this is a separate operation - vibe, concept, purchasing, etc. "It's a different ballgame down here.")
Michael Klein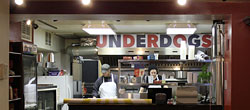 Four months after opening his hot dog shop Underdogs in a subterranean storefront on 17th Street near Sansom, Robert Amar has signed a lease for a second location. (Previous write-up here.)
It's 1205 S. Ninth St. - a few steps north of Geno's in the heart of the cheesesteak battleground in South Philly. (Space was a Vietnamese shop called O Sandwiches.)
Same menu as 132 S. 17th St. Breakfast is in the offing, too.
Michael Klein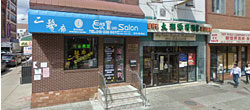 Kenny Poon, who owns Ken Shin Asian Diner at Third and Spring Garden Streets, is about a month from opening Tea-Do, a tearoom, at 132 N. 10th St. in Chinatown - the former nail salon across from the firehouse on the corner of 10th and Cherry Streets.
Poon says he'll focus on bubble tea (remember that?) but will get into hot tea and even ramen as the season changes.
Poon's other project, a long-in-the-works froyo/Korean fried chicken/noodle shop called Soho, is now targeted for the end of the year at 1021 Arch St.
Michael Klein
Last winter, seeking warmth and personal fulfillment on the north side of age 50, chef David Ansill left Ladder 15 in Center City and relocated to Jamaica.
But the restaurant he joined closed quickly and mysteriously - basically, he said, the owner went on vacation and that was that.
Now he's back in his hometown. Owen Kamihira has brought him in as executive chef at Bar Ferdinand, his Spanish tapas spot at Northern Liberties' Liberties Walk.