Archive: May, 2013
Michael Klein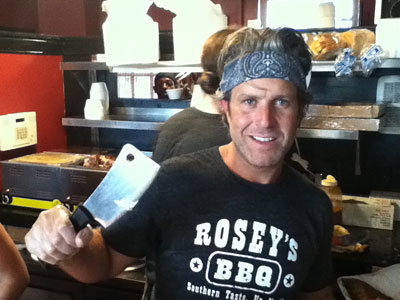 Ambler restaurateur Chad Rosenthal hits the little screen Sunday, June 2 at 9 p.m., gunning for his own TV show on season nine of The Next Food Network Star, the launching pad for Guy Fieri, Melissa d'Arabian and Aaron McCargo Jr.
The 12 episodes conclude Aug. 11, with the winner decided by an audience vote.
Rosenthal, 37, who previously operated Rosey's BBQ in Jenkintown and Ambler, is preparing to open The Lucky Well on Butler Avenue in Ambler this summer. His younger brother, Reid, got a taste of reality fame on The Bachelorette and its spin-off Bachelor Pad. There's a third Rosenthal brother, Brett, who has no TV aspiration. Their parents - Rhonda and Larry - are Realtors in Montgomery County.
Michael Klein
Breakfast and brunch time!
Want to meet a doctor during happy hour? And you happen to be an early bird? MilkBoy at 11th and Chestnut Streets opens weekdays at 7 a.m., mainly to cater to Thomas Jefferson University Hospital workers getting off the third shift.
New chef Brian Mahon has kept MilkBoy's signature bacon bowl but added Welsh rarebit, herbed-panko tuna steak, and the hamouli and watercress salad pictured here. Menu is served all day.
Michael Klein
Quick: Name an Indian restaurant in South Philadelphia east of Broad.
Right. Not too many.
Munish Narula is poised for the opening Sunday, June 2 of Tiffin Bistro, an Indian restaurant in the former Kris (aka Kristian's) at 11th and Federal Streets.
Michael Klein
Everybody wants to get into this food truck racket.
Daytime TV's Live With Kelly and Michael is hosting 10 trucks from around the country, competing for fame and glory in Live's "Truckin' Amazing Cook-Off."
Each Friday for 10 weeks, a trucker will show up, do a demo, present a recipe, and hope to get votes.
Michael Klein

Construction continues at Chestnut Square, the mixed-use Drexel University development on Chestnut Street between 32d and 33d Streets.
The project is on track, and the developer says Oct. 1 is the tentative due dates of Shake Shack, Zavino, Joe Coffee and the Zama offshoot coZara.
(Shake Shack is saying "fall" for the King of Prussia location, also being built from the ground up.)
Michael Klein
Masaharu Morimoto visits his first restaurant - the one at 723 Chestnut St. - every few months.
Morimoto has fond memories of 2001, when he bunked in the neighborhood during construction. But now, he told me, he is on the road plenty, taking care of six other restaurants on three continents as well as personal appearances. His home is in New York City, but he is seldom there.
Such is the life of the ponytailed Iron Chef, now 57.
Michael Klein
A Thai restaurant is giving away burgers Friday.
(Am I serious? Yes, Siam.)
Alex Boonphaya, chef-owner of Circles, is launching a lunch menu at his Northern Liberties location on Friday, May 31 by offering free burgers between noon and 2 p.m.
Michael Klein
West Ave Grille is fixing to move its flagship restaurant in Jenkintown around the corner into the long-vacant space at 309 Old York Rd. that last housed a Buca di Beppo, which closed in 2004.
West Ave co-owner Bob Katz tells me that the lease is about to be signed. West Ave will effectively double its seating, add a liquor license, and pick up a 50-seat private dining room. He expects the spot to be ready in late summer.
He also said various restaurants are looking to move into the current West Ave Grille at 718 West Ave., which will remain open during the nearby construction. There are West Ave branches in Dresher and Southampton. West Ave Grille began 12 years ago across from its current location, moving into its current spot about 10 years ago.