Archive: May, 2012
Michael Klein, Philly.com
Updated:
Honeygrow, a fast-casual eatery serving made-to-order/from-scratch stir-fry bowls, salads and frozen blended beverages, will open Friday, June 8u. The space carries the 1601 Sansom St. address, but is really a half-block north on 16th Street at Ionic Street. (It's the former Pita Pit space on the ground floor of the Oakwood apartments.)
The lead on this is Justin Rosenberg, an entrepreneur and MBA who left a stable career with real estate giant PREIT to chase his dream. He has rounded up some powerhouse partners/investors, including Brook Lenfest, the cable/telecom guy and philanthropist, and David Robkin, a former investor in Stephen Starr's empire. Chef Shola Olunloyo was enlisted to develop recipes. DAS Architects did up a sleek design reminiscent of momofuku.
Michael Klein, Philly.com
Updated
Fish at 13th and Locust Streets, which closed two weeks ago after a falling out between chef Mike Stollenwerk and investor Evan Prochniak, will reopen June 13 for Center City Sips, with an expected full return on June 15.
Prochniak says they've come to an understanding.
Michael Klein, Philly.com
Links to restaurants mentioned in the print column from Thursday's Inquirer.
Michael Klein, Philly.com
Since its founding in 2009, Sycamore in Lansdowne has been one of the BYOB hits of the western suburbs. (LaBan review here.)
When founding chef/partner Meg Votta died a year after the opening of ovarian cancer, her hand-picked successor, Sam Jacobson, stepped in. The kitchen never lost a step.
Now Jacobson and Sycamore owner Steve Wagner are going up the street for a stylish Mediterranean, also a BYOB because Lansdowne is dry.
Michael Klein, Philly.com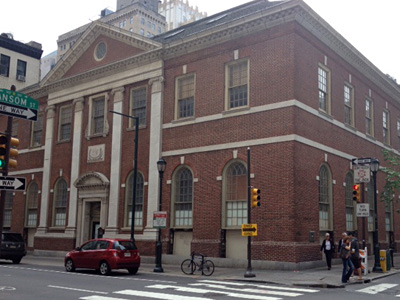 The former Roy's restaurant at 15th and Sansom Streets has a new tenant.
It's Ocean Prime, a luxe steak- and seafood brand from Ohio-based Cameron Mitchell Restaurants, which bills it as a modern American supper club. I'm hearing March 2013 as the projected opening. I'm also hearing that Cameron Mitchell - and he's an actual guy who owns about 20 restaurants in major cities - will drop $5 million on the build-out.
The building initially had been earmarked as American Oak, a tavern, by the building's former owners, Joe and David Grasso. That project went nowhere.
Michael Klein, Philly.com
At the corner of Lansdowne and Baltimore Avenues, Argana Moroccan Cuisine (2 N. Lansdowne Ave., 484-461-9595) was opened recently by Zouhir Oullaf and Chris Arouh, who longed for the tastes of their homeland.
Decor is a spiffed-up version of previous occupant Lansdowne Diner; menu hits the high points and nothing is over $12.95; it's BYOB. It's open daily from 11 a.m. to 10 p.m. (till 11 on Friday and Saturday).
Michael Klein, Philly.com
Restaurateurs Brian Harrington and Gary Cardi plan to go before a panel of the Washington Square West Civic Association with an outline for a new bistro to occupy the storefront at 114 S. 12th St. that last was Tweed; before that, it housed such spots as Les Bons Temps, TPDS, Odeon, and Bistro Bix.
Name= PEnnsylvania 6 (as in the old telephone exchange)
Concept= Bistro with a bar and raw bar downstairs and private dining upstairs
Michael Klein, Philly.com

Krispy Kreme has put a restored 1960 Flexible Starliner on the road to mark its 75th anniversary.
The Krispy Kreme Cruiser will stop in the Philly area on Tuesday and Wednesday for fun and games, prizes and giveaways, and doughnut giveaways.
May 29th – 11am – 2pm at the corner of 16th and Market Streets (Philadelphia)