Archive: April, 2011
Michael Klein
If you're attending Flavors of the Avenue on Saturday, April 30 on East Passyunk, you'll see a presence from Birra, the Italian beer/wine concept planned for 1700 E. Passyunk (aka 12th and Morris Streets). Owner Gordon Dinerman has overcome his zoning issues and workers will resume construction early next week. An early June opening is anticipated.
---
The Twisted Tail, the bourbon and blues establishment planned for the former Kildare's on Second Street just above South, has hired a chef, Michael Stevenson, whose past includes the Mosholu and Paradigm. Owner George Reilly tells me that he's shooting for June 16. See the Facebook page.
Michael Klein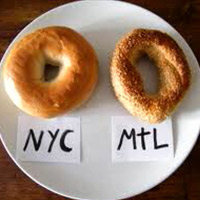 Come 7 a.m. Monday, May 2, business partners Larry Rosenblum and Mark Cosgrove will unlock the door of Spread Bagelry, across from Twenty Manning Grill on 20th Street between Locust and Spruce.
For weeks now, they've been feeding round circles of dough into the maw of their hand-built, wood-fired oven. They're happy with their most recent tests: a Montreal-style bagel that's crunchier and far less doughy than anything I've seen around here. (Part of the baking secret is honey.)
The shop has seating (including four or so seats outside in a random urban courtyard) and La Colombe coffee.
Michael Klein
Those in search of pita after the demise of the short-lived Falafel Factory on 18th Street between Market and Chestnut should be in luck this summer.
The first franchise of Crisp, an Israeli-by-the-way-of-New York high-end falafel operation, has signed a lease at 32 S. 18th St.
Partner Vlad Uchenik is trading in his life as a COO in financial services, and friend Paul Ferker is putting aside retail, to open the shop in July or realistically in August.
Michael Klein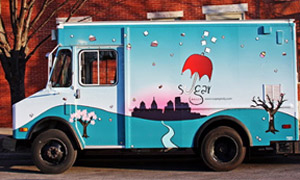 Willow Grove is a budget-Mexican mecca, what with the Qdoba, Chipotle, and Baja Fresh outlets along Welsh and Moreland Roads. Entering the burrito battle in late September will be Pittsburgh-based Mad Mex, whose bar action puts it a few nachos higher on the food chain. (There's one at 34th and Walnut Streets in the Shoppes at Penn.) The Willow Grove outlet will be at Moreland and Fitzwatertown Roads, in the strip-mall space that used to house Nothing But Noodles. Construction starts in three weeks, the company told me.
---
Heng's Thai, a BYOB, has closed its Newtown Square location; its Springfield, Delaware County, original remains.
---
Everything is for sale, as they say. What to make of this "popular" BYOB in Queen Village with garden seating that apparently has come on the rental market? Anyone hoofing it over there likely would not see a for-rent sign because the name is not included in the listing...
---
Michael Klein
The Food Network eatery-makeover series Restaurant: Impossible will be filming at La Stanza restaurant in South Philadelphia on May 4 and 5 as chef Robert Irvine has two days and $10,000 to revamp the joint.
La Stanza is taking reservations (215-271-0801) for the reopening night, May 5, which will be filmed by Shooters Post & Transfer.
Michael Klein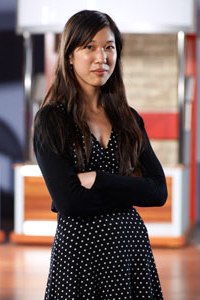 Stephenie Park is heading into the final episodes of the Sunday night NBC reality series America's Next Great Restaurant, where she's espousing her fast-and-healthy concept, Compleat.
Turns out that the Chicago corporate attorney got her first taste of the kitchen life here in Philly.
Park, who has her law degree from Harvard, had just graduated from Penn in 2003 with a bachelor's in economics when she decided to join the Peace Corps. Since she would not leave till the fall, she decided to remain in Philly and get a temp job in the restaurant industry. "Initially, I asked to become a server," she told me. "But I didn't have serving experience. I told restaurants that. Apparently, you're supposed to lie about that."
Michael Klein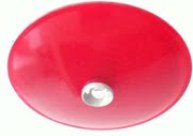 Fare, the eco-conscious, locavore/organic-focused wine bar-restaurant under development at 2028 Fairmount Ave. for two years, is targeting May 26 for an opening.
General manager Robert Amar has sprung chef Tim Bellew's menu, an intriguing mix of responsibly sourced small plates, right-portioned mains, and salads.
Michael Klein
Know that the Center City outpost of the Krispy Kreme doughnuttery has set May 4 for its opening. It will be on 16th Street just north of Chestnut Street. across from Two Liberty Place.
---
The Doubletree at Broad and Locust has set April 27 for the opening of its revamped resto, Balcony. It's on the mezzanine level, and will serve breakfast and dinner (5-10 p.m.) daily. "Classic comfort cuisine" menu from chef Neil Drinkwine. Dinner menu is here.
---
Opa, the new Greek hotspot at 1311 Sansom St., will give out red eggs to patrons from April 25 through 30. It's the Greek Easter tradition, where two people crack eggs together and the one whose egg does not crack is said to have good luck the whole year through.
---