Archive: March, 2013
Michael Klein, Philly.com
Philadelphia will get a double shot of Joe Coffee, the New York City-based roaster/retailer, starting Tuesday, April 2.
Shop No. 1 will open at 1845 Walnut St., on the ground floor of an office building across from Rittenhouse Square. When the weather breaks, Joe will have a few dozen seats on the wide sidewalk - the first new outdoor food operation around the square since Parc opened in 2008. Shop No. 2, expected to open late summer, will be part of the food-heavy Chestnut Square at 3200 Chestnut St.
Joe is the work of siblings Jonathan and Gabrielle Rubinstein, both career changers - he was a talent agent and she was an opera singer - who got into the coffee game a decade ago.
Michael Klein, Philly.com
Folks have been getting brewery licenses for some time, but now a distillery license has been issued by New Jersey - the first such move since Prohibition.
The recipient is Jersey Artisan Distilling in Essex County, which hopes to debut handcrafted rum as its first product by Memorial Day, according to an article in the Star-Ledger.
A license is costly. Breweries and wineries pay $938 a year for a license, while distilleries must pay $12,500, the article quotes an official with the ABC.
Michael Klein, Philly.com
After months of deliberation, the operators of the AKA Rittenhouse Square - who already have a.kitchen on the 18th Street side of the posh hotel - have settled on a name for the tiny bar under construction in the former Kiehl's store at 18th and Walnut Streets.
It will be a.bar when it opens in mid-May.
The overall look and feel will be somewhat darker than a.kitchen. It will lack a grill hood because of the configuration, limiting its menu to cold stuff: oysters, charcuterie, crudo, and toasts, with an appropriate wine and cocktail menu.
Michael Klein, Philly.com
Brunch, brunch, brunch. Doesn't anyone go out for breakfast anymore?
We early birds enjoy a good breakfast spot - a counter-service shop on the corner, perhaps a luncheonette open for breakfast, too. Eggs, waffles, pancakes, brisk service, good coffee.
Here are five that come to mind. (I'm sure that others will come to your mind. Add them in the comments.)
Michael Klein, Philly.com
A mighty cool street-food festival is coming together, and the centerpiece of the event will be a throwdown among a dozen top chefs from the region.
"EATS Philly: Two Kitchens/Two Countries" - set for 6 to 9 p.m. April 23 at Vie catering (600 N. Broad St.) - is a charity event to benefit Children's Village in Philadelphia and Wat Bodd Voraditth orphanage in Thailand.
It's a production involving two forces of nature - chef/restaurateur Moon Krapugthong (Chabaa Thai; Yanako) and kitchen designer Judy Spielman (Space by Spielman Ltd.). The two collaborated on a 2011 Eat Along the Street event, held in Manayunk.
Michael Klein, Philly.com
Chink's Steaks, the Northeast Philly sandwich institution that has faced heat in recent years over the ethnic slur in its name, says it's rebranding.
On April 1, it will be known as Joe's Steaks + Soda Shop.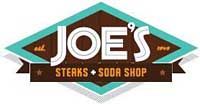 The more prosaic name was chosen by branding specialist David Neff, hired by owner Joe Groh, according to a press release.
Poll: Chink's Steaks' new name

(3991 votes)
Michael Klein, Philly.com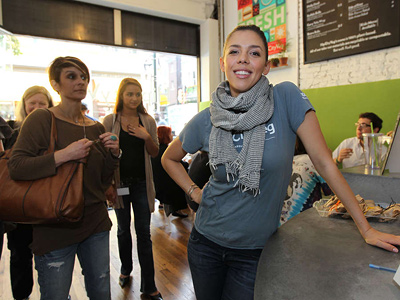 An orange liquor-transfer sign is up at the long-shuttered Full Moon Saloon at 131 S. 13th St., and public records ID the applicant as a company controlled by real estate powerhouse Allan Domb.
Domb would tell me only that he bought the building and that it came with a liquor license.
Word on the street is that Nicole Marquis of HipCityVeg - the smash-hit vegan quick-serve located in a Domb property on Rittenhouse Square - is considering the spot.
Michael Klein, Philly.com
A liquor license posted on the Asylum Arena at Swanson and Ritner Streets in South Philadelphia bears the names of the owner/operator of the Chinatown music venue The Trocadero.
This suggests that this corner, next to the Forman Mills store, will hear the beats of music, rather than beat-downs. The Asylum, also known as ECW, had hosted pro wrestling, boxing and MMA events for several years.
No one affiilated with the transaction is talking about it publicly. The Troc's Joanna Pang did not return calls over the last week.