Archive: March, 2012
Michael Klein
Scrapple - that Pennsylvania Dutch-rooted porcine delicacy that even adherents will admit is made from "everything but the oink" - has made The Daily Meal's list of "18 American Foods You Have to Travel For."
"A fried slice of mashed-together pig parts might not sound like your everyday breakfast item, but it is much loved in Pennsylvania Dutch country. Scrapple is traditionally made with a handful of pork scraps mixed with cornmeal or flour and spices, and pan-fried — for breakfast or just about any other time. Newcomers to scrapple might not find it in their best interest to ask exactly what the 'pork scraps' are."
The Daily Meal editors identified foods that "are so tied to a place that trying to re-create them or generate a passion behind them anywhere else would be a fool's errand."
Michael Klein
Want a ringside seat for a fun afternoon of burger-eating?
Check out this year's edition of Burger Brawl, coming off May 6 at the Fleisher Art Memorial. It's a benefit for Meredith Elementary School.
Rouge owner and Brawl organizer Rob Wasserman has a son enrolled at the school, which will apply the money toward a computer lab. (Details here.)
Michael Klein
Gordon Ramsay ... our hero.
The promos for Friday's episode of Kitchen Nightmares take us to Zocalo, the Mexican restaurant in University City. The owners, Greg and Maria Russell, seem to be headed for divorce court. The restaurant is tanking.
Based on a phone chat Wednesday - four months after the taping - I can report that Greg and Maria are doing fine. So is Zocalo.
Michael Klein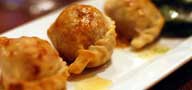 Old City's Cuba Libre had planned to sell empanadas out of the back door on Strawberry Street, with proceeds going to charity.
It's not happening.
In a statement, co-owner Barry Gutin says: "We've decided not to open Empanada Alley at the back of our restaurant because of neighborhood concerns that it would bring more people and noise to Strawberry Street after hours. We recently learned there are a few families living in the buildings surrounding our back door, including one with a set of 10-month-old twins, whose sleep we do not wish to disturb. As a long-standing member of the Old City business community, we want to be considerate and responsive to our neighbors. We will go on to feature Empanada Alley as a mobile operation and continue to raise awareness and funds for CORE. Thank you for your excitement and please follow Empanada Alley on Twitter (@EmpAlley) for more information about appearances at the upcoming Night Markets and other locations."
Michael Klein
Aramark and the Phillies unveiled the lineup of new food selections to be served this season at Citizens Bank Park.
I don't see Cardiologists Night at the Ballpark on the schedule, that's for sure. ("A free stent to the first 10,000 fans...")
Harry the K's, the sit-down restaurant in left field, will serve warm Federal pretzels (served with cheese fondue and beer mustard); Mini Corn Dogs; the "Ripper" (a deep-fried natural-casing hot dog with caramelized onions); Texas Tommy (wrapped in bacon, topped with chili and American cheese sauce); Disco Fries (served with brown gravy, melted mozzarella and bacon), Philly Fries (topped with chopped steak, caramelized onions and cheese sauce); Salt & Vinegar Fries (togarashi-spiced fries with malt vinegar); and a "Cracklin'" slow-roasted pork sandwich (served with wilted greens and sharp provolone on artisan bread).
Michael Klein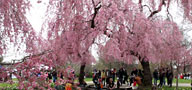 Dine Out Japan, part of the Cherry Blossom Festival, is April 15-19.
Coupons are available that will give you a 20 percent discount on meals at 10 participating Japanese restaurants, including Morimoto.
On board are Fat Salmon in Center City, Fuji Mountain in Center City, Headhouse in Society Hill, Kabuki in King of Prussia, Margaret Kuo in Wayne, Morimoto in Center City, Samurai in Rosemont. Shiroi Hana in Center City, Tokyo Hibachi Steakhouse in Center City, and Zento in Old City.
Michael Klein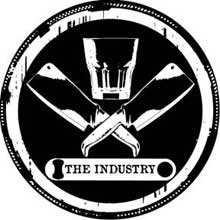 Dave Garry and Heather Gleason of Center City's Good Dog Bar, with Tom Darby, are setting up their Pennsport pub with the people of the restaurant industry in mind. (They'll get a discount.)
They say "spring" for The Industry (1401 E. Moyamensing Ave., 215-271-9500) - taking over for The Witch at Reed Street and Moyamensing Avenue - will join a growing roster of friendly, neighborhood-targeted restaurant/bars serving seasonal American cuisine (including offal) and craft beers/cocktails/wines in an atmosphere of reclaimed wood. It will serve nightly dinner (kitchen open till 1 a.m. to accommodate the trade) and Sunday brunch (on till 4 p.m. for the same reason). Bar will have 12 drafts, a small list of beer bottles, five white wines by the glass and six reds.
Chef Pat Szoke (The Farm and Fisherman, Vetri and Buddakan) offers as typical dishes: house-made charcuterie; beer can poussin, bone marrow with shallot marmalade and house-baked foccacia; and black pepper sausage. Snack menu includes potted trout, buffalo sweetbreads and deep-fried pork face nuggets. One midweek special will be called Burger & Bubbles - two burger options paired with either a glass of champagne or a pony bottle of Miller High Life poured tableside.
Michael Klein
Philly is (or was, before all this "craft cocktail" rage began) a shot-and-a-beer kind of town.
Such is the philosophy behind The Boilermaker, which soft-opens Saturday, March 24 at 216 S. 11th St. across from Thomas Jefferson University Hospital in what most people remember as the old Doc Watson's. The building was lavishly and completed renovated last year and was reopened briefly as Blue Bear Tavern.
Now the operators of the Farmers' Cabinet around the corner have gone all medieval with gothic accents and lots of candles. (Sort of like their short-lived Fork & Barrel in East Falls.)