Archive: February, 2012
Michael Klein
Georges Perrier has threatened to uproot Le Bec-Fin before, but this time it's for real.
For one thing, there's an orange liquor-license transfer notice hanging outside.
Second, he and new owner Nicolas Fanucci addressed the staff this afternoon. In sum, Saturday (3/3) is the finale for Le Bec-Fin under Perrier after 42 years (the first 13 of them on Spruce Street).
Michael Klein
Anthony Goodwin, chef at Butcher & Singer steakhouse, captured the Golden Spoon Award Tuesday night at the fifth annual John DeBella Comfort Food Fest, an invitation-only soiree at Vie catering for 400 WMGK listeners and three judges:, NBC10's LuAnn Cahn, food writer Beth D'Addono, and Inquirer writer Ashley Primis.
Goodwin went for richness with his pierogi filled with duck confit and foie gras, and topped with porcini mushroom cream. Recipe is here.
Chefs go all out for fun at this event. Brad Spence, chef at Amis, trotted out the meatball recipe of Marc Vetri's father, Sal. Matt Levin, chef at Square Peg (opening in late March), goosed up mac-and-cheese grilled cheese with something he called drunken tomato marmalade. For the record, that contains tomato, garlic, onions, olive oil, basil, cardamom, fennel seed and pepper-infused vodka.
Michael Klein
February 29: Miller's Ale House opens its Mount Laurel location at 554 Fellowship Rd.
March 1: Rex 1516, a spiffy little bistro at 1516 South St. from the owners of Jet Wine Bar across the street. Photos here.
March 5: Peddler's Village opens Buttonwood Grill, a bar-restaurant on the former site of the Spotted Hog and Sweet Lorraine's at Route 202 and Street Road in Lahaska, Bucks County. Enviable beer program: 20 on draft (10 crafts, 10 macros) plus two nitro lines and 50 by the bottle.
Michael Klein

Say it, "So Wee," as in, "So we are going out for dinner."
Entrepreneurs/business partners Nancy Law and Troy Barton have attached the name SoWe Bar & Kitchen - as in "SOuthWEst Center City" - to their new restaurant, now taking shape at 22d and Carpenter Streets. It was Divan Turkish Kitchen until last week.
Michael Klein
Restaurant veteran Robert Amar is behind the new Underdogs, a subterranean hot dog shop, which opened today (2/28) in the lower-level storefront at 132 S. 17th St. It previously was Argan Moroccan Cuisine.
Underdogs' base dog is a boiled Dietz & Watson all-beef "5-to-1" - the Tacony meat packer's signature five-to-a-pound frank - which he's selling for $3.25 on a sturdy roll from South Philly baker Cacia's. From there go the toppings - the result, Amar says, of two years of research and development.
See the menu here. A couple samples: The "My Thai" includes peanut sauce and papaya slaw. There's a "Georgia dog" with pepper hash and a housemade mustard sauce. The Coney Classic has mustard and Kissling's sauerkraut that's been recooked - doctored - to include bacon, onion and carrot.
Michael Klein
Roundeye Noodle Bar - for now, a "pop-up" restaurant as it awaits a permanent home - has drawn the ire of Asian Americans United, an advocacy group.
Organizer Helen Gym says the name is racist. "In the owners' words, they are 'two white boys from the suburbs' ... creating a 'hip noodle spot,'" she wrote in an email advisory to the media over the weekend, on the eve of Roundeye's second pop-up. Roundeye is the creation of friends (and Anglos) Shawn Darragh and Matyson chef Ben Puchowitz.
"But if these self-named 'white boys' are the 'roundeye' noodle makers what does that make the Asian noodle places they're modeling their place after? As a city notoriously home to Chink's Steaks, it's really a shame that a well-regarded spot like Matysons [sic] would lower their reputation to a legacy of petty, derogatory names in an effort to be 'hip.'"
Poll: Is the name "Roundeye Noodle Bar" racist?

(1648 votes)
Michael Klein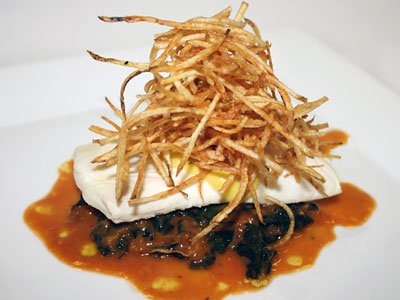 Heavens! A suburban chef captured the Dish of the Year prize on Feb. 22 at the Philly Cooks event at the 33d Street Armory on Drexel's campus.

Chris Calhoun, the new chef at the Hunt Room at the Desmond in Malvern, whipped up poached Pacific halibut filet with tomato-orange braised lacinato kale, saffron aioli, pommes alumettes.
Winner of Best Appetizer was Ela chef Jason Cichonski for his whipped robiola bosina (it's a cheese, served with shortbtread, preserved kumquat and wild smoked mushrooms).
Michael Klein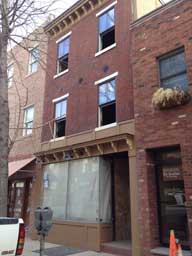 East Passyunk Avenue is one of the hottest stretches of commercial real estate in the city, and over the last five years, it's become a restaurant row.
The nonprofit Passyunk Avenue Revitalization Corp. wants more. It is rehabbing a building as a restaurant/apartments at 1911 E. Passyunk Ave., between Tre Scalini and the former Sticks & Stones (which will be revived as Noir).
PARC's Sam Sherman says the first floor would make a fine BYOB seating 24 to 35. He says PARC would fit out the restaurant to a tenant's specs at a rent of $2,500. Electricity for the restaurant will be supplied by a solar panel array on the roof.