Archive: December, 2012
Michael Klein, Philly.com
The upmarket-restaurant space next to the Regal theater in Edgmont Square Shopping Center in Newtown Square has not exactly had the greatest track record.
Roux 3, a polished New American with downtown price tags, hung in for six years. Then came the real estate bust.
Win and Sutida Somboonsong - who own a bunch of Thai and other Asian restaurants in the western burbs - came in with a short-lived steakhouse, Parker's Prime. Then the couple arranged a deal with Sang Kee's Michael Chow to brand the location as a Sang Kee. That takes us to September 2012, when they reconceptualized yet again to Azie Southeast - borrowing the name of their restaurants in Media and Villanova.
Michael Klein, Philly.com
To see who's serving, follow/search #OpenInPHL on Twitter.
Any restaurants and bars that are open, tweet at me - @phillyinsider.
Happy new year!
Michael Klein, Philly.com
Marianne Gere and Kim Strengari, from West Conshohocken's Stella Blu and Gypsy Saloon, have crossed the Schuylkill to open Southern Cross Kitchen, a restaurant-bar on the former site of 8 East at 8 E. First Ave. in Conshohocken (484-344-5668).
The cross does not refer to the Fayette Street bridge; rather, the cuisine is a cross between down-home Southern classics and a modern comfort food (jambalaya, fried buttermilk chicken, smothered pork chop, etc.) with dinner entrees between $14 and $28. The dining room is done in pumpkin creams and moody blues. The first-floor dining room seats 40 plus 20 at the bar. The second floor seats 80 for dinner and will also be used for private parties.
It's serving lunch and dinner seven days a week from 11:30 a.m. to 11 p.m. Sunday brunch is 10:30 a.m. to 3 p.m.
Michael Klein, Philly.com
You're going to hear a lot about Jerry's Bar, the former corner shot-and-beer in Northern Liberties that contractor Bill Proud is lovingly renovating at Laurel and New Market Streets.
I told you last week that Marshall Green - former chef-owner of Cafe Estelle - will be the chef in its new incarnation when it opens this winter.
I'll tell you now that the project has a seasoned former owner-operator in the general manager's role: John McNamee, formerly of El Fuego.
Michael Klein, Philly.com
How about an all-lamb deli?
Border Springs Farm - a lamb purveyor to top kitchens in D.C., Virginia and the South - will take over the recently vacated Basic 4 space at Reading Terminal Market.
Owner Craig Rogers was shepherded to market management by chef Jennifer Carroll. His farm is in Patrick Springs, Va., and his stock in trade is humanely raised lamb.
Michael Klein, Philly.com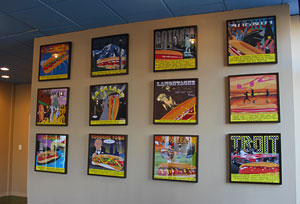 Steve Gariffo seemed to have it all.
Besides the beautiful family, he had a thriving physical-therapy practice.
Then the gregarious Southwest Philly native heeded the call of the restaurant business.
Michael Klein, Philly.com

Plenty - the upmarket quick-serve sandwich shop-slash-coffee bar from East Passyunk Avenue - is coming to Rittenhouse.
Owner Anthony Mascieri told me that the location is 1602 Spruce St. - last a jewelry store.
It's due to open in March.
Michael Klein, Philly.com
Sunday, Dec. 30 is the finale for the Center City location of Krispy Kreme doughnuts, which opened only in spring 2011.
Franchisee Brian Zaslow says the location, on 16th Street just north of Chestnut, was "nontraditional. ... It didn't work." He emphasized that this decision had no impact on his franchise group's growth. Back in July, the blog NakedPhilly noted that KK's space was available for sublease, but Zaslow told me at the time not to read into that listing. (This was a full two months before Federal Donuts opened nearby.)
The forthcoming KK location in Manoa Shopping Center in Havertown will use 16th Street's equipment, he said, positioning Center City's closure as a relocation.