Archive: December, 2010
Michael Klein, Philly.com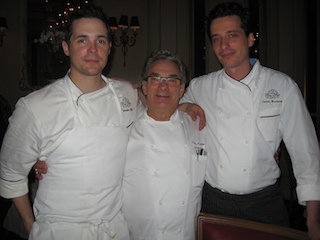 Vive Le Bec-Fin!

As champagne corks popped to welcome 2011, chef Georges Perrier announced to patrons that his Walnut Street restaurant would not close after all, thus maintaining a 40-year fine-dining tradition.
"I have received an outpouring of letters from all over the world, begging me not to close," Perrier told me.
He said chef Nicholas Elmi was his new partner. He plans to renovate Le Bar Lyonnais, the downstairs bar, and the mezzanine dining room. He also plans to open a bread bakery in Narberth.

Perrier, 67, had shown a strong case of seller's remorse in the five months that Le Bec-Fin's building had been on the market, hinting to friends occasionally that the restaurant would remain.

It was clear that Perrier did not have his heart in a sale, even as his restaurant's popularity had been unbuttoning in this age of dressed-down dining.
Michael Klein, Philly.com
New Year's Eve will see the finale of The Swift Half, the tap that opened in mid-2009 in the Piazza at Schmidt's in Northern Liberties.
The owners, David Garry and Heather Gleason, still have Good Dog, their burger-and-beers destination at 15th and Locust Streets.
The space will not be dark for long.
Michael Klein, Philly.com
Bradley Cooper is coming back to shoot a scene for his almost-in-the-can thriller, Limitless.
On Jan. 7, Cooper and Abbie Cornish are due at Michael Schulson's Sampan restaurant (13th Street below Sansom), which has been booked for the day.
The movie, previously known as The Dark Fields, was shot here last spring. Cooper and the crew returned October to do pickup shooting in Rittenhouse Square.
Michael Klein, Philly.com
Keith Wallace says he's moving the Wine School of Philadelphia from Fairmount to the Rittenhouse/Fitler Square area, as he's taking over a Victorian mansion at 127 S. 22d St.
It's the former home of Running Press, which years ago created Wine Spectator and Wine Enthusiasts books on premises.
Running Press, now nearby on Chestnut Street, happens to be the publisher of Wallace's forthcoming book on food and wine, Corked & Forked.
View Larger Map
Michael Klein, Philly.com
Live With Regis and Kelly is searching for radio hosts to join Kelly Ripa during the week of Jan. 24-28, filling in for Regis Philbin.
The field has been narrowed to 100 semifinalists, and the field will be further winnowed to 10. Then viewers will get to choose the five broadcasters who will join Ripa in New York.
Among the hopefuls:
Danny Bonaduce of WYSP
Preston Elliot of WMMR
Chris Booker of L.A.'s 97.1 AMP (formerly of Q102)
Craig Carton of The Fan in New York (formerly of WIP and WKXW)
Elvis Duran (the syndicated morning guy on Q102)
Howard Stern of XM/Sirius
Michael Baisden (syndicated afternooner on WDAS)
Mike & Mike of ESPN (syndicated on 97.5 the Fanatic)
Ralph Garman of KROQ (and a Northeast High and La Salle alum)
Ryan Seacrest (heard middays on Q102)
Michael Klein, Philly.com

CBS3 has not renewed the contract of New Jersey reporter Cydney Long, a nine-year veteran.
The Medford native's last day on the air was Dec. 22, a station rep confirmed.
Michael Klein, Philly.com
Rick Olivieri is on the move again. The owner of Rick's Steaks, who in late 2008 was ousted from his primo spot in Reading Terminal Market after a squabble with management, says he's pulling out of the Bellevue's downstairs food court, where he set up in mid-2009. Last day will be Dec. 29, he said. His next stop awaits the dotting of i's and crossing of t's on a lease. Stop back here for the info.

Looks like "early January" for the opening of 943, Pat Cancelliere's Italian-Argentine mix at 943 S. Ninth St. in the Italian Market. The place sure looks ready, and Cancelliere has been feeding comp meals to friends and family. But until he gets his health inspection, he can't receive paying customers.

And it now looks like mid-January at the earliest for Fathom, Mike Stollenwerk's bar/seafooder at 200 E. Girard Ave. in Fishtown. A continuance was issued at a Dec. 22 zoning hearing, and the board will hear the matter after New Year's -- probably Jan. 11 or 12.

Michael Klein, Philly.com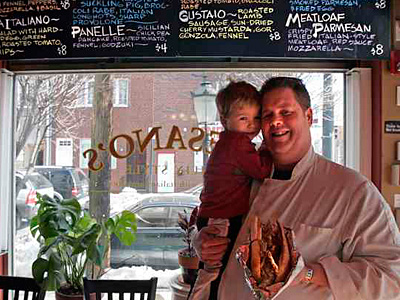 Monsù is the name of the Sicilian restaurant that Modo Mio/Paesano's boss Peter McAndrews will open late next month at Ninth and Christian Streets, now home of the South Philly branch of Paesano's, his sandwich shop.
(About Jan. 14, Paesano's will move to 1017 S. Ninth St., formerly the site of Bebe's Barbecue.)
McAndrews, who traveled to Sicily recently with his chef Damien Messina, lays out the basics: Casual. Fun. Reasonable prices. BYOB. Sicilian cuisine, with touches of Spain, France, and even Mexico. Lots of desserts (think almonds). It will be open for brunch (eggs, sandwiches, antipasti) and dinner. Decor will include ceramics and bright linens.