Archive: November, 2012
Michael Klein
Chef Eric Ripert is stepping away from his affiliation with Philly's Ritz-Carlton Hotel after nearly five years.
He told me that a project in New York affiliated with his famed Le Bernardin required too much of his time.
Ripert and sous chef Nathan Volz addressed staff today at 10 Arts, the hotel's landmark restaurant.
Michael Klein
Brothers Greg and John Whiting were rockin' and rollin' on Broad Street near Walnut as their Italian Bistro provided a low-cost dining option on the Avenue of Arts. Then in early 2011, their landlord, the University of the Arts, reclaimed the space for student dining. The Whitings on Saturday, Dec. 1 are back in business nearby, in the former Marathon Grill space at 1339 Chestnut St., as Fratelli's Italian Bistro (215-731-0700). Open daily for lunch and dinner, contemporary look, modest prices, full bar, and a view of the Olive Garden across the street. (The Whiting boys, transplanted big-hearted Bostonians Rhode Islanders, are fearless.) Menu is here.
Early line on other restaurant openings. Tuesday, Dec. 4 is the first night for Rodizio Grill at the Voorhees Town Center (giving South Jerseyans a taste of that Brazilian all-you-eat extravaganza known as churrascaria). ... Thursday, Dec. 6 is the target of the new, expanded, liquor-licensed Fond at 1537 S. 11th St., at East Passyunk.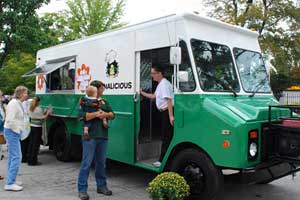 Trucks stop. The Philadelphia Mobile Food Association's holiday-themed food truck roundup is 4 to 9 p.m. Saturday, Dec. 1 at the Piazza at Schmidt's on Second Street south of Girard Avenue. The PMFA is gathering Lil Dan's, Joe Spuds, Just Jackie's, Gigi & Big R's, Street Food Philly, Vernalicious, Pitruco, The Sunflower Truck Stop, Sweetbox, and Cupcake Carnival. Bring a canned good for Philabundance. Info is here.
Michael Klein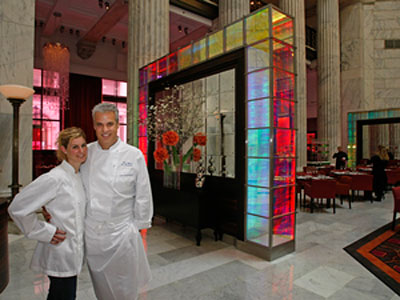 From D.C. comes news that chef Eric Ripert is ending his association with the Ritz-Carlton Hotel's Westend Bistro, effective Jan. 1. The Washington Post's Tom Sietsema reports that Ripert said that he was leaving on "great terms" and that he's redoubling his efforts at his New York flagship Le Bernardin and on other, unspecified projects.
It's not clear what this means for 10 Arts by Eric Ripert at Philly's Ritz-Carlton. That kitchen, helmed by chef de cuisine Nathan Volz, spawned Top Chef chef'testant Jennifer Carroll, who was a Ripert deputy when she came down to her hometown in 2008 to open 10 Arts.
Michael Klein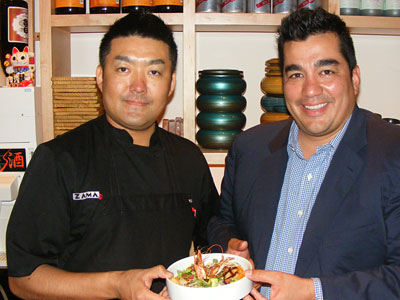 What do you get when you meld the brains of chefs Jose Garces and Hiroyuki "Zama" Tanaka?
How about Garces Chirashi, a Japanese paella, served at Zama, 128 S. 19th St., just off Rittenhouse Square.
It's a charity dish, on Zama's dinner menu for a limited time. Since 2010, when he asked then-Eagles tackle Winston Justice to design his "Justice For All Roll" to benefit Variety, The Children's Charity, Tanaka has raised more than $10,000 with his celeb-collab dishes. Among his partners: Marc Vetri, Michael Solomonov, Pierre Calmels, ?uestlove, Bernie Parent, Ryan Madson, and Tony Luke.
Michael Klein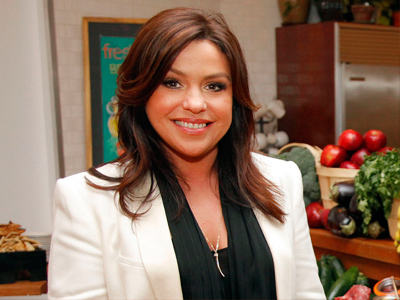 Media mogul Rachael Ray will appear Saturday, Dec. 8 at the Free Library of Philadelphia's Central Library on Logan Square with her husband, John Cusimano, to talk with me about her lastest book, My Year in Meals. (It's a compendium of 500 recipes - what Ray might whip up when the cameras aren't rolling.)
The Q&A event, which starts at 7 p.m., is free. But folks, this is Rachael Ray, it's a Saturday night, and the auditorium holds 400 people with overflow for hundreds more.
Right. This will be a mob scene. I'll make it easy for two readers. Enter my little contest. I'll choose two people who will score reserved seats for themselves and one guest. Send in a favorite easy recipe with your entry.
Michael Klein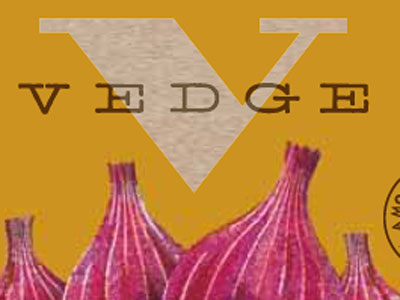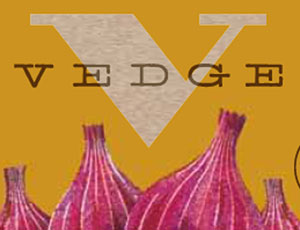 Food marketers can toil in the trenches for years before making the kind of deal that fell into Rich Landau and Kate Jacoby's lap.
The owners of the posh vegan restaurant Vedge (1221 Locust St.) have cinched a deal with food/housewares giant Williams-Sonoma to place a line of cooking sauces in 150 stores in North America and the Middle East.
Sherry shallot (a glaze), spiced BBQ sauce, and tamari sesame are inspired by sauces that the couple have used over the years at Vedge and predecessor Horizons.
Michael Klein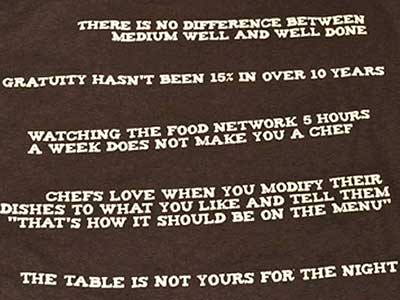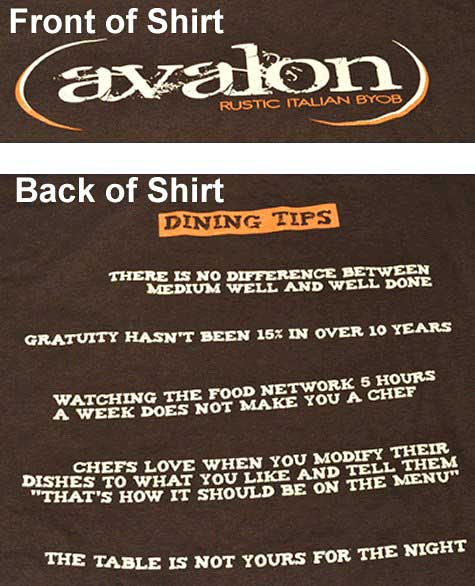 The customers aren't always right. Listen long enough to chef-owners, and you'll believe that.
Usually, these gripes are confined to the kitchen, lest some patron's delicate sensibilities be offended.
Michael Klein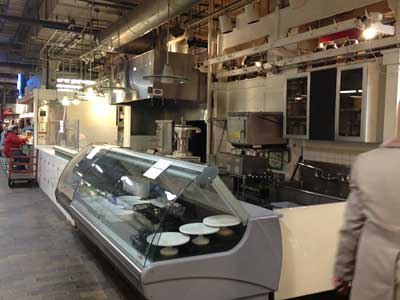 Basic 4 Vegetarian Cafe has ended its 31-year run at Reading Terminal Market. Founded by Alfoncie B. Austin and now run by her daughter Lisa Tynes, the business did not renew its lease when it expired Oct. 31.

But Basic 4 is still around as a caterer and is scouting for "pop-up" locations, according to a representative. Tynes is cooking at the Center for Culinary Enterprise in West Philly - whose rental kitchens are overseen by another market alumna, Delilah Winder.
As you might imagine, Basic 4's departure has set off a scramble of applicants eager to snap up its stand, in a primo spot just off the market's main seating area.