Archive: November, 2011
Michael Klein, Philly.com
Victor Fellus' childhood nickname was Titra, after a soccer hero, and he'll attach that name to the Italian restaurant he's planning for the ground level and mezzanine of the Aria Condominiums, 15th and Locust Streets, across from Good Dog and next to Applebee's. (A sign advertising "Tietra" is misspelled, he says.)
Fellus says this restaurant will be higher end than his other two restaurants, Mix at RiverWest Condos and Pub & Grub in the CityView Condos. He previously was a partner in Soho Pizza.
He is aiming at food similar to that of Old City favorite Radicchio and a vibe similar to that of Rouge.
Michael Klein, Philly.com
Chef Ed Brown, who runs the culinary show for caterer Restaurant Associates, has been shuttling between his New York base and Philly, as he's planning a restaurant inside the Art Alliance, on the edge of Rittenhouse Square.
Name will be Rittenhouse Tavern, and the opening is "early 2012." Brown is still searching for a chef de cuisine to run the day-to-day.
See Brown on NBC's Today show, showing holiday seafood appetizer recipes. (Link)
Michael Klein, Philly.com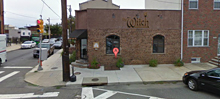 The crew from Center City taproom destination Good Dog has posted a liquor application at 1401 E. Moyamensing Ave. in Pennsport, the corner of Reed and Moyamensing.
The spot's last incarnation was The Witch, which flew off into the sunset earlier this year.
Good Dog partner Tom Darby told me that a name, firm concept, and projected opening date were not set in stone.
Michael Klein, Philly.com
Big-deal chef news:

Bishop's Collar in Fairmount will launch a new menu Friday, Dec. 2. New menus don't usually warrant much attention - I mean, every restaurant worth its salt shaker changes its menu - except for who's behind this new menu.
Now in charge at Bishop's Collar is Matt Moon, whose resume includes Talula's Table in Kennett Square, where he was part of that celebrated kitchen's brain trust after the departure of Bryan Sikora.
Michael Klein, Philly.com
Pastry chef Jessie Prawlucki, one of the partners in the East Passyunk BYOB Fond, is branching out with Belle Cakery, a cafe/takeout operation up the street at 1437 E. Passyunk Ave.
Opening day is Tuesday, Nov. 29.
Among her specialties: brown butter apple tart, pumpkin cheesecake, flourless chocolate torte, cranberry almond cake, maple pecan tart, hazlenut brittle, and amaretto truffles - all of which she offered on her preopening Thanksgiving menu.
Michael Klein, Philly.com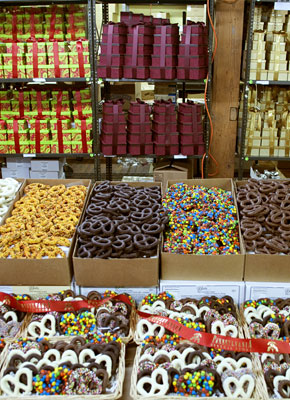 No bones about it. The Living Room at the Hilton Inn at Penn (3600 Sansom St.) will host a discussion, book-signing and cooking demo surrounding the book The Culinary Canine: Great Chefs Cook for Their Dogs – And So Can You! at 6 p.m. Thursday, Dec. 1. Author Kathryn Levy Feldman and photographer Sabina Louise Pierce, who spent years tracking down and interviewing chefs who cook for their dogs, will be there. It's sponsored by Penn Bookstore and chef Eileen Watkin of Penne Restaurant. See my article on the project.
---
Norristown's homespun Taqueria La Michoacana has spawned a more refined (though boldly decorated) sibling in downtown Phoenixville. It's Hacienda La Michoacana, in the former 101 Bridge at 101 Bridge St. (610-415-1972).
---
Chef Mike Stollenwerk has decided to hang onto the restaurant space at 1708 Lombard St. that now houses Fish, which he will relocate to 13th and Locust Streets in December. Following the move, he intends to revamp it as a neighborhood bistro called Brick American Eatery, his rep says, describing it as "casual, comfortable, accessible price points." It will have a liquor license. As for 13th and Locust Streets: Police Officer Dan Faulkner was gunned down on the Locust Street sidewalk in 1981, and Stollenwerk intends to donate a bicycle to the Philadelphia Police on Dec. 9, the anniversary of the slaying.
---
Michael Klein, Philly.com
After all the months of wild speculation, rumors, and innuendo, the bar Hop Sing Laundromat will open at 1029 Race St. shortly. That is, it's allowed to open, since the state Liquor Control Board today cleared it for liftoff.
When it will open is anyone's guess, as the owner, a gentleman named Le, has been futzing obsessively with certain details all through the project, ripping things out and putting them back together.
Want to be among the first to see the penny-covered foyer or the nickel-covered bar or the handsome library or the one-of-a-kind shelving system that will allow staff to retrieve bottles from great heights?
Michael Klein, Philly.com
With seemingly every new Center City restaurant forcing people to dig deeply into their wallet, it's great to have Rob LaScala, whose flagship is the casual, family-friendly LaScala's at Seventh and Chestnut Streets.
LaScala, with chef Joe Nocella, is about to launch two side by side Italian concepts, near Third and Chestnut. Earlier this year, he bought the adjoining restau-clubs Paradigm (239 Chestnut) and Dolce (241 Chestnut). Paradigm's claims to fame were the clear restroom doors that become opaque only when they're locked; this was the coolest thing in 1997. Dolce was an Italian-style lounge.
Perhaps as early as this weekend (11/26), the Paradigm side will open as Rocchino's (215-238-6900), a smart-looking spot with brick walls, a curved bar, booth-and-table seating, and mammoth, colorfully tiled coal-fired oven that fires up pizzas, pastas and the like; it's billed as a rustic small-plater, but portions, especially pastas, are decent. Rocchino's menu is here. A friend snuck me into a test dinner last night. We recommend the tasting board of antipasti, the short-rib and marinara pizza (all pies are $16 and under), the meatballs, and especially the octopus (though the $12 price tag may have been a tad high). Yes, the restroom doors remain. Website is here. It'll serve dinner and late night only at the start. "Rocchino" is LaScala's mother's family, just so you know.