TableTalk
Michael Klein, Philly.com
Reading Terminal Market is getting close to finding a new operator for the stand previously occupied by Delilah's, the longtime soul fooder that shut down in mid-March amid bankruptcy proceedings.
The concept will be soul food again.
Market general manager Paul Steinke confirmed that four potential operators are in the running, and that all will audition for the market board later this month. He declined to identify them.
Michael Klein, Philly.com
Jim Caiola and David Salama, owners of the Queen Village creperie Beau Monde, today were named the future operators of the Central Park landmark Tavern on the Green. They will maintain Beau Monde, their rep says.
The city of New York will award the pair a 20-year license term to run an informal restaurant and outdoor cafe; it's just west of the Sheep Meadow near 67th Street.
They've hired Caiola's Johnson & Wales classmate Katy Sparks as executive chef. She was a 1998 "Top Ten Best New Chef in America" by Food & Wine Magazine and her experience includes the Quilted Giraffe, Mesa Grill, Bolo, and Quilty's,
Michael Klein, Philly.com
With all the on-the-road programming that the Food Network does, it's hard to get the chefs and the restaurants straight. Did Guy Fieri hit Tony Luke's? It was actually Marc Summers on The Best Thing I Ever Ate.
I knew this because I just downloaded the free On the Road app for iPhone and iPad that the Food Network just released.
Michael Klein, Philly.com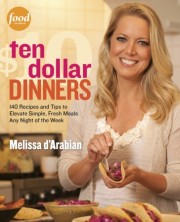 Melissa d'Arabian, who parlayed her win on the fifth season of Next Food Network Star into the shows Ten Dollar Dinners and Drop 5 lbs, is now an author.
Ten Dollar Dinners ($24.99, Clarkson Potter) - catchy! - is a compendium of 140 recipes and a bunch of home-ec tips.
D'Arabian will visit the area on Thursday, Aug. 16 for a noon signing at the Williams Sonoma in King of Prussia and a 4 p.m. signing at the Wegmans in Warrington, Bucks County.
Michael Klein, Philly.com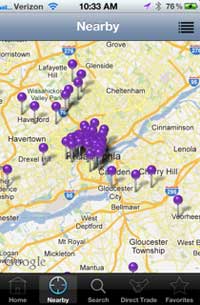 Techie/wine seller Greg Cohen - who last year came out with OysterGuru to help people find bivalves - has set his sights on independent coffeehouses.
His CoffeeGuru iPhone app launched today.
CoffeeGuru is hand-curated and doesn't rely on search engines for results, He says he spent three months contacting more than 3,000 coffeehouses and plans to update the info in real-time. There are 70 Philly-area coffeehouses in it now, and the search allows you to find those coffeehouses that roast their own beans or use Fair or Direct Trade roasters. Users can also submit reviews.
Michael Klein, Philly.com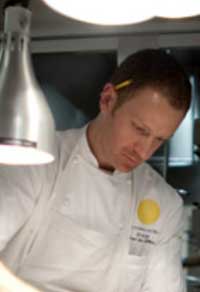 Fork in Old City has imported Eli Kulp - chef de cuisine at Torrisi Italian Specialties in Manhattan's Nolita neighborhood - as its executive chef, starting in mid-September.
Kulp replaces Terence Feury, who is going the chef-owner route as a partner in the soon-to-open Tavro 13 in Swedesboro.
Fork owners Ellen Yin and Roberto Sella say Kulp's new menu will begin in October. It will change constantly to reflect seasonality and availability of products.
Michael Klein, Philly.com
You'd think that software developer Joe Krill would be a major food truck fan, given that he's just launched Chowspotter.com, the ultimate online resource for those trying to locate Philly's culinary migrants.
But no. "I haven't really eaten at a lot of them," he told me. "I tend to eat healthy and pack my own salad."
The project began when he was looking for something to do on the side. "I saw a need for something like this, but I don't know if I'd call myself a foodie," he said.
Michael Klein, Philly.com

Pete Ciarrocchi probably was not the first guy to sprinkle Old Bay seasoning over crinkle-cut french fries, but he was the first to get to the U.S. Patent and Trademark Office to register the name "Crab Fries."
And so, the owner of Chickie's & Pete's is haunting the restaurant world, siccing his lawyer on all occasions that someone uses the term.
Even, in the most recent case, when naming a restaurant in the Outer Banks that opened in 2010.