Archive: September, 2012
Michael Klein, Philly.com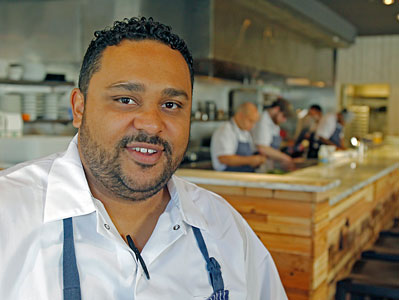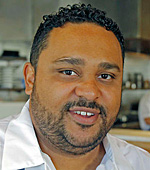 Top Chef winner and Eagles fan Kevin Sbraga has developed a sandwich to be served during Eagles games on the club level at Lincoln Financial Field this season.
Sbraga, whose eponymous restaurant is at Broad and Pine Streets, said he reached out to Aramark, which bit on the idea and encouraged him to develop a menu item.
The result: the Sloppy Jose - short rib and chorizo seasoned with cumin, cinnamon and coriander, topped with grated queso Chihuahua and a homemade coleslaw made of shaved radish and jalapeno as well as carrots and cabbage plus chipotle lime mayo, and served on a toasted sesame seed roll. Price: $14, including housemade chips.
Michael Klein, Philly.com
Burger.Org is putting a little high into the high holidays.
Eyal Aranya and Yoni Nadav's kosher, organic mini-chain is taking over the shuttered Max & David's kosher restaurant in Elkins Park, and plans to open Sept. 20.
Their flagship at 326 South St. opened in May 2011. They have followed with locations at 19th and Chestnut Streets, 650 Kings Highway North in Cherry Hill, and 8409 Ventnor Ave. in Margate.
Michael Klein, Philly.com
The original Lee's Hoagie shop at 19th Street and Cheltenham Avenue in West Oak Lane - which dates back to the 1950s - has closed.
Partner Allan Lewin tells me that it changed ownership last year and was reflagged as Lee's at Cheltenham. But "when it wasn't running to the standard we needed it," Lee's corporate asked the new licensee to remove the "Lee's" name altogether. It closed.
Lewin says the building owner is trying to work a deal with Lee's to install a new operator.
Michael Klein, Philly.com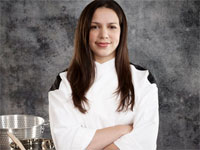 When Christina Wilson returned last year from taping season 10 of the Gordon Ramsay Hell's Kitchen cooking competition on Fox, she upped and quit her chef de cuisine job at Mercato, the BYOB on Spruce Street.
But, she told me, don't read anything into this. She left for "a dozen small reasons," she said. Not for one big one: That she was prepping to become the $250,000 exec chef at Gordon Ramsay Steak at the Paris hotel in Las Vegas.
In fact, as recently as two weeks ago, Wilson insisted that her next cooking stop would be at a restaurant in Cape May, N.J., next summer.
Michael Klein, Philly.com
It's been eons (a year and a half) in development, but Bubba's Texas BBQ is finally smokin' at 19-21 W. Girard Ave., the corner spot between Front Street and Frankford Avenue in Fishtown. They're targeting the first week of October for opening.
The owner, Steve Ehrenhalt, and the operator, a hail Texan named Robert "Bubba" Kolbasowski, attribute the long wait to the construction of a custom smoker - a 2,200-pound behemoth with eight smoking chambers. Barry Robbins, a welder and fabricator who lives near Bubba in the New Jersey Pine Barrens, built it from scratch.
Bubba, who caters under the name Bubba-Que, specializes in Texas-style (as in, dry-rub). His brisket spends 18 to 20 hours in the smoker. "The half-inch smoke ring is so tender you can cut it with a feather," Bubba said, with Lone Star-size modesty.
Michael Klein, Philly.com
After 6½ years on Northern Liberties' Liberties Walk, Shannon Dougherty and Liz Petersen are fixing to move A Full Plate - their cafe and catering operation - to Fishtown after their lease expires in early 2013.

They've obtained a spot - the five points crossroads of Norris and Cedar Streets and Susquehanna Avenue (aka 2370 E. Norris St.) - across from Loco Pez.
Cedar Point Bar & Kitchen - as they're calling it - will be twice the size: about 50 seats.
Michael Klein, Philly.com
The East Passyunk Avenue parking issues may be eased by a new valet stand set up by Passyunk Avenue Revitalization Corp.
It's outside the fountain at Tasker and East Passyunk, adding to the stand in the 1900 block of EPA, in front of Le Virtu and Tre Scalini.
Another stand, on the 1600 block of EPA, starts in two weeks.
Michael Klein, Philly.com
Hickory Lane, which opened last December across from Eastern State Pen at Corinthian and Fairmount, has picked up its liquor license. And with it comes an eight-seat bar. And a new "old" general manager: Daniel Elliott, who has returned from opening Rittenhouse Tavern.
The list is designed to complement chef Matt Zagorski's seasonal menu, Of the 11 beers in bottles, four are seasonal. (Right now, they're running Stoudt's Oktober Fest and Ayinger Oktober Fest-Märzen.) Small wine list - three reds, three whites, two house - available in glasses, bottles and 17-ounce carafes. Spirits include a decent selection of gins and single-malts.
A bar menu is on the way.