Archive: September, 2011
Michael Klein, Philly.com
The Warsaw Cafe at 305 S. 16th St., which ran out of steam and closed earlier this year, has given way to Jasmine Rice, a cute-as-a-button Thai BYOB from Tom and Ann Jamavan (215-546-0818).
Tom was a partner in Trio in Fairmount. Ann is a Thai-born home cook in her restaurant debut, executing the staples (pad Thai, coconut soup) as well as a few dishes I haven't seen elsewhere (particularly a lip-puckeringly delicious shrimpburi salad with poached shrimp, sliced lemongrass, ginger, onion, cilantro, chopped mint, and a dressing of lime juice and chili paste. All entrees are served with -- that's right -- jasmine rice.
Lunch menu (.PDF) is here. Dinner prices are a few bucks higher.
Michael Klein, Philly.com
Rosey's BBQ owner Chad Rosenthal has pledged 10 percent of all his Ambler restaurant's sales between Oct. 1 and 15 to help Ambler Borough recover from flood damage caused by Hurricane Irene. Rosenthal will double the donation on Saturday, Oct. 1 during Ambler's annual Oktoberfest celebration.
---
Nine Old City bars will host OCFest all day Oct. 9, and the best German costume will win $500 in gift certificates. Idea is to show up at Buffalo Billiards, Mad River, Triumph, Eulogy, Q BBQ, Sassafras, Nicks Roast Beef, National Mechanics, and Philadelphia Bar + Restaurant starting at 11 a.m. Costumed contestants will collect tickets at each place. At 5 p.m., the crowd will gather at Triumph to see who has the most tickets. If there's a tie, a talent contest will settle it. Details will be available on this Facebook page.
---
The March of Dimes' Signature Chefs Auction is up for Nov. 17 at Memorial Hall in Fairmount Park. Here's the rundown (.PDF).
---
Michael Klein, Philly.com
The weekend weather forecast forced the POPPED! Music Festival to move from FDR Park (outdoors) to the dry confines of the Liacouras Center at Temple University.
That seemed to leave out the accompanying food bazaar -- but organizers have obtained the Piazza at Schmidt's on Second Street south of Girard Avenue in Northern Liberties, where from 3 and 9 p.m. Saturday, such vendors Hardena, Made in the Shade lemonade, Sweetbox, Gigi & Big R, King of Rock-and-Roll Treats, and Nomad Pizza will set up and dish out.
Michael Klein, Philly.com
Iron Hill had a salmon spring roll on its menu for years, but in a menu change six months ago, it came off.
Nina Malone, who lives in Exton, started a twitter campaign called "Save the Salmon Rolls." Iron Hill co-owner Kevin Finn caved, and it's said that partly due to Malone's diligence, the salmon rolls are coming back.
Get to the Iron Hill in West Chester before 7 p.m. today (Thursday, Sept. 22) for a tweet-up.
Michael Klein, Philly.com
Keith Taylor of Zachary's BBQ in Norristown is coming downtown with two BBQ places called Soul Cucina.
One opens Wednesday, Sept. 28 at the Temple U landmark Owl's Nest at 2010 N. Broad St.
His next will be at 127 S. 10th St., near Thomas Jefferson University Hospital; it's now a pizzeria called Milano's, and a changeover will commence during the second or third week of October.
Michael Klein, Philly.com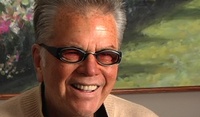 Oh, we've heard this comeback story before.
Neil Stein has told it to anyone who'd listen since he got out of prison in 2007. (To me, here in 2008.) And, more recently to Foobooz, here.
This time, there truly may be something cooking for the man who was once the toast of the city's restaurant scene before his life and empire crumbled.
Michael Klein, Philly.com
How Revolutionary of the Food Network.
Walter Staib, head honcho at the Colonial-theme City Tavern in Old City, is booked to take on Bobby Flay on Iron Chef on the Oct. 2 episide (10 p.m.). See details.
Of course the secret ingredient and outcome are not being divulged.
Michael Klein, Philly.com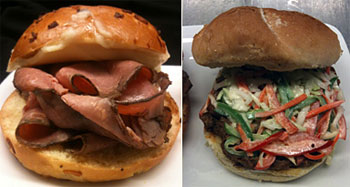 Food trucks, two new sandwiches, Johnson's Popcorn, kosher food, and in-seat delivery are all on the menu for Eagles fans this season at Lincoln Financial Field.
Aramark is announcing Wednesday that two food trucks will set up in the Linc's headhouse plaza during each home game.
The Dapper Dog, usually found late at night feeding bar crowds in Northern Liberties, will be a regular vendor, serving a signature hot dog as well as a variation based on the visiting team's city. Aramark will import another truck for each game; the second truck for Sunday's Giants game will be Jose Garces' Guapos Tacos.