Archive: September, 2010
Michael Klein, Philly.com
After eight years in Mount Airy, Jason Huber and Jocie Dye have put their coffee-and-tea gallery, InFusion, on the market.
In a statement, the couple, who met as students at Central High and were inspired to create InFusion during six months of traveling in Asia, said: "It's time to move on."
The couple want what they call a "similarly community-minded independent company" to take it over.
Michael Klein, Philly.com
Just in:
The General Lafayette Inn & Brewery in Lafayette Hill is ceasing its restaurant and guest house operations effective immediately.
A sale has been pending for close to a year. During the continued sale negotiations, the current brewers will continue to operate the brewing facilities to produce craft beer for wholesale distribution. Once the buyer is able to complete the purchase, the current brewers will retain operating rights to the brewery and resume providing General Lafayette beer for on-site consumption via the Copper Crow Beer Company (Crow).
Michael Klein, Philly.com
Women always should keep an eye on their handbags, but two recent incidents at Honey's in Northern Liberties suggests that two eyes may be in order. On Saturday, a guy carrying a large bag walked into the popular bruncherie. He briefly bent over, snared a patron's bag, stuffed it into his bag, and bolted out the door. A neighboring patron ran after the guy, tackled him, and retrieved the bag. Honey's owner Ellen Mogell says the victim chose not to press charges. Too bad. The same creep did the same thing a couple of weeks ago, and the empty bag was found on Fairmount Avenue. It's possible that the thief is working with two women who act as lookouts, Mogell says.

In brighter news, those who score an invite to next week's private grand-opening parties at Baby Blues BBQ (3402-04 Sansom St. in University City) will get to meet Jonathan Goldsmith, who plays the character of "the most interesting man in the world." The California-based Baby Blues will open softly on Sunday, Oct. 3 with a live broadcast of Anthony Gargano and Ike Reese's post-Eagles game show, and after a few nights of dry runs will go "live" to the paying public on Friday, Oct. 8. Here's the backstory on the joint from early August.
Michael Klein, Philly.com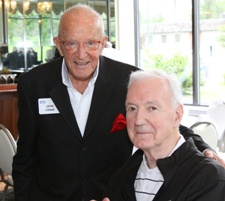 "Big Al" Meltzer was to accept the Board of Governors' Award at last night's Mid-Atlantic Emmys, but he was taken ill during the cocktail party at the Loews and had to leave for the hospital.
He is resting at home now, an Emmys rep said. His buddy Bill Baldini accepted the award in his behalf and the audience watched a video tribute.
Meltzer, 82, a veteran of Channels 10 and 3 plus Comcast SportsNet, started his Philly broadcasting career in 1966 at WPHL-17, where he covered the 76ers and Big 5.
Michael Klein, Philly.com

If you see Fox29 reporter Sharon Crowley out on the street today, wish her good luck in New York.
Today's her last day at the station after 11 years.
She's bound for WWOR My9 in New York.
Michael Klein, Philly.com
When the Chinese eatery Noodle Heaven closed in 2003 in front of the Bellevue on Broad Street (where Bliss is now), owner Jane Guo vowed a return to Center City.
She's making it happen.
Jane G's is planned for 1930 Chestnut St., the art-deco apartment building at 20th and Chestnut.
View Larger Map
Michael Klein, Philly.com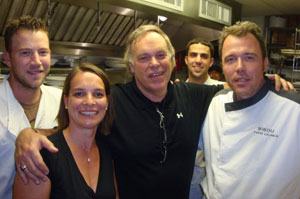 Wine expert Robert Parker showed up at Bibou, the well-regarded French BYOB in South Philly, last night.
Your question is: What did he bring?
What didn't he bring? Maybe a Yellowtail.
Michael Klein, Philly.com
One of the odder restaurant stories will add another chapter next month. The HeadHouse, the craft-beer bar that opened at 122 Lombard St. in June and closed a month later, will come back Oct. 8, says owner Madame Saito. She and HeadHouse operator Bruce Nichols parted company, and she says she plans to run the former Zot solo -- though she is looking for a manager. The menu will mix American and Asian, much as she has done next door over the years at her other place, Le Champignon de Tokio.

There may be speculation over the long-term future of Center City's Warsaw Cafe, but here's one fact: It is now effectively a BYOB. Its liquor license was transferred effective Sept. 20, according to state Liquor Control Board records -- though I will note that its bar was still set up Wednesday night. Owner Marion Jarzemski said he had not heard from his lawyer to confirm the sale. LCB IDs the liquor-license buyer as Fathom Seafood Bar, which fish's Mike Stollenwerk is setting up in Fishtown. The blog Brownstoner wrote that the restaurant's future was up in the air, which appears to be so. Jarzemski told me that his lease was coming up and that the landlord was preparing to sell the building on 16th near Locust Street. Meanwhile, his mom is still at the stove.