Archive: September, 2008
Michael Klein, Philly.com
Django, once the darling BYO in Queen Village, shut down over the weekend. Owner Ross Essner says the slow summer, slumping economy and rising competition conspired against him. He promised to make good on oblications for private parties and functions. Django was not on the list of restaurants participating in the current Center City Restaurant Week.
Court records show thousands in judgments from suppliers Julius Silvert and Samuels & Son.
The quick history: Bryan Sikora and Aimee Olexy opened the homey spot on Fourth Street near South in May 2001 and raves poured in. The couple, seeking a change in atmosphere, sold it in October 2005 to a partnership of Essner and Greg Salisbury of Rx. That partnership split up in June 2006, Sikora/Olexy opened Talula's Table in Kennett Square.
Michael Klein, Philly.com
NBC's "Today" show will broadcast next week from the battleground states, and Pennsylvania -- specifically Philadelphia -- is up for Monday (9/22). The rest of the week will be Tampa (Tuesday), Williamsburg (Wednesday) and Detroit (Thursday), leading into next Friday's McCain-Obama debate.
During the Philly stop (7 to 11 a.m.), Meredith Vieira will do segments on political ads, women voters who disagree on the candidates and the voting booths. Al Roker will be at Independence Hall doing the weather.
Four Reading Terminal Market merchants will be on camera with Roker at Independence Hall: Rick Oliveri from Rick's Cheesesteaks, Sam Dienner of Dienner's (with BBQ chicken), Paul Fisher of Fisher's (with pretzels) and Mike Strange of Bassett's Ice Cream.
Michael Klein, Philly.com
Hi-ho, hi-ho. It's off to work -- rather, to the Old City Civic Association -- goes Luca Sena, of Ristorante Panorama and the Penn's View Inn at Front and Market Streets. Sena wants to work with the owner of the Snow White, the longtime diner at Second and Market Streets across from the Continental. Plans submitted to the Zoning Hearing Board call for an outdoor deck and the addition of a second floor. Sena won't talk about it yet. Stay tuned.
Michael Klein, Philly.com

Not Presley. Elvis Duran.
Elvis Duran, whose syndicated morning show is carried on WIOQ (102.1), was in town Friday for meetings with Q102 staff and clients.
As he and Q102's Diego Ramos finished dinner at Bookbinder's in Old City, Ramos told Duran that he was headed to the Fraternal Order of Police building for a fund-raiser for the daughter of Officer Isabel Nazario, who was killed when the police car in which she was driving was hit by an SUV driven by a teen eluding police.
Michael Klein, Philly.com
Brown Betty Petite, a small retail cupcake-only outlet of the Northern Liberties bakery, sets Friday (9/19) as its opening at 269 S. 20th St., in a former linen shop near Rittenhouse Square. It will be open from noon to 7 p.m. (or till the cupcakes sell out) Tuesdays through Saturdays.
Michael Klein, Philly.com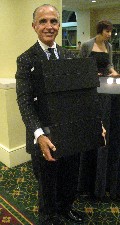 Larry Mendte was nowhere yet everywhere at the Mid-Atlantic Emmy Awards on Saturday night.
CBS3 station manager Michael Colleran seemed to acknowledge as much, referring to the Mendte-fueled scandals that rocked his station this year as "the elephant in the room" as he accepted the Emmy for station excellence. It capped a night of 22 statuettes for the station. NBC10 took home 9, CN8 and Pittsburgh's WQED took 7, Eagles Television Network got 6, and NJN, Comcast SportsNet, Fox29 and Pittsburgh's KDKA got 3. Eight other outlets won one. WPVI (Channel 6) did not enter, as usual.
CBS3 news director Susan Schiller won for "news excellence," and for the fourth year in a row the station's evening newscast won.
Michael Klein, Philly.com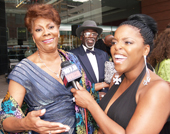 Why did Dionne Warwick shuttle to and from Tuesday's Rhythm & Blues Foundation gala in a cab: The singer's contract dictates that she does not ride in white cars. Someone interpreted that to mean white limos, so a white Mercedes sedan was dispatched to her hotel, the Loews. Nuh-uh. Warwick found a yellow taxi for the hop to the Kimmel Center. Warwick also cabbed it back and asked the driver to swing by Broad and Chestnut Streets to see the Borders shop, where she was to sign her new children's book this coming Wednesday. (The appearance was postponed because of a scheduling conflict.)
Warwick was dropped off at the Loews' Market Street entrance, which sent her past SoleFood restaurant — where she mobbed until hotel staff rescued her.
That's what friends are for.

Michael Klein, Philly.com

Thomas Drayton, who last anchored at Fox's station in Sacramento, lands next week at Fox29, where he'll anchor its news at 5 p.m. (with Kerri-Lee Halkett) and 10 p.m. (with Dawn Stensland). He replaces Dave Huddleston, whose contract was not renewed.
His actual on-air date has not been announced, but will be sometime next week. His last day at Fox in Sacramento was last Thursday.
Drayton, who tells me he's in his early 30s, is well-traveled. He spent his elementary and middle school years in Pemberton Township, N.J., because his father was in the Army. The family moved to Colorado. He did his undergrad at Pepperdine in Malibu. His first TV job was in Colorado and he freelanced in Puerto Rico.