Archive: September, 2008
Michael Klein, Philly.com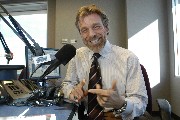 WIP afternoon talker Howard Eskin will be the man of the hour on Nov. 6 as he gets a lifetime achievement award at the 15th annual Philadelphia Achievement In Radio (AIR) Awards, which are the local radio version of the Emmys. (Unlike the local Emmys, though, all the stations participate.)
Eskin, 57, started in sports talk in 1979 and logged his 5,000th sports-talk show a year ago. He went to TV with KYW in 1982. In 1986, the year he joined WIP, he started a five-year association with Fox29, launching its 10 o'clock news. From 1992 to 1996, he was back at KYW. In 1996, he started at NBC10, where he's since contributed to "Sports Final," except for a year in 2005-06.
The AIR Awards are a benefit for the March of Dimes.
Michael Klein, Philly.com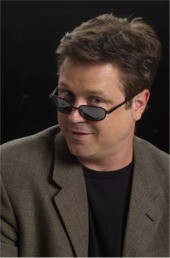 Cadillac Jack, who's pretty much held the afternoon shift on WOGL (98.1) since the death of "Big Ron" O'Brien in April, was tapped today as the full-time replacement. Jack, who was on the old Eagle 106 from 1991 to 1993, was known as Jack Seville when he started at 'OGL about four years ago because WXTU had a Cadillac Jack of its own; he is now on the air in Vegas.
Michael Klein, Philly.com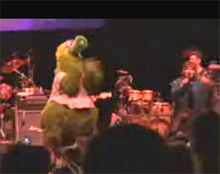 What the Phillie Phanatic did on his night off. He got up on stage last night at the Keswick Theater with Little Feat.
Michael Klein, Philly.com
Here's something to think about: If the Phillies make the playoffs, the games may be heard on not one, not two, but three radio stations. And possibly a fourth.
CBS's WPHT (1210) is the flagship. Clear Channel's WUBA (1480) broadcasts the games en español. It hasn't been publicized, but get this: Sports talker ESPN 950 also has the rights to postseason Phillies play, though it carries the ESPN network feed and not Harry Kalas, Larry Andersen and Scott Franzke.
A fourth station would be CBS's WIP (610). CBS has been simulcasting Eagles games on WYSP (94.1) and WIP, and there's no reason to believe that CBS would turn down the chance to sell playoff commercials on a second station. Of course, if a Phillies playoff or World Series game were to fall during an Eagles game, well ...
Michael Klein, Philly.com
London Grill in Fairmount has a knack for keeping kitchen staff. Now that chef Dennis Heslin is leaving in November after 14 years -- he's opening a restaurant outside of Boston with his family -- owners Michael and Terry McNally are hiring. They're looking for someone with: 3 to 5 years' experience in varied back-of-house positions, including food prep, line cook, sous chef and expediter and at least 6 months' experience as head chef/kitchen manager. They're offering full medical insurance, 10 days' paid vacation a year and "continued growth and learning."

All this for an approximate salary of $40k.
Michael Klein, Philly.com
Greater Media, which pulled the plug on its smooth jazz station at 97.5 several weeks ago, has announced that it's started a multichannel online station at PhillySmoothJazz.com.
Its six channels include a main channel, plus piano jazz, guitarists, saxophones, vocals, and smooth instrumentals, and Broadway, "groove jazz" and a channel devoted to Philadelphia-based musicians are planned., as is a media player offering 14 channels of mainstream jazz.
Clear Channel, the company that formerly programmed smooth jazz at 106.1, recently stopped broadcasting smooth jazz on its HD channel 106.1-2, for which you'd need an HD radio to hear.
Michael Klein, Philly.com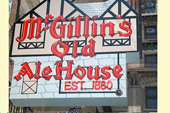 The new October issue of Gourmet magazine names McGillin's Olde Ale House in Center City as one of 14 coolest bars in the United States open before 1941. (It was one of only seven bars getting a write-up.) The editors note that McGillin's "has plenty of old-time character" and describes McGillin's as "lively, sometimes raucous." Sometimes?
The other six are Bemelmans Bar in New York City; Tujague's in New Orleans; Tosca Café in San Francisco; the Green Mill in Chicago; Huber's in Portland, Ore.; and Frolic Room in Hollywood. The best of the Rest are Formosa Café in West Hollywood; Heinold's First and Last Chance in Oakland, Calif.; Napoleon House in New Orleans; Pete's Tavern in New York; Shinnick's Pub in Chicago; Sultana Bar in Williams, Ariz.; and the Tap Room of the Griswold Inn in Essex, Conn.
Michael Klein, Philly.com
Alfredo Giannaccari is going before the Northern Liberties Neighbors Association's zoning committee Tuesday night to talk up plans for a wine bar at 944 N. Second St., a space at Second and Laurel, more or less across from Cantina Dos Segundos, that's been the coffeeshops\ Tabula Rasa and Elixir Café. Giannaccari, a native of Naples who co-owns Newtown Grill in Newtown Square and Solé in Stone Harbor (and formerly in Manayunk), envisions Vinoteca as a Neopolitan trattoria/wine bar with small plates and snacks.