Archive: September, 2008
Michael Klein, Philly.com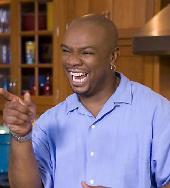 It's good to be Camden's Aaron McCargo Jr., who won "The Next Food Network Star." His Food Network show, "Big Daddy's House," got picked up for a renewal in January.
He's been booked to do a cooking demo hosted by the Food Network's Gordon Elliott at 6 p.m. Oct. 24 at the Radisson-Warwick. It's $125 a ticket, and info is available at his Web site.
Michael Klein, Philly.com
Recent reports have Janet Jackson ailing in Montreal, and now comes word that her show at the Wachovia Center scheduled for Thursday (10/2) has been postponed. Her stop in Boston on Wednesday (10/1) also is on hold.
No new dates have been scheduled.
Jackson's tour, with LL Cool J, is due to pick up Saturday in Greensboro, N.C.
Michael Klein, Philly.com
Another day, another wager regarding the Phillies-Brewers series.
City Councilman Curtis Jones Jr. and Milwaukee Alderman Robert J. Bauman bet Usinger's sausages against two hoagies and a variety pack of Tastykakes.
Today's big bet involves WXPN's Jim McGuinn and 88Nine RadioMilwaukee's Scott Mullins, who both work afternoons. The stakes are brats against cheesesteaks. Winner gets bragging rights and can "take over" the loser's station for one full hour – in effect, they'll play guest DJ on the other station for one hour. They kicked off the rivalry this afternoon by playing songs by artists from their respective cities. Mullins played "You're the One" by Kings Go Forth and McGuinn played "The Ark" by Dr. Dog.
Michael Klein, Philly.com
Credit is tight, the economy has gone south, and yet restaurants keep opening.
The last two weeks have seen these rollouts:
Melograno, in new quarters at 2012 Sansom St.; details in Thursday's "Table Talk" column

Mémé

, at 22d and Spruce Streets.

Sakeya, a dark and sexy Japanese pub in the Academy House, 1420 Locust St.

Mix, a pizza/pasta/coffee joint with bar at 21st and Chestnut Streets

El Fuego's second location, now getting its footing (the grill is not quite there yet) at 2104 Chestnut St.
More to come. A sampling:
Around the corner from El Fuego/Mix is a not-quite-named pub from bartender-about-town Laurentiu Muras at 102 S. 21st St.; when I first wrote about it back in March, Muras was considering the name Mamaia (to honor his Transylvanian ties), but he is reconsidering it. He seems to be only a few weeks away.

Tiedhouse

, in the works for nearly a year, has its soft opening up for Oct. 9 in the ground floor of CityView Condos at 20th and Hamilton Streets. By "tiedhouse," it's associated with Lafayette Hill's General Lafayette Inn. Chris Leonard plans 19 draft beers of 19 different styles, "select" bottles to fill in styles that won't be on draft, and a tight wine list whose choices will be available by the half-glass, full glass and bottle. Menu will be international small-plates, and he's promising great prices ($4 to $5, and nothing over $15). Atmosphere will be dark and pubby.

South Philly's

Lucky 13

(1820 S. 13th St., a few steps off Passyunk) has been in soft-opening mode to keep its liquor license intact. The grand opening is penciled in for Oct. 13.

Camac, a brick-oven pizzeria/lounge, is under construction at 1305 Locust St., the spot that most remember as Girasole; the owners are suggesting a late-November opening.

What was Citrus at 8136 Germantown in Chestnut Hill is being taken over under the name Soul by a well-traveled server most recently at Parc.

What was Clementine's at 1617 E. Passyunk in South Philly is being converted into Lynda's Mediterranean.
Michael Klein, Philly.com
Here's a transcript of my live chat from last Wednesday. I'll be back to chat online at noon Wednesday.
Michael Klein, Philly.com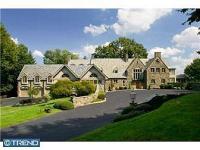 The 76ers' Elton Brand plans to be here for a while. He settled last month on a spread on the Main Line, as I reported Sunday. The sale price was $3.35 million for a six-bedroom, nine-bath stone mansion on 4.3 acres in Gladwyne, according to Montgomery County records.
The house, used in the 1990 shooting of Rocky V, has an indoor pool.
Just after Brand left the L.A. Clippers, he put his three-bedroom, 3½-bath house in the Hollywood Hills on the market for a shade under $5 million. Earlier this month, the price dropped by $200,000.
Michael Klein, Philly.com
Chef David Katz cleared out some of the tables at Mémé, his new Fitler Square bistro, and brought in some friends and family for Saturday night bites in anticipation of Monday's opening. Mémé, named for Katz's pet name for his Moroccan grandmother (say it "MAY, MAY") and set up in the former Melograno corner spot, rustic American with an open kitchen, cherry tables and blackboard menu. (He's doing "small-ish" and "larg-er" plates; figure on $40 a person.)
The restaurant, awaiting its liquor license, will be open nightly except for Tuesdays, and for Sunday brunch. Menu is here and here.
Mémé
2201 Spruce St.
215-735-4900
Michael Klein, Philly.com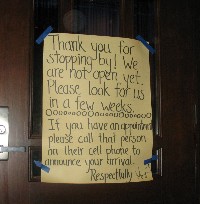 For all the restaurants that fling open the doors five minutes after they get their health inspections -- no matter how "ready" the owners think they are -- we have Alison two, on Bethlehem Pike in Fort Washington.
Night after night for the last week and a half, the glowing lights and dining patrons can spotted through the windows. Friday night (9/26), this sign on the front door warded off the public.
Even though chef-owner Alison Barshak opened the reservation lines the other day, the first reservations are not being granted for a full month out: Oct. 23. It's not clear when walk-ins may be accommodated.