Archive: August, 2013
Michael Klein
After a summer of extensive renovation, the space at the Eagle Village Shops that was georges', Le Mas Perrier and Le Mas will be reborn Sept. 3 as Peppercorn (503 W. Lancaster Ave., Wayne, 610-964-2588).
Concept is billed as refined American, and chef David Murray - one of a few holdovers from the previous incarnation - seemingly will offer something for everyone, from lamb burgers and herb-roasted chicken wings up to USDA Prime Center Cut 12-ounce New York strip steak and USDA Prime 8-ounce filet mignon (prices run the board from $7 to $48).
Running the front of the house is Aaron Kavulich, who ran restaurants in Pittsburgh.
Michael Klein
Sept. 6 will mark the debut of Pizzeria Vetri, taking shape at 1939 Callowhill St.
It's a half-block from the Barnes museum in the suddenly hot slice of Franklintown, in a spare, high-ceilinged, subway-tiled space at The Granary.
Marc Vetri and chefs Jeff Michaud and Brad Spence have a wood-burning Renato model AR/700S oven to put out traditional Neapolitan pizzas, the rectangular Roman-style pizza al taglio, the roll-ups called rotolo, and a calzone. Figure on $12 to $18 for a pizza.
Michael Klein
Carmel Cafe & Wine Bar - which started in Tampa less than three years ago and now has five locations in Florida - is aiming for a Sept. 9 opening at 372 W. Lancaster Ave. in Wayne, previously the site of HogFish Bar & Grill and its predecessor, Flavor.
Carmel's concept is Mediterranean-inspired fare (which they call "Mod Med"), available in small and large plates. Each is designed to be paired with wines, which will be available in three-, six- or nine-ounce pours or by the bottle.
Founders are the Camden-raised Terry Ryan, who was behind the posh Oceanaire during its brief tenure in Center City, and Chris T. Sullivan, who years ago headed Outback.
Michael Klein
The long-delayed Shifty's Taco is in soft-opening mode at 2730 W. Girard Ave. in Brewerytown (215-232-1413).
Befitting the neighborhood - above Fairmount and east of the Philadelphia Zoo - Shifty's is a rough-and-tumble-looking 1950s-style Mexican cantina with exposed walls, butcher block counter and open kitchen framed in wood.
Zack Shell (who formerly managed the El Fuego restaurants) and Geoff Gabrick (a chef previously at Circa, Novelty and Latest Dish) make their own tortillas and hot sauces, butcher their own meats, and locally source as many ingredients as they can. "We have high expectations for ourselves," says Jeb Woody, who owns the Honey's Sit N Eat cafes and is a partner. "We want to make the best tacos in the country." Flour and gluten-free corn tortillas envelop the tacos, sold three per order. Prices start at $5 for bean and cheese and rise to $8 for such varieties as "The Rub" (braised brisket with chipotles in adobo) and "The Impostor" ((house-made pulled seitan, pomegranate molasses and chipotle mole).
Michael Klein
Chink's Steaks in Northeast Philly took great pains to rebrand earlier this year as Joe's Steaks & Soda Shop.
But it's possible that the Chink's name - the subject of controversy - will reach a national audience Saturday, Aug, 24.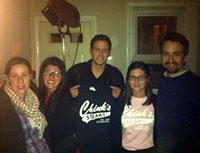 The NBC drama Do No Harm (10 p.m.) shot a scene last year at the shop, before the name change.
Michael Klein
You might say that Ellen Yin, Roberto Sella and chef Eli Kulp are changing their Fork.
After business Friday, Aug. 23, fork:etc., the market-cafe next to the Old City bistro Fork (306 Market St.), will close for good after nine years.
In mid-September, the spot will become a bit higher-minded, though still casual. They're describing High Street on Market (308 Market St.) - named after the colonial name for Market Street - as an "of-the-moment restaurant" serving 'boundary-pushing" food from morning to evening. Kulp's menu will constantly change and will feature difficult-to-find, foraged ingredients. He also plans to use Old World preservation techniques.
Michael Klein
Bernard Perrier, 65 - the front-of-the-house counterpart of his older brother, chef Georges Perrier - died unexpectedly Sunday, Aug. 18 at home in Moorestown. His daughter Carrie Boxer said the cause was heart failure.

Services: 10 to 11:30 a.m. Friday, Aug. 23 at Weber Funeral Home, 112 Broad St., Riverton.
Bernard, who grew up in Lyon and Saint Nizier, came over in September 1973, shortly after Georges opened Le Bec-Fin on Spruce Street. He cut a towering figure, in vivid contrast to his brother.
Michael Klein
Last we heard from Sylva Senat, the Haitian-born New Yorker had been relieved of the executive chef's job at Tashan, the modern Indian destination on South Broad Street, and was considering a move back to the land of 212/718.
This is not to be.
Senat has landed as chef at The Saint James, the stylish (but critically panned) American bistro at Suburban Square.