Archive: August, 2012
Michael Klein, Philly.com
Harrison Ford and Liam Hemsworth shot a few scenes for the thriller Paranoia on Tuesday at Caribou Cafe, 1126 Walnut St., as well as at the Beasley Building across the street.
The movie stars Hemsworth as a guy who messes up in his corporate job and is forced by his boss (played by Gary Oldman) to spy on a rival business exec played by Ford.
Michael Klein, Philly.com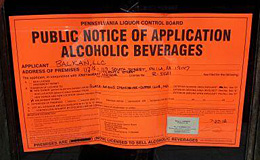 Let's catch up with a few odds and ends:
David Ralic of Ralic's Steakhouse in Haddonfield is planning to cross the Ben to open a seafood concept at 117-119 South St., the former Mallorca and short-lived Black Angus. The name and menu are TBA.
Marc Vetri's recipe for Slow-Roasted Glazed Pork Shoulder makes September's Bon Appetit. See it here.
Michael Klein, Philly.com
The Bonte shops (922 Walnut St. and 130 S. 17th St.) will give away mini-sugar waffles from noon to 4 p.m. Friday, Aug. 24.
Michael Klein, Philly.com
Life may be relaxed right now at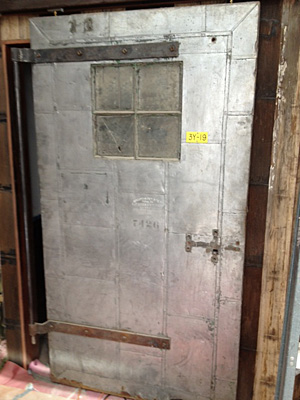 Elixr Coffee (207 S. 15th St.) as the barista pulls the shots.
But there's a furious hammering and sawing underway for Elixr's new location, a block away on Sydenham Street (that side street off of Walnut between 15th and 16th, behind the Chipotle that was Susanna Foo).
Owner Evan Inatome says the last customers will be served on 15th Street before 5 p.m. Aug. 29. That evening, the shop at 207 S. Sydenham - at least 50 percent larger - will open.
Michael Klein, Philly.com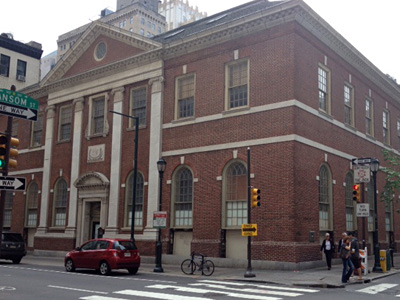 Signed nearly three months ago, the deal bringing the luxe Ocean Prime to the corner of 15th and Sansom Streets was press-released today.
The "modern American supper club" - which I hear will open in March 2013 after a $5 million build-out - will be number 10 in the collection of Ohio-based restaurateur Cameron Mitchell.
It will replace Roy's.
Michael Klein, Philly.com
Rittenhouse Square real-estate agent Anne Frey is aiming for Tuesday, Aug. 21 for the unveiling of 1 Tippling Pl, a cleverly named cocktail bar that has a certain Mad Men appeal. It's at 2006 Chestnut St., which last was Jolly's piano bar.
It's done up in a style that would seem straight out of a mid-20th-century parlor - antique paintings, table lamps, comfy seating - next to a bar. Frey said focus is on fairly priced craft cocktails, "both classic and some inventions of our own. We are barrel-aging three different cocktails in house and will also have a selection of seasonal punches. Fish House punch (from the original recipe from State in Schuylkill) will always be available. Also a selection of craft beers and wines by the glass are available."
Frey's general manager David Tang previously managed the Ranstead Room, behind El Rey across the street. He trained with Sasha Petraskie (Milk & Honey).
Michael Klein, Philly.com
Beau Monde co-owner Jim Caiola on Sunday labeled "untrue" an allegation that family ties - and not merit - cinched the deal that put him and partner David Salama in line to run Tavern on the Green, the Central Park landmark owned by the City of New York.
The New York Post on Saturday reported that Caiola's sister is married to Kevin Sheekey, a former deputy mayor of New York. City officials told the Post that the entire process was handled by the book and that Caiola had no reason to divulge his family ties. On Sunday, The Post also reported that New York's comptroller was investigating.
"He and I had zero contact about this," Caiola told me Sunday. "We don't talk about my business or his business, anyway." Once the deal became close, Caiola said, "we had a feeling [the connection] would come up."
Michael Klein, Philly.com
Jose Garces is on the move again.
As part of a major redo of Terminal F at Philadelphia International Airport, he will consult on - but not operate - a tavern called Local.
The Inquirer's Linda Loyd reported in Sunday's editions that construction is underway to enlarge the center "hub" that connects three concourses, doubling the number of restaurants and retail shops, and adding passenger seating. The eateries and concessions - including spots by La Colombe and a burger concept - will open in phases, some before Thanksgiving, and more next July 1, including Local. All concessions will be open by September 2013.