Archive: August, 2011
Michael Klein, Philly.com
Things are great in restaurant land, right?
We seem to be in the middle of a restaurant boomlet.
But if you ask the owners of longtime restaurants, "How's biz?" you'll hear all sorts of grumbling.
Michael Klein, Philly.com
Last fall, our friend Rick Nichols waxed eloquent about Jake's, a brand new Wisconsin-style frozen-custard shop in Paoli that also sold bratwurst, deep-fried cheese curd, and burgers.
Alas, it's now closed, as first reported last month by the local Patch.
Its website offers thanks for the support.
Michael Klein, Philly.com
Tom Jamavan, formerly part of the triumvirate at Trio in Fairmount, is behind a Thai BYO now being hammered out at 306 S. 16th St., in the longtime home of Warsaw Cafe.
Jamavan says he's doing extensive work and plans to open Jasmine Rice in the second half of September.
It's a veritable Thai-fest in the 'hood, as it follows the new Sawatdee at 15th and South Streets.
Michael Klein, Philly.com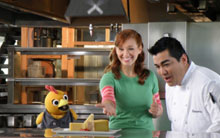 Chef Jose Garces probably has seven dozen ways to cook chicken.
On Aug. 23 (9 a.m. to noon), the Iron Chef gets to compete against one: Chica the Chicken, star of The Sunny Side Up Show, on Sprout, the kiddie channel based here.
Garces' segment, billed as "Sunshine Chef," was shot at JG Domestic, his restaurant at the Cira Centre.
Michael Klein, Philly.com
Talula's Garden, the new Aimee Olexy-Stephen Starr collab on Washington Square, comes in at No. 6 on Bon Appetit's list of the best new U.S. restaurants.
Which is fine, except for that fact that chef Michael Santoro -- who left two weeks ago -- is singled out for praise.
Critic Andrew Knowlton writes that he never ate at Chez Panisse during its '80s heyday, "but I imagine the food tasted something like the meals I had at Talula's Garden."
Michael Klein, Philly.com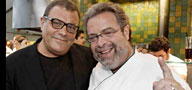 Looks like 21 is Stephen Starr's lucky number.
Right now, Starr owns 19 restaurants in Philadelphia, if you include the seasonal Square Burger on Franklin Square and his management of Granite Hill at the Philadelphia Museum of Art. He also manages the posh Rat's in Hamilton Township, N.J. (See map of his city holdings here.)
Starr says that after the October opening of Il Pittore with chef-partner Chris Painter at 2025 Sansom St. and November's planned opening of a seafood restaurant at 600 N. Broad St. (names are narrowed down to Little Neck or Route 6), he'll take a breather from Philadelphia "for a while."
Michael Klein, Philly.com
Christopher Thames of Roxborough's Distinctive Fare Catering turns up Tuesday, Aug. 16 on the Food Network show Chopped (10 p.m.).
Ep is titled "A is for apple and U is for udon," and the plot description goes like this:
"The chefs find udon noodles and a brightly colored vegetable in the appetizer basket. Then in the entrée round, the competitors are challenged to be creative with a seemingly straightforward basket. And the chefs hold back their tears when they learn they must use onions in their desserts."
Michael Klein, Philly.com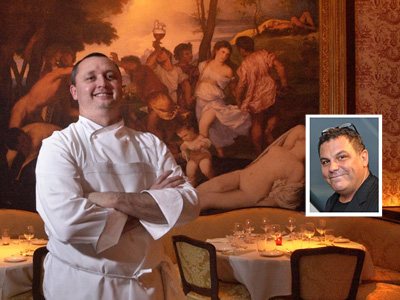 Another Stephen Starr restaurant is on the way: an upscale, modern-Italian dinner spot called Il Pittore, and it will occupy 2025 Sansom St., which until today was Noble American Cookery.
The deal – which will be Starr's 19th Philadelphia restaurant and his 25th overall – will provide a showcase for Chris Painter, one of Starr's brightest chefs and certainly his most durable.
The Pottsville native, a vet of French Laundry and L'Espinasse, is a partner in this venture.