Archive: August, 2011
Michael Klein, Philly.com
Street Road in Bensalem is fast-food haven, and two more brands are setting up there.
Fresh off its opening Tuesday at Cuthbert Boulevard and Haddon Avenue in Collingswood, Krispy Kreme is gearing up for its next debut in November at 1729 Street Rd. That's "B" on the map below. Franchisee Brian Zaslow says the next outlets could be in Wilmington and/or Chester County.
And Gino's Burgers & Chicken, the revival of the classic mid-Atlantic chain, is looking for a September opening of a location at 1606 Street Rd., a block or so east of KK (see "A" on the map). Owner Tom Romano says the first store on Route 202 across from the King of Prussia mall, which opened last Thanksgiving, is exceeding projections. Other locations are on track for Coatesville, Dresher and Voorhees.


Michael Klein, Philly.com
Talula's Garden, the Stephen Starr-Aimee Olexy joint in Washington Square, is looking for an executive chef.
Matt Moon, who signed on earlier this month after the sudden departure of Michael Santoro, has left, Starr confirms. Foobooz speculated on the departure this morning.
Moon had spent much time in Olexy's employ as chef at Talula's Table in Kennett Square, which seats 16 -- about a tenth of Talula's Garden's capacity and about a fifteenth of its nightly kitchen output.
Michael Klein, Philly.com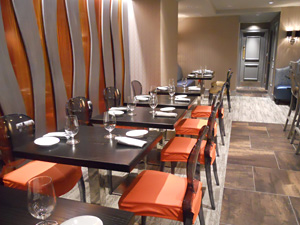 After nearly three decades, Georges Perrier has remade the bar downstairs from Le Bec-Fin.
By remade, I mean gutted.
The remake is dramatic: The former cloakroom at the bottom of the steps is now an exclusive seating area. The bar area has cozy banquettes (one a faux snakeskin) and small black-topped tables. He's framed the bar -- which now has a frosted, lighted glass top -- in whitewashed wood.
Michael Klein, Philly.com
Center City will get a tasty smoked-meat fix come October as Percy Street Barbecue has inked a deal to put a satellite shop in the Market & Shops at the Comcast Center.
Signs are up at what was an Au Bon Pain outlet at the top of the ramp leading from the shops into the center, at 17th Street and JFK Boulevard.
This will be the first satellite for owners Steven Cook, Michael Solomonov, and chef/partner Erin O'Shea, who opened the original at Ninth and South Streets two years ago. There will be no smoking on premises.
Michael Klein, Philly.com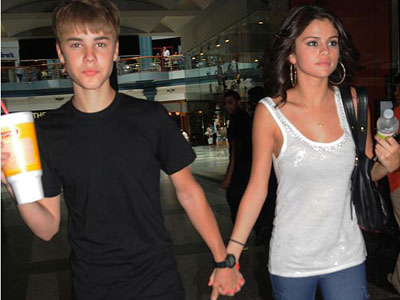 Entertainers Justin Bieber and Selena Gomez played tourist here Thursday and Friday as she visited the Kmart store at the Gallery to plug her Dream Out Loud clothing line and to perform at the Mann Center.
Since this blog is all about food... Their downtown dining choices ran the gamut: smoothies at the Shops at Liberty Place and (as first noted by HughE Dillon on PhillyChitChat.com) a cozy dinner for two Thursday at Vetri, the city's highest-rated Italian restaurant, where your only option is the $135-a-person prix-fixe.
My insider tells me they paid special attention to the lobster panzanella, the dry-aged ribeye with grilled peaches and black cabbage, the signature spinach gnocchi with brown butter, and the almond tortellini with white truffle, and capped off dinner with chocolate polenta souffle. Could not be nicer or more polite, either.
Michael Klein, Philly.com
The boom area that is 13th Street in Center City is moving south.
I told you earlier this month that Green Eggs Cafe was opening a spot this fall next to the child-friendly Nest gym at 1301 Locust St., former home of Signatures, the strip club.
Now I'll tell you that seafood star Mike Stollenwerk has snapped up the opposite corner of 13th and Locust, which has been Globar, Q Lounge, and Bump. (The sidewalk also bears a marker remembering Officer Daniel Faulkner.)
Michael Klein, Philly.com
The names of the crew from Franklin Mortgage & Investment Co., the cool subterranean bar in Rittenhouse, appear on a liquor app for the Lucky 7 at 25th and Aspen Streets in Fairmount.
Franklin's Mike Welsh said a deal was pending but respectfully declined to specify plans.
Michael Klein, Philly.com
The Indian BYOB Bindi (105 S. 13th St.), which is awaiting a liquor license, will give way later this fall to Jamonera, a Spanish wine bar and restaurant.
"Over the past nine years living and working on 13th street we have been extremely fortunate to be part of this neighborhood's growth into a dining and shopping destination for the city," say Marcie Turney and Valerie Safran in a statement.
"Our plans include a redesign with a relaxed dining area and a comfortable bar for 10 guests. We will offer a selection of handcrafted cocktails, house draft beers, a wine list focusing on boutique wines from small Spanish producers and dishes inspired by our many travels throughout Spain. We look forward to bringing a new taste to 13th Street this fall."