Archive: August, 2010
Michael Klein, Philly.com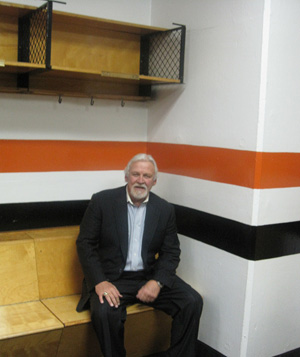 You can now get a piece of Philadelphia Flyers lore.
Bernie Parent, the Flyers hall of famer, has donated his original locker stall from the doomed Spectrum to the Greater Norristown Police Athletic League, which has launched an online raffle. As his business partner Dean Smith told me a couple of weeks ago, Parent didn't want to give it to a group that would auction it off to some high-roller. Better to allow everyday people to bid on it.
Parent was impressed by GNPAL's wrestling, boxing, basketball, and Tae Kwon Do programs as well as science nights and family reading programs. Each entry (via www.greaternorristownpal.org) costs $39 and entrants get an autographed 8x10 photo.
Michael Klein, Philly.com
Opening today in downtown Wayne:
PBandU, a shop devoted to one ingredient: peanut butter.
Simple menu of sandwiches (sliders, too), fondue, and pizza is served from the counter in a bright, concrete-floored, kid-friendly atmosphere. Peanut butter is ground in-house.
Michael Klein, Philly.com
Chhaya Cafe opened several weeks ago at 1823 E. Passyunk Ave. in South Philly.
Owner Varnana Beuria, a pastry chef who's worked at better restaurants, bakes her own muffins, cookies, and the like.
The house specialty, though: Waffles, and they're not only for breakfast.
Michael Klein, Philly.com
Eyewitness News and Action News are moving the start of its morning report by a half-hour -- to 4:30 a.m. -- effective Labor Day.
This will swing CBS3 and 6ABC in line with Fox29, which moved to a 4:30 a.m. starting last spring.
CBS3 credits itself with launching the city's first early morning newscast at 6:30 a.m. in February 1981.
Michael Klein, Philly.com
Thursday (8/26) marks the Philadelphia debut of Bar AIDS, similar to Dining Out for Life in that a dozen coffeehouses and bars will donate a portion of the day's proceeds to ActionAIDS, the AIDS Law Project of Pennsylvania, Mazzoni Center and Philadelphia FIGHT.
Bar AIDS started five years ago in Chicago. Organizers point out that Pennsylvania ranks sixth in the nation in the number of people reported to be infected with the disease. As recently as 2008, new HIV infections in Philadelphia were occurring at a rate more than five times the national average – more per capita than New York City.
Participants:
Café Cret
Small Oven Bakery at Tutti Frutti
Bike Stop
City Tap House
Fergie's Pub
Knock Restaurant & Bar
Tabu
Tavern on Camac
Woody's Bar & Restaurant
Uncle's
Westbury
Woody's
Michael Klein, Philly.com
Comcast SportsNet will televise Thursday's ceremony at Citizens Bank Park to honor Roy Halladay's perfect game. Starts at 12:50 p.m.
Among those due on the field are Jim Bunning, the retiring senator who also pitched a perfect game for the Phillies in 1964; Halladay's wife, Brandy, and their sons, Braden and Ryan; manager Charlie Manuel; and Carlos Ruiz, who caught the May 29 gem against the Florida Marlins.
Halladay's sons will lead the Kid's Run the Bases that follows the game.
Michael Klein, Philly.com
Marc Vetri created a monster by gathering dozens of chefs for the annual Great Chefs event benefiting Alex's Lemonade Stand. June's event raised about $400,000.
Now the concept is going to L.A. -- Nov. 7 at Culver Studios.
Vetri will be at "L.A. Loves Alex's Lemonade," and here's the roster, which includes such names as John Besh of New Orleans, Chris Bianco (whose Pizzeria Bianco in Phoenix is the toast of the pie world), TV's Giada De Laurentiis, and Chicago pub guru Paul Kahan.
Michael Klein, Philly.com
The independent film Future Weather, shooting now in Montgomery County, needs a Ford Ranger XLT as a backup "picture vehicle" for scenes to be shot Friday (Aug. 27).
To make this somewhat of a challenge, producers are looking for one in the model year 1994-1996, preferably with a tan interior and exterior.
The job pays $50 plus gas and lunch for the owner.