Archive: August, 2009
Michael Klein, Philly.com

South Philly natural-foods goddess Christina Pirello will be a regular contributor to The Huffington Post. Her first blog post, titled, "Why It's So Hard Not to Be Fat," went up Wednesday.
A Full Plate in Northern Liberties holds its third annual rib cook-off at 1 p.m. Sept. 12. Details here.
Prime Rib at the Warwick is doing a $35 prix-fixe menu every night through Sept. 25.
Michael Klein, Philly.com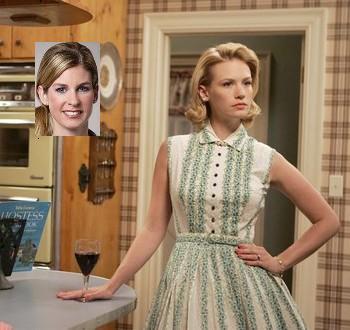 Wednesday night's season premiere of Bravo's Top Chef was the finale for the multi-tatted Jennifer Zavala, who recently joined Xochitl in Society Hill after helping to create El Camino Real.
Her chile relleno stuffed with seitan did not impress the judges. She also ended up with bloody fingers from shucking clams.
Michael Klein, Philly.com
He sings! He dances! He runs a radio station.
Standards station AM1340WHAT has new leadership. He's Jim Clark, and besides being program director, he's the on-air host from 10 a.m. to 5 p.m.
And he's a good sport.
Michael Klein, Philly.com
WPHT's Michael Smerconish will be in the White House Thursday for what is believed to be President Obama's first live radio interview.
Smerconish, who interviewed Obama three times during the presidential campaign, said questions about health care and the search for Osama Bin Laden will be front and center. There are no rules and no set-ups, he said.
WPHT (1210) will cut into Rush Limbaugh's show at 1:10 p.m. for the 20-minute interview. It also will be shown on MSNBC.
Michael Klein, Philly.com
Busy guy, that Michael Schulson.
He's on TV as host of the TLC show Ultimate Cake Off. Last Saturday, I caught him running the kitchen at his stylish Japanese pub Izakaya at the Borgata in Atlantic City. And effective Wednesday (8/19), he's in the demo phase of his restaurant Sampan, just off 13th and Sansom at 122 S. 13th St. It's targeted for November. (Here's what else is brewing in the neighborhood.)
The telegenic Schulson, who was chef at Pod and New York's Buddakan and previously hosted the Style Network's Pantry Raid, says he's going for an open look, Momofuku-esque aesthetic, referring to David Chang's minimalist New York operation. One wall will have a lighting setup that will enable it to change color every few days.
Michael Klein, Philly.com

The Kimpton Hotels team is dribbling out more details about Square 1682, the two-story restaurant that will occupy its new Hotel Palomar at 17th and Sansom Streets, across from the Sofitel.
They're saying mid-October for opening.
A few bullet points:
The concept from chef Guillermo Tellez -- a Charlie Trotter alumnus and native of Ciudad Hidalgo in central Mexico -- is "new American with world flavors," with a commitment to sustainability in the kitchen. The bar menu features dishes designed for sharing, while a combination of small and large plates on the dinner menu welcomes sampling. Tellez is working with 40 Pennsylvania growers, including Seven Stars Farm in Phoenixville, Hoover's Farm Market in Lititz, Shady Brook Farm in Yardley, and Deer Creek Farm in Reading, and he'll get organic microgreens from the Chef's Garden in Ohio. Tellez also was chef at Striped Bass, head of menu development for Stephen Starr, and more recently founded Northbrook MarketPlace in Chester County.
It won't be a behemoth. Seating is for 90 and, as a hotel restaurant, it will offer breakfast, lunch and dinner daily.
It's LEED-registered, the first such eco-conscious design in Kimpton's portfolio. Cork ceilings.
Alcohol program will be headed by two out-of-towners: Jacques Bezuidenhout as mixologist and the wonderfully named Emily Wines as sommelier -- yes, another female sommelier. And she's a master sommelier at that.
No renderings yet available, but Dayna Lee of Powerstrip Studio in Hollywood is going Art Deco with bold hues such as Indian orange, purple, and grain mustard. For the bar, she's ordered a hanging block of staggered walnut, suspended by satin bronze chain links. There will be a ground-floor exhibition kitchen and a two-story, semitransparent glass wine display, watched over by a painting of a Rubenesque woman reclining. Sculptural wood-encased geometric stairs will lead to the main dining room, where light will stream through floor-to-ceiling windows, and a feature chalkboard wall showcases drawings by local artists. The bar will be made of block of staggered walnut sourced from a Forest Stewardship Council-certified forest.
View Larger Map
Michael Klein, Philly.com
Staff at Union Trust steakhouse (717 Chestnut St.) say new Eagle Michael Vick and his fiancee, Kijafa Frink, insisted upon sitting in gen-pop -- the middle of the main dining room, and not in a secluded corner -- when they stopped in for dinner Tuesday (8/18).
Dinner menu: fried shrimp, sirloin and Grey Goose.
They left from the back door.
Michael Klein, Philly.com
For the second night in a row, Reese Witherspoon wowed the crowd at Parc on Rittenhouse Square on Tuesday (8/18) simply by showing up for dinner.
She was in the company of Paul Rudd and two others.
Witherspoon had a glass of Sancerre and the beet salad; Rudd had a glass of Minervois with a burger, no cheese.