Archive: July, 2010
Michael Klein, Philly.com
Scott Hartnell of the Flyers and his tennis partner, Philadelphia Freedoms Noppawan "Nok" Lertcheewakarn, defeated WMMR's Preston Elliot and Freedoms partner Courtney Nagle, 5-4, in a celeb match during halftime of the Philadelphia Freedoms vs. Washington Kastles World TeamTennis event at the Pavilion at Villanova University.
Elliot and Nagle jumped out to a 4-2 lead. Elliot is credited with two consecutive leaping, overhead slams. Hartnell then found his form, leading to a tie-breaker.
Michael Klein, Philly.com
To mark the first year of Sonata in Northern Liberties, the BYOB's chef-owner, Mark Tropea, will offer free champagne with dinner (and comp bloody Marys at brunch) during the weekend of July 23-25.
The part of the building owned by Philadelphia International Records at 309 S. Broad St. that didn't burn up in a February arson fire is being turned into a performance space called The TSOP Experience, offering a 55-seat adult-style nightclub on Thursday nights. It's nothing like the short-lived TSOP-theme restaurant in the Tropicana in Atlantic City that closed four years ago. There's no booze, no food, just music and open-mic performances in an atmosphere stocked with Philly International memorabilia. Grand opening will be Friday, and weekly programming will start July 22.
Spence Cafe in West Chester has given up its white-tablecloth approach in favor of a bar scene. (From the Daily Local.)
Michael Klein, Philly.com
Five years ago, in the aftermath of Radio One's earthshaking move to eliminate the Y100 format at 100.3 FM. station honchos Josh T. Landow and Jim McGuinn launched an online alt-music station called Y-Rock. A year later, WXPN picked it up and branded it as Y-Rock On XPN, adding over-the-air programming to its online component.
Then came sweeping layoffs last month at WXPN, and seven employees including Landow were riffed. (McGuinn had since departured for a radio job in Minnesota.)
Landow, whose last XPN broadcast was July 8, is back in the Internet-only indie/alt-music game with a station called YNotRadio.net, staffed by a volunteer staff -- Y-Rock hosts Adrienne, Andre, Cat, Heather, Jeff St. Pierre (Noise Complaint), Joey O, Liz Romaine, Matt Summers, Matt McGrath, Ramon Martinez (Rock Internacional), and Rob Huff (The Circuit).
Michael Klein, Philly.com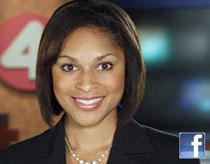 CBS3 has hired Jericka Duncan, last at the CBS affiliate in Buffalo, N.Y., as a general-assignment reporter.
Duncan, 26, is a second-generation TV newsie, as her dad is veteran sports anchor Ronnie Duncan of WAAY in Huntsville, Ala.
Duncan -- and her first name rhymes with "Eureka" -- has been in Buffalo for three years after two years at a smaller station in Elmira, N.Y. She has a B.S. in communications from Ohio U and considers Cleveland her hometown -- though her bio points out that she has lived in seven states (now eight) because of her father's career.
Michael Klein, Philly.com
Drawing mobs wherever he went yesterday, actor Zac Efron did a Philly media whistlestop to plug his flick Charlie St. Cloud, which opens July 30. (Sample of his ordeal: Jennaphr Frederick grilled him on Fox's Good Day.)
The end of his trip had him visiting Jim's Steaks on South Street.
Asked to compare a steak with provolone and onions to one with Cheez Whiz and onions, Efron said he preferred the Whiz.
Michael Klein, Philly.com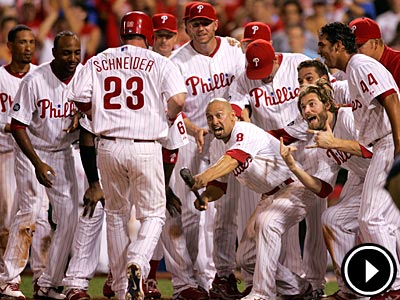 To celebrate the Phillies' three consecutive walk-off wins, Comcast SportsNet will replay them for three days, beginning today. All games will start at 2:30 p.m.
The fun part will be about 5 p.m.
Monday (today): Phillies vs. Reds from Thursday, July 8. Phils won 4-3 Brian Schneider hit a walk-off homer in the 12th inning to lift the Phillies past the Reds
Tuesday: Phils vs. Reds from Friday, July 9. Phils won 9-7 Ryan Howard hit a two-run home run in the 10th to give the Phillies a 9-7 win.
Wednesday: Phils vs. Reds from Saturday, July 10. Phils won 1-0, Jimmy Rollins' single to right scored Carlos Ruiz, giving the Phillies a 1-0 win in 11 innings.
Michael Klein, Philly.com
Nothing like a few restaurant openings to make life in July a bit more interesting.
Days old, and opening for lunch Monday (7/12), is the rustic Timber Wood-Fired Grill, across from Abington Memorial Hospital in the former Inn Flight/WingWalker (1301 Old York Rd., Abington, 215-884-7932). Here's the menu.
Wednesday (7/14) marks the debut of Radice, the Italian farmhouse concept in Blue Bell from the operators of Moonstruck in Fox Chase. (Read more here.) This slice of Central Montco has been in flux of late, with the closings of the short-lived Domenico's and Alison two.
Michael Klein, Philly.com
Toto Schiavone of Fox Chase's Moonstruck is looking at a Wednesday (July 14) opening of Radice, an Italian country-farmhouse-style restaurant in Blue Bell's Village Square (722 Dekalb Pike, just north of Route 73, 610-272-5700).
The sunny decor is a marked contrast from that of the space's previous occupant, Bourbon.
The project was long known as Beccofino, but Schiavone realized that the concept was based on his farm village roots in Badalto on the Ionian Sea, where his family cooked food in a wood-burning oven. So there's a wood-burning oven in the main dining room.
Get the flash player here: http://www.adobe.com/flashplayer