Archive: June, 2010
Michael Klein, Philly.com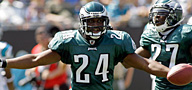 Sheldon Brown, whom the Eagles sent to Cleveland in April, has put his four-bedroom in Marlton on the market.
Asking price is $809,000. He paid the builder $840,000 in late 2004, according to Burlington County records.
Brown has not yet found new shelter in Ohio, a source said.
Michael Klein, Philly.com
The Philadelphia premiere of Standing Ovation -- Stewart Raffill's Glee-meets-High School Musical, kid-friendly, set-at-the-Jersey Shore flick about friends competing in a national tween music video contest -- will be July 13 at the Prince Music Theater.
Exec producer James Brolin will be in for the premiere, along with producer Diane Kirman, director Stewart Raffill, and the entire cast of the film, which opens July 16.
Michael Klein, Philly.com
Rob McElhenney and Kaitlin Olson of the Fx comedy It's Always Sunny in Philadelphia continue their Philly vacation, following two days of shooting here last week.
On Monday, they lunched in the back corner of Tria at 18th and Sansom Streets and later walked Rittenhouse Square before the sky opened up.

Michael Klein, Philly.com
MetroTraffic's John Brown had a driving calamity last week:
One of his back discs decided to rupture as he was driving on the Schuylkill Expressway on his way back to the studios in Bala Cynwyd to do his PM rush-hour reports.
He lost all feeling in his left leg, his wife, Donna told me, adding that at least it wasn't his driving foot so he didn't tie up traffic. In pain, he drove home and waited in the car in the driveway for his wife to rush home from work. They headed to Bryn Mawr Hospital, though John had to drive because he couldn't get to the passenger seat.
Michael Klein, Philly.com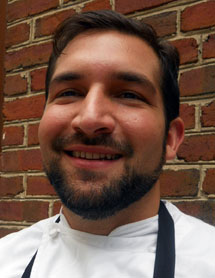 Effective today, Rouge on Rittenhouse Square has a new chef de cuisine. He's Trevor Budny, who on Sunday worked his last day at El Vez, where he was sous chef.
Budny's resume includes opening Alma de Cuba with Douglas Rodriguez and Jose Garces, interrupted by a sojourn in Barcelona, a return to Philly to work at Striped Bass with Alfred Portale and Chris Lee, followed by a stop at Vetri and opening Jose Pistolas.

Budny will handle the day to day at Rouge, whose exec chef Matt Levin is about two weeks from opening his own place, Adsum at Fifth and Bainbridge Streets. Levin also has been contributing to the burger specials at 500 Degrees.
Michael Klein, Philly.com
Nikki Kaufman tells me that she has pulled the plug on Saute, her Queen Village bistro, which opened in spring 2009 at the former La Creole at 775 S. Front St.
The restaurant had a shakeup last month when chef Nicholas J. Cassidy left for Barclay Prime.
At the time, Kaufman told me that changes were in store, related to the hiring of Paul Martin, whose resume includes Pod, Buddakan, and a stop in Louisiana.
Michael Klein, Philly.com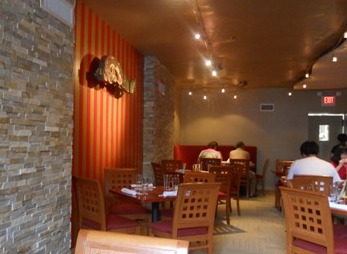 You can try, but you can't knock out Hunan, which has been on Lancaster Avenue in downtown Ardmore since 1973 and has the distinction of being the first kitchen of Susanna Foo. (It's owned by her brother-in-law, Eni, and his wife, Betty, and son, Chris.) Six years ago, Lower Merion Township attemped to use the powers of eminent domain to seize Hunan and its neighbors under the guise of redevelopment. That failed. A fire last October knocked it out of commission for what was supposed to be a short period, since it was a grease fire that was quickly extinguished. But of course, inspectors found deficiencies in the kitchen, so the Foo family had to rebuild. Hunan plans to reopen later this week. The two-level interior looks great; fieldstone and Chinese objets d'art have been added. I'll post a menu later.
The haute Mexican restaurant Paloma, arguably the fanciest restaurant in Lower Northeast Philly when it closed last fall, is about two weeks from resurfacing in South Philly, at 863 S. Eighth St., the former Mezza Luna. Health inspection is due Tuesday, according to its Facebook page.
Timber, a wood-fired grill, will replace Inn Flight/Wing Walker Pub at 1301 Old York Rd. across from Abington Memorial Hospital, in about two weeks. The eatery is hiring.
Michael Klein, Philly.com
The Inquirer's Craig LaBan awards three bells to Garces Trading Company, the casual cafe/market/BYOB restaurant from Jose Garces, which has a State Store-operated wine boutique within.
LaBan writes that the partnership with the Liquor Control Board isn't even the most exciting part of Garces Trading Company. "What I'm most intrigued by is how the Garces Trading Co. is testing the boundaries of fine dining by pushing it toward an ever more casual setting," LaBan writes. "Just how far from old formalities can Garces go and still deliver high-end food, where the sublime fusilli carbonara with house-cured guanciale and plats du jour crocks of bouillabaisse aren't just camera-ready gorgeous but also available for takeout?"
Not everyone is enthralled with the wine boutique. As I reported Saturday, competitors, the Washington Square West Civic Association, and State Rep. Babette Josephs have sued the LCB, accusing the state of playing favorites. The complaint, filed by lawyer David Kwass, who also owns the wine-cheese-beer cafe Tria, wants Common Pleas Court to end the arrangement. Should Garces have to apply for a liquor license for Garces Trading Company, the Wash West Civic president Judith Applebaum told me last week, the group would not object.