Archive: June, 2009
Michael Klein, Philly.com
Dovetailing into Phish's concert Sunday night in Camden, Brian Seltzer will host a radio "tailgate party" from 4 to 7 p.m. Sunday on WXPN (88.5).
Seltzer, Eagles reporter for 950ESPN, approached XPN's Bruce Warren about hosting a show dedicated to the live music of the jam band on the day it returns to Philly for the first time in years.
It'll airs 4 to 7 p.m and will stream on the Internet.
Michael Klein, Philly.com
Cuba Libre, the lively Latin resto-club that started on Second Street in Old City in 2000 and branched to Atlantic City and Orlando, is adding an outpost in Washington, D.C.
Owners Barry Gutin and Larry Cohen confirm that they signed a lease in a U.S. Mint building at Ninth and H Streets NW, near the Verizon Center and Washington D.C.'s new convention center. The restaurant, under chef Guillermo Pernot, will feature soaring 20-foot ceilings and artful decor -- three-dimensional facades and theatrical construction.
Opening is up for spring 2010.
View Larger Map
Michael Klein, Philly.com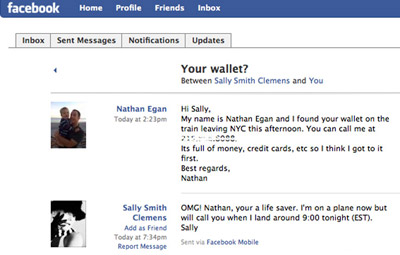 Kennett Square's Nathan Egan, a social-media consultant who's worked with such companies Facebook, LinkedIn and Twitter, got a taste of the power of this technology.
In New York on Wednesday, he boarded a train bound for Philly. He came upon a wallet stuffed with $350 in cash, eight corporate cards and a driver's license. Name: Sally Smith Clemens.
Egan, of Freesource Agency LLC, booted up his laptop, found her on Facebook and shot her a message.
Michael Klein, Philly.com
Mark Tropea, a Restaurant School grad who spent his last seven years as executive sous chef at the Desmond Hotel in Malvern, is cooking up Sonata, a 45-seat BYOB that will replace Swallow in Liberties Walk in Northern Liberties (1030 N. American St.).
He hopes to open in July, after a paint job, some new decorations and staff training. Tropea marvels at the new, lightly used restaurant equipment he inherited from Swallow. "It's like getting a Mercedes with a thousand miles on it," he told me.
Food: contemporary American "with a little flash, but not enough to scare people away"; entrees $22 to $28, with some higher gusts.
Michael Klein, Philly.com
The University City District is running another dining discount promo, from July 23-30.
Three courses, three prices: $15, $25, $30.
Here's the lineup.
Michael Klein, Philly.com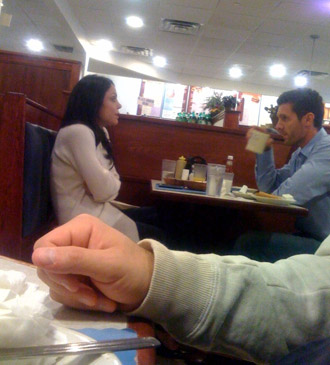 The power of the camera phone.
Shot moments ago at Hymie's, the deli in Merion: Bethenny Frankel, one of the "Real Housewives of New York City." Yes, she does eat. Her signing for her book Naturally Thin, at Skirt Boutique in Bryn Mawr from 1 to 3 p.m. today, is sold out.
Michael Klein, Philly.com
We seem to be in the middle of a restaurant boomlet. Here are updates on a few long-in-the-works projects.
The Blockley Pourhouse, a bar and live-music venue, and its adjacent Mary Oaks pub at 38th and Chestnut/Ludlow Streets -- which were on tap for March-April -- are now supposedly about two weeks out. Owner Ned Taddei ran into construction hangups and the customary/obligatory city red tape.
Brauhaus Schmitz, the bierhall planned for 718 South St., has hired its front-of-house management and is talking about a soft opening June 20, with public service June 22, says co-owner Kelly Schmitz. Liquor license should be in place today. Preliminary health department inspection is for up next week.
Michael Klein, Philly.com
Thursday was Day One of shooting for The Best and the Brightest, a comedy starring Neil Patrick Harris and Bonnie Somerville as humble parents trying to get their child into a posh Manhattan private kindergarten.
Boyds -- not your local Boyds, the only Boyds -- was set up to host filming. But shortly before, the place was hit by smash-and-grab thieves.
It's not clear when they'll be back at 1818 Chestnut St.