Archive: May, 2012
Michael Klein, Philly.com
Liem Ma, who with his famlly owns a couple Vietnamese restaurants in the Italian Market, is prepping for a June opening of Mekong River, a polished Viet with a bar, at 1120 S. Front St.
The property is at the corner of Front and Titan Streets, down the block from The Ugly American.
Ma tells me that he'll serve pho plus the standards such as rice vermicelli dishes.
Michael Klein, Philly.com
Bam. Just like that, chef Emeril Lagasse and cameras from ABC's Good Morning America - plus the William Tennent High marching band - showed up at the front door of Stacey and Brendan Carey in Feasterville this morning to serve Stacey breakfast in bed.
Stacey's friend Colleen DiCandeloro nominated her for the Mother's Day honor for seven reasons.
Stacey delivered sextuplets on June 1; daughter Julianna was 15 months old at the time.
Michael Klein, Philly.com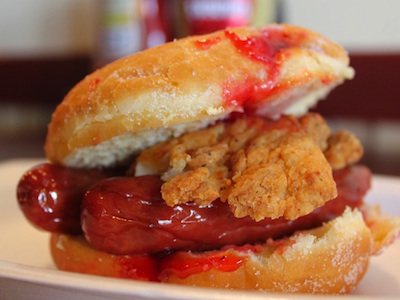 Fried chicken, doughnuts, hot dogs...
Why not combine every food fad in one sandwich.
I refer to the very fine wiener shop Cool Dog Cafe in Cherry Hill, which has developed The ICU, a hot dog topped with fried chicken and tucked into a jelly doughnut.
Michael Klein, Philly.com
Masaharu Morimoto, TV's Iron Chef and owner of eponymous restaurants in Philadelphia and New York, was a minor-league ballplayer in Japan.
You'd never know it from his on-field demonstration Tuesday just before the Phillies-Mets game at Citizens Bank Park. Given the honor of throwing out the ceremonial first pitch, Morimoto took his sweet time, rolled up his sleeves, wound up ... and air-mailed the toss to the Phillie Phanatic.
Morimoto got the invitation from Phillies manager Charlie Manuel after Morimoto hosted a benefit for Japan at his Chestnut Street location in 2011.
Michael Klein, Philly.com
Timber Wood-Fired Grill, which opened to much promise in July 2010 in the longtime home of Inn Flight restaurant across from Abington Memorial Hospital on Old York Road, has closed.
From what I'm hearing, the neighbors balked at its price points, which were in the mid- to high-$20s at dinner - a step up from its original more modest tabs. It didn't help that manager Michael Dombkoski left last fall; he's now at Paramour in Wayne.
I'm awaiting word from the owner, who I understand is trying to sell the lease.
Michael Klein, Philly.com
As the Latham Hotel reopens at 17th and Walnut Streets, it was the setting for the Colin Farrell-Terrence Howard mob thriller Dead Man Down.
The hotel's restaurant, an Italian wine bar Urban Enoteca, just opened.
Chef Dan Orvis' dinner menu is mainly small plates (top-priced entrée is a pappardelle with braised short rib ragu for $25).
Michael Klein, Philly.com
Iron Hill Brewery came away from last weekend's biannual Brewers Association World Beer Cup in San Diego in fine shape, as did Philly's Dock Street, Harrisburg's Troegs, and Milton, Del.'s Dogfish Head.
For the second time, Iron Hill won the overall award for "Champion Brewery and Champion Brewmaster, Small Brewpub." In addition, Bob Barrar, head brewer at the Media location, won two gold medals, while Newark head brewer Justin Sproul won a bronze.
Held bi-annually, the so-called Olympics of Beer Competition brings together brewers from around the world. This year, judges rated 799 participating breweries, and handed out medals in 95 style categories with a total of 284 awards distributed.
Michael Klein, Philly.com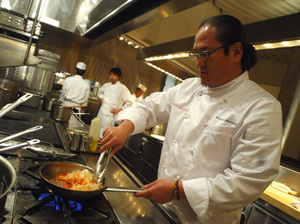 Iron Chef Masaharu Morimoto - who played minor-league ball as a young buck in Japan - will throw out the first pitch at Tuesday's Phillies game vs. the Mets as part of Asian-Pacific Celebration at Citizens Bank Park.
The wheels for this began spinning in May 2011 when Morimoto hosted a "Morimoto for Japan" fundraising event at his restaurant on Chestnut Street to help the Philadelphia-Japan Disaster Relief Fund.
Lunch with Phillies skipper Charlie Manuel was auctioned off as a live item, and when the time came for the auction winners to have their lunch with Manuel, Morimoto decided to join.