Archive: May, 2012
Michael Klein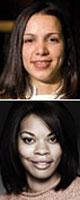 They're clammed up now at the instruction of Fox, but two locals are among the 18 competitors submitting themselves to the tender ministrations of chef Gordon Ramsay on Season 10 of Hell's Kitchen.
Premiere will be June 4.
They're competing for a head chef position working under executive chef Kevin Hee at Gordon Ramsay Steak at Paris Las Vegas.
Michael Klein
Popolino - Peter McAndrews' peasant Italian BYO at Fifth Street and Fairmount Avenue - has a new chef, Christopher Davis, previously a chef de cuisine at Barbuzzo.
McAndrews told me that three months in, the restaurant kitchen simply wasn't where it needed to be. Enter Davis, who worked for McAndrews eight years ago at Rembrandt's. (Hard to believe that McAndrews toiled for 12 years at the Fairmount landmark before he split in 2007 to create an empire that includes Modo Mio, two Paesano's sandwich shops, Monsu - and come Thursday - La Porta in Media.)
Davis' departure has set in motion a change in Marcie Turney's kitchen at the red-hot Barbuzzo, on 13th near Sansom, which has two chefs de cuisine, one executive sous chef, and four sous chefs. Chef de cuisine Paul Lyons, who left to open Jamonera across the street, will now work at both. Chef de cuisine Todd Satterfield is now joined by the recently promoted Caleb Johnson.
Michael Klein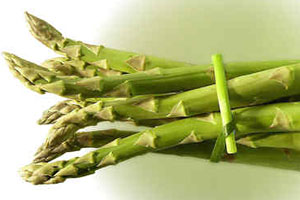 Marino's of Mullica Hill, a "farm-to-pizza" shop in Mullica Hill Commons Shopping Center (157 Bridgeton Pike), will mark its first anniversary Tuesday, May 15 by giving out comp slices of asparagus, bacon & truffle oil white pizza all day.
Owner Anthony Marino gave away asparagus white slices at the opening, but he's going whole hog this time.
Michael Klein
Cameras from Travel Channel's Food Paradise series will be in town Thursday to Saturday to gather footage.
Marabella Meatball Co. and three other establishments will be filmed.
Marabella's (1211 Walnut St.) is going all out from 3 to 8 p.m. Friday, inviting the public to eat meatballs during the shooting. For $15, you get four meat or veggie balls with toppings and crostini. The first 50 customers an hour will be guaranteed seating.
Michael Klein
Tiffin Etc., which opened in July 2009 as an Indian quick-serve-slash-pizza parlor next to Tiffin's flagship location on Girard Avenue, has closed.
Owner Munish Narula tells me that Etc. will be relocated to a new, yet-unnamed spot in University City.
Its space at 712 W. Girard will give way to an interesting concept: Indo-Chinese - the foods brought to India by Chinese immigrants. Classics such as chile chicken, chicken Manchurian, eggplant in garlic sauce, crispy Szechuan lamb, and the spicy-herby fried-chicken dish known as chicken 65.
Michael Klein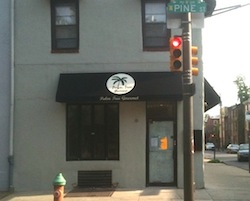 The commercial property on the southeast corner of 20th and Pine Streets has been empty since a kiddie bookstore moved out some time ago.
Years ago, it housed Opera Cafe.
Word was trickling out over the winter that Filter Coffee would take it over.
Michael Klein

Philly's first Shake Shack - the Danny Meyer-owned, New York-based burger, shake and grown-up beverage bar - is now less than two months away at the corner of 20th and Sansom Streets.
Meyer's people say the opening will be in "early summer," and I believe that something big will be tied to July 4th.
Meanwhile, the metal sign went up on the facade, replacing that attractive "green wall" that Meyer commissioned to make the construction site less of an eyesore. (See previous.)
Michael Klein
Urban cowboys have an outlet on the edge of Northern Liberties as the Philly branch of the New York-based Johnny Utah's has opened at 461 N. Third St., replacing Buckhead Saloon next to McFadden's.
It's cavernous and boasts a fierce mechanical bull, 25 TVs, country/rock cranked up to 11, and hot and cold running waitresses.
Tonight's promo is a bull-riding contest, while tomorrow will bring a Daisy Duke contest.