Archive: May, 2010
Michael Klein, Philly.com
Everyone seems to be opening a restaurant these days.
And many will flame out.
A new TV series is looking for people preparing to open their very first restaurant and who lack real restaurant experience.
Michael Klein, Philly.com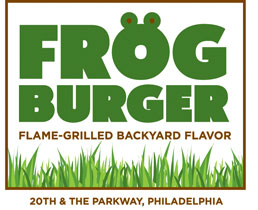 That tent going up today outside the giant airplane outside the Franklin Institute: Caterer and pioneering restaurateur Steve Poses (Frog/Commissary) is prepping for Saturday's soft-opening of Frog Burger, his take on the upscale burger stand.
It will be open periodically over the next two weeks before the grand opening during the week of June 14. Hours will be 11:30 a.m. to dusk daily. It's supposed to be open through the summer, with a shutdown date dictated by weather.
Here's the menu, which is a tad more ambitious than the norm: Fried green tomatoes. Grilled corn with chili-lime butter. "Chilled" gazpacho (um, opposed to the hot kind?).
Michael Klein, Philly.com
Here's an uptown departure for Jim Burke, chef/co-owner of James, the ambitious bistro in South Philly:
Burke has created three dishes and one signature cocktail that will be served at Max Brenner, Chocolate by the Bald Man, the cocoa-centric eatery at 15th and Walnut Streets, for about two months starting Jnue 14:
Brunch: Chocolate & chestnut ravioli, star anise whipped cream

Dessert #1: Chocolate tureen, with candied orange and toasted brioche

Dessert #2: "Chocolate bacon budino," with smoked paprika ice cream and bacon brittle

Drink: Affogat, vanilla ice cream, espresso and shot of Jameson.
Michael Klein, Philly.com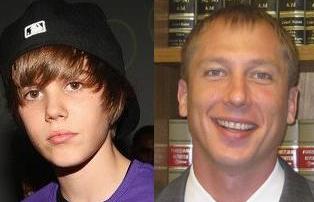 Justin Bieber can't sing.
I refer to Justin Bieber the lawyer from Center City Philadelphia, not Justin Bieber the 16-year-old tween magnet.
Bieber, a litigator with Clearfield Kofsky & Penneys who turns 32 on Thursday, has received smiles every time he's given his name since last summer, when Justin the Younger released his hit single "One Time."
Michael Klein, Philly.com
If the Phillie Phanatic has an extra spring in his step, it's because he's basking in a compliment that actress Renee Zellweger paid him during Sunday's game.
The Phanatic stopped at a suite shared by Zellweger, her beau Bradley Cooper, and his Hangover costar Zach Galifianakis after the guys threw out the first pitch.
Asked what Zellweger said to the Phanatic, mascot associate Tom Burgoyne said: "You had me at -----." (Even mute, the furry green dude can crack you up with the Jerry Maguire reference.)
Michael Klein, Philly.com
June's issue of Bon Appétit mag is out with its "Hot Ten" and it's a rundown of the best places for fried chicken. By design, none is in the South.
Resurrection Ale House (2425 Grays Ferry Ave.) hit it:

"Crispy fried chicken with ice-cold beer is one of the great food-beverage pairings of the world, and this gastropub has exceptional versions of both: lots of locally brewed stuff on tap and twice-fried chicken with a spiced-honey drizzle."
Also named:

Huckleberry / Santa Monica, Calif.
Little Skillet / San Francisco
Big Jones / Chicago
Trina's Starlite Lounge / Somerville, Mass.
Pies 'n' Thighs / Brooklyn
Bar Symon / Avon Lake, Ohio
Pine State Biscuits / Portland, Ore.
Fearing's / Dallas
Cork Market & Tasting Room / Washington, D.C.
Michael Klein, Philly.com
Entrepreneurs Gina Bostic and Adrienne Williams have set Tuesday (6/1) as the grand opening of the Gatehouse Cafe (3300 Henry Ave., 267-297-8234), a breakfast-luncher open weekdays from 7 a.m. to 3 p.m. in a historic building on the grounds of the Falls Center, formerly the Women's Medical College of Pennsylvania.
Menu will include oatmeal, bakery items, yogurts and hot sandwiches for breakfast plus soups, salads and sandwiches for lunch.
Fyi, gelato king Capogiro has a production kitchen in the Falls Center, but contrary to earlier reports, has no plan to open a retail spot there.
Get the flash player here: http://www.adobe.com/flashplayer
Michael Klein, Philly.com
Tuesday, June 1* marks the grand opening of The Diving Horse (2109 Dune Dr., Avalon, N.J., 609-368-5000), the Shore BYO outpost of The Pub & Kitchen that I told you about a couple of months ago.
Concept is seafood-oriented farm-to-table taking advantage not only of the local fishermen but Jersey farmers, according to partners Ed Hackett, Dan Clark, and chef "Jonny Mac" Adams.
Bistro look all around, from the old church floor to apron-clad staff. It will be open nightly.