Archive: May, 2009
Michael Klein, Philly.com

A few seats are still available for tonight's chow-down with Inquirer food columnist Rick Nichols at Reading Terminal Market's La Cucina at the Market.
At "An Intimate Evening with Rick Nichols" (5:30-7:30 p.m., $55 a head), he'll talk about his work while some of his local favorites are shared, including ricotta and mozzarella from Phil Mancuso's Mancuso's Cheese Shop in East Passyunk, dark chocolate Wilbur buds from the Pennsylvania General Store, Gilda's biscotti, Cope's corn and DiNic's pulled pork.
For a spot, call 215-922-1170.
Michael Klein, Philly.com
Workers were scurrying about the Fishtown restaurant Hot Potato Cafe this morning, preparing for its "Kitchen Nightmares" "reveal" tonight.

This new sign went up this morning.

I hear that tonight's reservation book is studded with names such as Mayor Nutter and various athletes (probably Eagles). Series star Gordon Ramsay and his crew ate dinner last night at El Camino Real in Northern Liberties, and the packed house went wild.
Michael Klein, Philly.com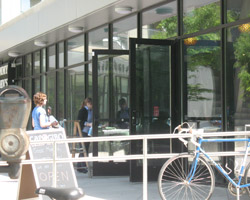 Five days after opening their third Capogiro location at 1625 E. Passyunk Ave., gelato hucksters John and Stephanie Reitano have unlocked the doors to their fourth spot. It's in the Radian at 3925 Walnut St., which is along Walnut between 39th and 40th Streets. Hours are 7 a.m. to 11:30 p.m. weekdays, till 1 a.m. on weekends.
This location includes a wider food menu, a yogurt bar and a liquor license.
In a week or two, John Reitano says, they'll start pouring: 10 wines (mostly Italians, including Prosecco) by the glass and bottle, two American artisanal beers on tap, and the ability to produce cocktails out of sorbet (how 'bout lime sorbet in a margarita).
Michael Klein, Philly.com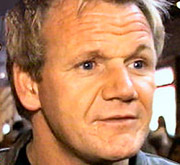 The crew at 10 Arts restaurant in the Ritz-Carlton was surprised around 11 p.m. Tuesday when chef Gordon Ramsay walked in with his people, sans cameras.
Ramsay, in town shooting his restaurant-repair show "Kitchen Nightmares," had just left his tasting dinner at Hot Potato Cafe in Fishtown.
(This is the part of the show when Ramsay -- a three-star Michelin chef -- is served his first meal by simpering staff. It usually results in great TV, what with Ramsay poking through the food to quibble with preparation, ingredients, temperature, textures, mouthfeel, etc.)
Michael Klein, Philly.com
Tuesday night was chef Gordon Ramsay's evaluation dinner at Hot Potato Cafe in Fishtown, where cameras from Fox's "Kitchen Nightmares" are shooting the goings-on. There were crews in the kitchen, the dining room (tables are miked) and even outside.
My moles explain that the restaurant was open for dinner (reservations only) and that after the patrons left, Ramsay was served dinner. This, no doubt, will become the "before" dinner, where he'll do a VO while grumbling how the food sucks. I'm not clear on how many nights they'll continue serving and taping, but the next step in the "KN" process will be a brief closing (later this week) during which they'll remake the kitchen and redecorate. Then the restaurant will reopen for "after."
If you have a reservation, you'll be told to arrive no later than 15 or 20 minutes before your reservation time.
Michael Klein, Philly.com
Leave your "slow service" wisecracks at the door.
On Sunday, the new French bistro Bibou in South Philly will import snail merchant Douglas Dussault from Potironne Company to host a day in honor of National Escargot Day. This has nothing to do with the Slow Food movement.
The $55 menu (it's cash only, BYOB):

Soupe au caviar d'escargot: Celeriac cream infused with Earl Grey tea, snail caviar, smoked duck and snail brochette with Parmesan
Michael Klein, Philly.com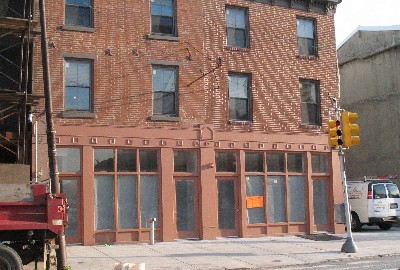 Meze is the tentative name for the restaurant under construction across from L'Oca at 2028 Fairmount Ave. in Fairmount, at the dead-end with Corinthian Street.
Coowner David Orphanides, a zoning attorney, says he and partner Savvas Novrosidis (Fairmount Pizza) intend it as a "comfortable, clean, fresh" place that will "focus on the human experience." Orphanides says food from chef Tim Bellew (MANNA catering, plus Fire in Cherry Hill) will include as much organic as possible.
They hope to open after Labor Day.
Michael Klein, Philly.com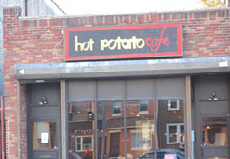 Gordon Ramsay will be at Hot Potato Cafe in Fishtown over the next few days to shoot an episode of Fox's "Kitchen Nightmares," as I reported this morning.
Ramsay's shtick involves tasting the food, making yuk noises, getting the story from chef and management, trying to fix what's broken and walking off into the sunset. (In this case, who knows. It could be onto the Market-Frankford El.)
I hear that the Italian Bistro was also considered for the show.