Archive: April, 2012
Michael Klein, Philly.com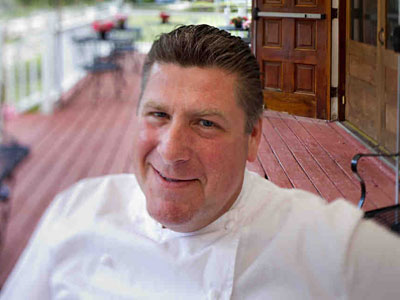 The restaurant business is full of twists and turns. Here's another:
Tony Clark starts Monday, April 9 as chef at Serafina, the popular but critically panned Italian restaurant at 18th and Sansom Streets.
Clark recently parted company with his previous employer, Belvedere Restaurant Group (operator of Queen Village's Tapestry and Manayunk's Agiato), after repeated head-butting with owners.
Michael Klein, Philly.com
Around Rittenhouse Square:
Nicole Marquis is crossing her fingers for a late-April rollout of HipCityVeg, the vegan fast-fooder she has planned for 127 S. 18th St., in the spot that was Pad Thai Shack. (Previous post.)
---
I'd expect an opening by early May for Brodo, the soup-salad-sandwich specialist in the United Plaza building at 31 S. 18th St., a former Naked Chocolate Cafe location. In the middle of everything now, owner Matt Capetola and his wife are awaiting the birth of their first baby, so his father, Bob, is handling the sundry preopening headaches.
---
Michael Klein, Philly.com
You've read here and here how Jose Garces is taking over the catering operation at the Kimmel Center (Broad and Spruce Streets), and will open a restaurant where the venue's gift shop was.
Buttonholed at his new Amada location on the eve of its opening in the Revel resort in Atlantic City, he insisted that he didn't have a name or concept for the Kimmel project, due to land later this year.
But he did tell me that in addition to the restaurant, the space is being equipped with what Garces calls "my perfect kitchen." That is, a 16-seat section built around a cooking space "that only I will use." Garces will cook there as his schedule allows. When he's not there, that portion will be dark.
Michael Klein, Philly.com
It's been a heady three years for Rakesh Ramola, a former chef at Tiffin, and his wife, Heather.
They opened IndeBlue, an Indian BYOB, in a small corner store in Collingswood, and moved across the street last year after they outgrew the space. (The old spot is now Joey Baldino's Zeppoli.)
Now, I can tell you that the Ramolas are coming to Center City with an IndeBlue outpost at 205 S. 13th St., in the storefront near Chancellor Street that for many years was Pastoral, a Korean restaurant.
Michael Klein, Philly.com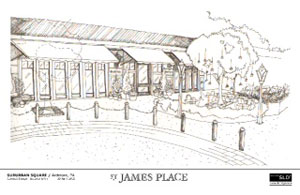 The Saint James restaurant project in Suburban Square in Ardmore is about to ramp up.
The liquor license - subject of a protest - has been approved. The Victoria's Secret store - which will be the site of the restaurant - closed last weekend.
Owners Rob Wasserman (Rouge, 500 Degrees) and chef Michael Schulson (Sampan, Izakaya) expect to take possession shortly, and say that opening is targeted for late July or early August.
Michael Klein, Philly.com
There have been craft fairs held over the years at the Head House Square's shambles, but nothing is similar to what Bob Logue is planning this spring and summer for the landmark along Second Street between Pine and Lombard Streets.
Logue, an owner of Bodhi Coffee and Federal Donuts, has leased the property on Fridays starting May 11 for The New Market at The Shambles. He envisions it as a gathering place for local crafts people, artisans, and food producers/farmers.
The New Market, then, is "not a craft fair," Logue said. If you're buying clothing at wholesale and reselling it, for example, Logue is not interested. But if you design and make your own clothing, you are welcome.
Michael Klein, Philly.com
Another day, another national best-of-food list with local implications.
I mention Food & Wine's list of the top 25 pizza places in the United States.
F&W editors cite the Lombarda pie from Osteria (640 N. Broad St.) and the tomato pie from Tacconelli's (2604 E. Somerset St., Port Richmond).
Michael Klein, Philly.com
Matt Pagano's dream is about to unfold:
A 19-seat bar inside his Pagano's Market in Two Commerce Square (on Market Street between 20th and 21st Streets), as well as portable bars that will operate in Commerce Square's courtyard weather permitting. DAS Architects, which designed Pagano's four years ago, is sketching it out.
The courtyard is undergoing a $10 million renovation that will make it more of a true public space. Pagano says a 20- by 17-foot TV will be set up. "You'll be able to watch a game and have a beer," he said.