Archive: April, 2010
Michael Klein, Philly.com
Audrey Claire Taichman's Twenty Manning, on 20th Street north of Spruce (at Manning), is back after a five-week redo to both its philosophy and look.
She's making it clear that she's trying to impress her neighbors, not necessarily the critics.
It's now Twenty Manning Grill, and chef-partner Kiong Banh has put out an eclectic American menu -- utterly accessible and moderate-priced (everything is $22 and under). There will be a daily special (hot dogs on Mondays, fish and chips on Thursdays, for now). It's dinner only, daily, at the start.
Get the flash player here: http://www.adobe.com/flashplayer
Michael Klein, Philly.com
Rich Landau and Kate Jacoby, whose Horizons (611 S. Seventh St.) was the first vegan restaurant ever represented at the James Beard House in New York, will make a return trip on June 9.
Here's the menu, studded with such dishes as Sunchoke and Horseradish Bisque with Mustard Croutons and Dill Pollen; Salt-Roasted Golden Beet Carpaccio and Tartare with Applewood-Smoked Tofu, Avocado, Capers, Pumpernickel, and Cucumber-Dill Cream; Glazed Nebrodini Mushroom with Smoked Miso, Chinese Broccoli Purée, Seaweed Caramel, and Cucumber Sashimi; and Grilled Tofu with Spring Garlic Salsa Verde, Gigante Bean Purée, Pioppini Mushroom Nage, Raw Ratatouille, and Olive Jerky.
Michael Klein, Philly.com
Sunday (4/25) is the opening date for El Rey, Stephen Starr's casual Mexican diner at 2013 Chestnut St.
Construction is just about finished on the dining room, but the back bar -- the Ranstead Room, with its -- is a work in progress. New York mixologist Sasha Petraske has devised a 1940s-'50s cocktail menu for the bar, which will have a private entrance on Ranstead Street.
More details here.
Get the flash player here: http://www.adobe.com/flashplayer
Michael Klein, Philly.com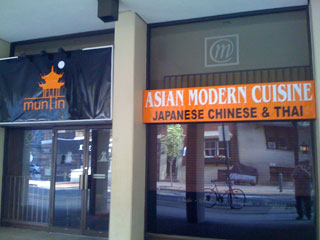 Muntin, serving a Chinese, Japanese, and Thai menu, is being readied for a May opening at 1326 Spruce St., the ground floor of Center City One.
Owner wants anonymity for now, as he's wrapping up work at a respected Asian restaurant in Chestnut Hill.
The space previously was Misso, whose owner Bruce Kim seems to have vanished.
Michael Klein, Philly.com
Fox29's Jennaphr Frederick spotted Renee Zellweger and pooch Charlotte on a coffee run in Center City this morning.
Zellweger dates Bradley Cooper, who's in town shooting the movie The Dark Fields.
Michael Klein, Philly.com
Jackie "the Joke Man" Martling, formerly of the Howard Stern show, will join WYSP's Danny Bonaduce in studio during his whole show Tuesday (5:30-9 a.m.).
Martling is releasing a new CD.
Michael Klein, Philly.com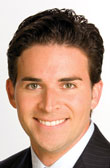 To answer the question, "Jamison Uhler leaving NBC10?" that was raised today on Laura Nachman's media blog:
The answer is yes. He's going to Tampa for an evening anchor's job at WFTS, the ABC affiliate, which goes by Action News, according to sources at both stations.
Uhler, who's 34 and grew up in Media (Penncrest High '93), did not return a call for comment. He's been at NBC10 for more than four years, after a stop in Orlando.
Michael Klein, Philly.com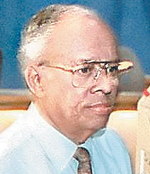 Several hundred people gathered at Deliverance Evangelistic Church in North Philadelphia on Friday to say goodbye to veteran Channel 3 reporter Malcolm Poindexter, who died March 30, four days before his 85th birthday.
The service included musical performances (opera and gospel) as well as a dance performance in tribute to Poindexter who was a passionate patron of the arts.
Speakers included Gov. Rendell, Mayor Nutter, Councilwoman Jannie Blackwell, former coworkers Pat Ciarrocchi and Ukee Washington as well as Orien Reid, who spoke about Poindexter's struggle with Alzheimer's disease.