Archive: April, 2009
Michael Klein, Philly.com
A boon for you out-of-towners -- and for those who can't get 610 -- who want to hear a Flyers game:
WIP and the Flyers just signed a deal for 610wip.com to web-stream all games for the rest of the season. Games also can be heard via the AOL application for the iPhone or on Nobex Radio on the Blackberry.
Its debut was April 9.
Michael Klein, Philly.com
Billy Wong, one of the founders of Queen Village's Mustard Greens (1992), leads a peripatetic existence. You've seen him at Billy Wong's in Old City. He popped up on the edge of Northern Liberties with Taste (it's now Modo Mio). Then he started running Ly Michael in Chinatown.
Saturday (4/11) is the public debut of Billy Wong's in Warminster Shopping Center at 340-342 York Rd., just south of Street Road. (Give Wong some credit. As a former Southampton resident, I can attest that there is no decent Asian food for miles around there.)
Here's the menu for your review.
Michael Klein, Philly.com
After 12 years, Savona owner Evan Lambert says, "It's time to evolve" at the Gulph Mills destination.
It's closed for renovations and is expected to reopen mid-May, in time for graduations and Mother's Day.
The evolution means that Savona will break out a 30-seat fine-dining room, where traditionalists can order from Andrew Masciangelo's refined Riviera-inspired menu.
Michael Klein, Philly.com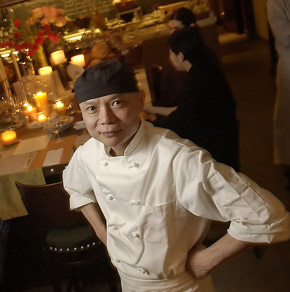 Chef Thien Ngo spent seven years at Fork in Old City before he announced he was retiring and would move back to Vietnam.
Weeks after he stepped away from the stove in late January, he resurfaced with assistant Jose Leon at Coquette, a bistro on the Queen Village/Bella Vista border. The mission was to add a Vietnamese-Thai influence to Cary Neff's French menu.
Now Ngo is gone.
Michael Klein, Philly.com
NBC put the cooking reality series "The Chopping Block" on the shelf after three episodes, and would not say when it might be revived.
Episodes 4 and 5 are now on Hulu.
Sorry for the spoiler -- you actually watched it? -- but at the end of No. 5 you see the departure of mother-daughter team Angie Brown and Samantha Johnson, who own Soul, a Chestnut Hill BYOB.
Michael Klein, Philly.com
In January, Kildare's veteran Paul Lauriello took over the Head House Square location of Kildare's with his wife, Christine, and reflagged it the Get Happy Pub.
Lauriello ain't happy. He says he's out of business "for now" after someone from Kildare's physically took the liquor license off the wall on Wednesday.
Lauriello said it's because he declined to sign a transfer agreement presented by Kildare's owner Dave Magrogan. Lauriello said Magrogan had refused to turn over the license, which Kildare's owns, unless Lauriello signed.
Michael Klein, Philly.com
Owners of Le Virtù in South Philly are organizing an event on Tuesday, April 28th, with all proceeds going directly to the victims of the earthquake in Abruzzo. Francis Cratil says he will charge a minimum price, serve buffet-style and perhaps tent the patio and garden, all to maximize space and capacity.

Cratil writes: "L'Aquila, the city worst affected by the quake, was our home (with our Jack Russells) for 6 months in 2001. We've spent significant time in the town every year since 1999. Our time there changed our lives: there would be no restaurant without L'Aquila and the beautiful people there who were our friends and neighbors. All our friends, all the shopkeepers whose places we frequented, are homeless or worse. Since Sunday night we've been in contact with friends and family by phone and email, and the aftershocks, the fear and the destruction continue. It is all unspeakably sad and devastating."
I'll post the particulars when available.


Michael Klein, Philly.com
There's no shortage of griping in the restaurant business, but it's usually the employees doing the venting.
Props to Chris Leonard, who after pulling the plug on his Franklintown gastropub, the Tiedhouse, blogged his reasons for closing. I'm sure there are more than a few restaurateurs out there who read it and nod vigorously:
The continued indifferent approach to work that I find on a daily basis infuriates me to the point that, if I could, I would simply fire everyone and start over. My current staff will probably read this and wonder if I am writing about them. Well, I am. I am speaking to every restaurant worker who believes he or she is self-employed; that they can dictate their own hours, treat guests however they feel is appropriate, ignore basic rules ownership has laid down, etc.