Archive: April, 2009
Michael Klein, Philly.com
Something is up at Union Trust, the steakhouse at 717 Chestnut St.
A year and a half after UT was conceived and nearly three months after it opened, Terry White has split from partners Ed Doherty and developer Joe Grasso, according to Doherty. White did not immediately return my call.
Kevin Sbraga, former culinary director of Jose Garces' Restaurant Group, comes on board as chef de cuisine, working with sous chef Quincy Logan, formerly of Capital Grille. Doherty opened Capital Grille in Philadelphia.
Michael Klein, Philly.com
Shank's & Evelyn's last day at 932 S.10th St. is Thursday, and Pamela Poppa says the family is indeed taking over 120 S. 15th St., a narrow slot in a parking garage between Chestnut and Sansom Streets, behind the Union League.
She hopes to open there in six to eight weeks.
Michael Klein, Philly.com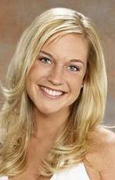 "The Bachelor" contestant Hillary Reisinger will host a preticketed advance screening of the flick "Ghost of Girlfriends Past."
She'll make her entrance at the Ritz Five at Second and Walnut around 7 p.m.
Michael Klein, Philly.com
The Kibitz Room's Center City outpost has opened the lox (sorry) at 1521 Locust St. (215-735-7305).
It'll close today at 2:30 p.m. because of a private party. Regular hours will be 7 a.m. to 9 p.m. Mondays through Thursdays, 7 to 11 p.m. Fridays and Saturdays and 8 a.m. to 8 p.m. Sundays.
A veritable deli war is on its way as Kibitz Room founder Russ Cowan plans to open a branch of Famous Deli at 38 S. 19th St. Cowan sold the Kibitz to Neil Parrish, who owns both the Cherry Hill and Center City locations.
Michael Klein, Philly.com
Is Stephen Starr going into the old Cosi at Second and Lombard Streets with a pizza-beer-and-wine concept called Pizza Select?
Starr said no lease has been signed.
This seems to be one of the concepts he had cooked up for Letto Deli, whose deal was scuttled.
Michael Klein, Philly.com
"Captain Janks," the crank-caller who made a name for himself on the Howard Stern show, is in Montgomery County Prison.
Thomas Cipriano, 43, of North Wales, is in more hot water for allegedly skipping out on another personal appearance.
Plymouth Township (Montgomery County) Police arrested him on Thursday.
Michael Klein, Philly.com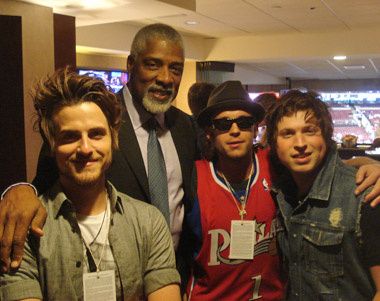 The Kings of Leon stuck around after their Saturday show at the Spectrum so they could see Sunday's Sixers-Magic game at the Wachovia Center.
Before the game, they were allowed on the court to take a few shots.
They also met Andre Igoudola and Julius Erving, and came up with a Dr. J photo and autographed basketball.
Michael Klein, Philly.com
Singer Lauren Hart will miss Game 6 of the Eastern Conference quarterfinals between the Flyers and Penguins on Saturday, as she and husband, coffee magnate/explorer Todd Carmichael, are en route to Ethiopia where they'll be adopting their first child.
The Flyers will play a video of Hart performing "God Bless America" in a duet with the late Kate Smith before the game. Members of the local military will present the colors of the American Flag on the ice.
This is the first time in eight seasons in which Hart will be unavailable to perform live.