Archive: March, 2012
Melissa Monosoff, one of the region's most honored wine experts, has relocated to that great wine region: Dallas, Texas. Working out of Savona in Gulph Mills, Monosoff won her master-sommelier credentials two years ago - becoming at the time the 15th female master sommelier in the world. "I got a great job - the kind I had been looking for as a director of education for an importing and distributing company," says Monosoff, part of the gang at the old Striped Bass. "So I get to learn a whole other side of the business and see what another state is like in the wine and beer world. I have a bunch of friends here and also my boyfriend lives here. So it's a win on all accounts."
---
Matt and Colleen Swartz and Matt Scheller of Center City's The Farmers' Cabinet (1113 Walnut St.) confirm speculation here and here that they're going around the corner to take over the short-lived Blue Bear Tavern (216 S. 11th St.). In case you've never heard of the Blue Bear, know that it used to be Doc Watson's and reopened last fall after an expensive, top-to-bottom renovation. Supposedly Swartz and Scheller are working on a Southern concept in the two-story building. Swartz/Scheller operations manager Will Pumphrey acknowledges that the tiki bar planned for the former Transit nightclub at Sixth and Spring Garden Streets is not going to happen.
Michael Klein, Philly.com
Philly is getting yet another pedigreed chef.
Gregory Vernick, who spent most of his career in the Jean-Georges Vongerichten orbit, follows such recent imports as Joshua Lawler of The Farm & Fisherman (ex-Blue Hill at Stone Barns), Walter Abrams of Le Bec-Fin (ex-French Laundry), Andrew Wood of Russet (ex-San Francisco's Quince and Chicago's Tru), Joe Cicala of Le Virtu (ex-Galileo and Cafe Milano in D.C. and Del Posto in New York), and Sylva Senat of Tashan (ex-Jean-Georges, by way of Buddakan)
It's taken nine months or so, but Vernick is getting close to opening Vernick Food & Drink, his bi-level bistro in a brownstone at 2031 Walnut St.
Michael Klein, Philly.com
The James Beard Foundation went to Las Vegas to announce this year's finalists for James Beard Awards.
And Philly was a big loser.
Despite semifinalists in assorted categories (see here), only two will move on the finals of what is called the Oscars of the culinary world. Awards will be doled out May 7.
Michael Klein, Philly.com

Rx at 45th and Spruce Streets in West Philly, which closed over the winter in a still-unexplained management shakeup, is coming back. Soft opening will be Friday (3/23).
Saturday (3/24) will be the first brunch service, followed by dinner.
Michael Klein, Philly.com
Cupcake trucks and taco trucks and coffee trucks and pizza trucks...
How about a wing and burger truck?
Sports bar chainlet P.J. Whelihan's now has a food truck.
Michael Klein, Philly.com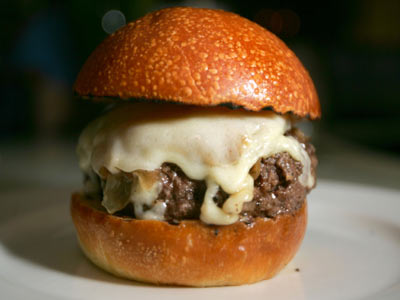 Last year's debut of Burger Brawl drew 18 restaurants, whose chefs created tasty burgers in the schoolyard of Meredith Elementary School. The event raised money for the public school.
This year, it'll be back and bigger, May 6 at 3 p.m. at the Fleisher Art Memorial, 719 Catharine St.
It's been moved from Meredith because organizer Rob Wasserman (who has a son at the school and owns the restaurants 500 Degrees and Rouge) obtained alcohol companies Jim Beam and Dogfish Head as sponsors. Alcohol is a no-no in a schoolyard, even when school is out.
Michael Klein, Philly.com
Another dive bar is getting a pick-me-up.
Fishtown Tavern, on Frankford Avenue at Thompson Street in Fishtown seemingly for eons, is in play.
Prospective buyers are Curt Large, who owns Buffalo Billiards in Old City, and his general manager, Josh Semesh, who lives nearby.
Michael Klein, Philly.com
Michael Solomonov and Steve Cook (of Zahav, Federal Donuts, and Percy Street BBQ) will open a spot on the Main Line this summer.
Unlike Zahav, whose bill of fare is modern Israeli, they will do glatt kosher European Jewish cuisine at Citron and Rose (368-370 Montgomery Ave., Merion). The restaurant and its on- and offsite catering company will be down the block from Hymie's Merion Deli.
They're working with David Magerman, the philanthropist who created the Kohelet Foundation, which supports kosher laws and Jewish day-school education.