Archive: March, 2011
Michael Klein, Philly.com
Michael Solomonov of Society Hill's Zahav and the Center City temple of Italian dining Vetri have made the James Beard Foundation's list of nominations for culinary awards.
Solomonov, also chef at Xochitl and Percy Street, is the running for best chef in the mid-Atlantic region. (How only one Philly chef made it to the finals of this regional grouping is beyond me.)
Vetri is one of five restaurants vying for outstanding restaurant in the United States.
Michael Klein, Philly.com
Kevin Meeker is one of the oldtimers in Old City. Twenty-eight years ago, he and his wife, Janet, opened Philadelphia Fish & Company, which in 2009 they reconfigured as Q BBQ & Tequila as they took on a partner, Tom Stewart.
But although the lease is due to expire in August, Meeker told me that his days at 207 Chestnut St. are numbered.
He acknowledges that he is behind on his rent, and a check of Common Pleas Court records confirms that the landlord has filed a judgment.
Michael Klein, Philly.com
The spot in Northern Liberties off the corner of Second Street and Fairmount Avenue that was Kong and previously Sovalo (702 N. Second St.) is getting new life as a gastropub called The Blind Pig. More info forthcoming.
---
Cooperage Wine & Whiskey Bar (137 S. Seventh St., inside the Curtis Center) is starting a restaurant industry night on the third Monday of each month. It's applying the term "industry night" a tad loosely, shall I say, as GM Alex Bokulich is opening this event to anyone who works in or patronizes restaurants. Yes, open to everyone. Chef Ben Martin will put out comp food from 7 to 8 p.m. along with drink specials until closing at 2 a.m. The launch event this Monday (March 21) will include free roasted hog on Weck sandwiches, that Buffalo-area treat. After 8 p.m., the sammies will sell for $5 each. Martin is roasting a 75-pound hog and basting it with Rogue's Bourbon Barrel-aged John John Dead Guy Ale.
Michael Klein, Philly.com
No time like the present, right?
Two pubs have picked March 17 -- one of the busiest drinkin' days of the year -- for their rollouts.
In the works for nearly 15 months, 1518 Bar & Grill is serving a moderate-priced Greek-influenced pub menu (lunch and dinner daily) and 10 beers on tap beneath behind-the-bar TVs in a narrow storefront at 1518 Sansom St. (267-639-6851), next to Oyster House, beneath a portion of Nodding Head, and a couple of doors from Oscar's and Ladder 15.
Michael Klein, Philly.com

The spot at Seventh and Bainbridge Streets in Bella Vista that was briefly Ro-Zu will become a sushi spot called Big Eyes Sushi. Chef/owner Sugi Wijaya emigrated from North Carolina and hopes to open in the April 5-10 window, after inspections and such.
---
Jose Garces has an Iron Chef America battle at 10 p.m. April 17 on Food Network. His opponent will be Vitaly Paley of Paley's Place in Portland, Ore.
---
From the "aw, shucks -- wish I'd thought of that" department: Greg Cohen of Southern Wine & Spirits and programmer Simeon Greene have come up with the iPod/iPhone app OysterGuru, which they bill as the most comprehensive guide for identifying East and West Coast oysters from the United States and Canada. They will host a launch party, fittingly enough, at Oyster House at 1516 Sansom St. from 5 to 7 p.m. April 4. Details are here. And, no -- wise guy -- it was programmed in Xcode, not in Perl.
Michael Klein, Philly.com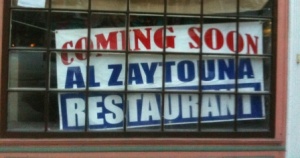 Al Zaytouna, as in Olive Tree, is coming to 906 Christian St., next to Sabrina's in the Italian Market.
Owner Koubeil Ben Ayed, who managed for Top Dog in Cherry Hill and University City, among other restaurants, says he's a week or two from opening.
Concept will be moderate-priced food -- figure on $10 to $15 a head -- from all over the Mediterranean, but mostly the Middle East. (He is Tunisian.)
Michael Klein, Philly.com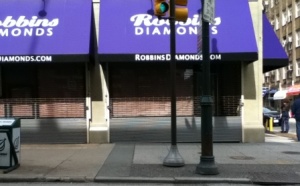 Le Pain Quotidien's first Philly location, 1423-25 Walnut St., has been going gangbusters during its first two months.
Now I'll tell you about a second outlet for the upscale-casual Belgian-rooted boulangerie/cafe:
The northwest corner of Eighth and Walnut Streets, as in the former flagship store of Robbins 8th & Walnut Jewelers ("our name is our address"), a block off Washington Square.
Michael Klein, Philly.com
Tickets are on sale for the 2011 Great Chefs Event, for which Marc Vetri and the Vetri Foundation assemble a huge roster of chefs for a feast benefiting Alex's Lemonade Stand Foundation.
This year's outing, at Urban Outfitters' HQ at the Navy Yard, is the evening of June 14.
Vetri and business partner Jeff Benjamin have RSVPs from a who's who, including Top Chef's Tom Colicchio, Iron Chef Jose Garces, Robert Aiken of Dandelion, Kiong Bahn of Twenty Manning, Jennifer Carroll of 10 Arts, Daniel Stern of R2L and Midatlantic, and Michael Solomonov of Zahav, Xochitl, Percy Street, and the forthcoming Federal Donuts.