Archive: March, 2011
Michael Klein, Philly.com
Philadelphia Cinefest's big splash will be a red-carpet screening on April 10 of the Philly-shot drama Cost of a Soul, which stars Chris Kerson and Will Blagrove as Iraqi war veterans coming home to the mean streets.
It's the first project from screenwriter/director Sean Kirkpatrick, a Norristown native, who filmed on Philly's mean streets over 19 days in April 2009.
Tickets for the 7 p.m. screening at the Ritz East are on sale now. It will be shown in 35mm.
Michael Klein, Philly.com
Bunim-Murray Productions will be in Philly on Saturday, April 2 for a casting call for the 26th season of The Real World.
It will run from 10 a.m. to 5 p.m. at Fado Irish Pub, 15th and Locust Streets.
Casting people are looking for the usual: "Characters from real life; people with strong personalities who are unafraid to speak their minds" as well as "anyone with a great personality and a willingness to share their life with the world. Most of all, we are looking for surprising and unusual life stories that have yet to be told on television."
Michael Klein, Philly.com

The restaurant going into the AKA Rittenhouse Square, on 18th Street north of Walnut, has an overseer (David Fields) and a chef (Bryan Sikora).
And now it has a name, one that at least will provide an alphabetical advantage.
It's known as a.kitchen -- pronounced "ay kitchen."
Michael Klein, Philly.com

Speck, in the Piazza at Schmidt's in Northern Liberties, cost nearly a million bucks to build.
And it might very well open someday.
But will Shola Olunloyo be chef-owner of the restaurant?
Michael Klein, Philly.com
Panini, salads, frozen yogurt, and, yes, Tastykakes will be on the menu this season at Citizens Bank Park.
Concessionaire Aramark this morning announced some additions.
More healthful: A Philly Fresh stand, behind Section 139, will feature a Hall of Fame Salad (mixed greens, red grapes, pistachios, dried cranberries, blue cheese, balsamic vinaigrette); Shanghai Chicken Salad (grilled chicken breast, mixed greens, crispy Asian-style noodles, carrots, scallions, low-fat ginger soy dressing); trail mix; whole-grain pretzels; strawberry banana, and mango smoothies; low-fat yogurt and berry parfait; hummus dip with pita crisps; carrots and celery with low-fat ranch dressing; Go-Gurt yogurt and sugar-free Tastykakes.
Michael Klein, Philly.com

Central Pennsylvania's Appalachian Brewing Company is shooting for end of April or early May to open its first suburban Philly brewpub, which it is setting up in the former Hemingway's in Collegeville Station (Main Street and West Third Avenue in Collegeville).
ABC's Artie Tafoya tells me that the new location will most resemble the company's Gettysburg location, as it will have pitched ceilings and heavy use of timbers.
Throughout the year, ABC offers 20 to 25 different beers, Tafoya said.
Michael Klein, Philly.com
Ahmir "?uestlove" Thompson, drummer for the Roots and bandleader on Late Night With Jimmy Fallon, is expanding his personal brand, as his manager says.
Part of that expansion involves an undisclosed food project in Philly, his hometown.
He needs a chef.
Michael Klein, Philly.com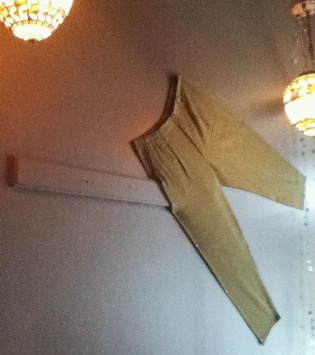 Jolly Weldon has indeed packed up the keyboards from Jolly's Dueling Piano Bar from 2006 Chestnut St. and on Friday, March 25 will open in a larger space in the Academy House (1420 Locust St.). See background here. It will be open for lunch and dinner and Sunday brunch; the dueling-piano shows start at 8 p.m. Wednesdays through Saturdays.
---
Gordon Dinerman, opening a brick-oven pizza and craft-beer joint in late May called Birra on the East Passyunk strip at 12th and Morris Streets, has a few novel twists in store: Everything on the menu will be available as a pizza topping, such as the meatballs from the meatball gratin appetizer, which can be paired with wild mushrooms and cured olive paste, or roasted peppers and artichokes twinned with several selections of locally cured salumi, or a seafood pie combining baked clams casino, shrimp scampi, and mussels fra diavolo. Dinerman's signature will be Birra Bowls, an open-face calzone baked in a bowl and flipped upside down.
---
Hate to start a sentence with a numeral, so note that 1601, the gastropub at 10th and Tasker Streets in South Philly, seems to want to reopen. It's been shut down for several weeks, and its Facebook page cited an "administrative glitch" with the Liquor Control Board. So what on earth could precipitate an administrative glitch resulting in the closure of an otherwise operating bar? Management of 1601 didn't reply to my emails, but the LCB explains that the license expired Oct. 31, 2010, and that the licensee reached out to the authorities for renewal on March 14, 2011. Since 1601 had been out of compliance for more than 90 days, the state investigates to determine whether it is still current with health requirements and meets board requirements.So stay tuned.
---