Archive: February, 2013
Michael Klein, Philly.com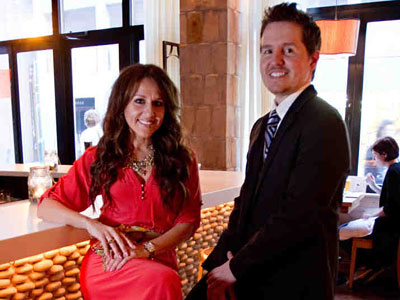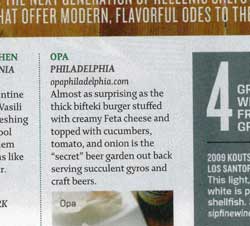 Congrats to George and Vasiliki Tsiouris, whose modern Greek spot Opa (1311 Sansom St.) was named one of the best new Greek restaurants in the country by Details mag.
It's praised for the bifteki burger and the "secret beer garden out back serving succulent gyros and craft beers."
The piece also plugs the forthcoming Kapnos opening in Washington, D.C., from Mike Isabella, the alum of Top Chef plus Philly restos Alma de Cuba and Washington Square.
Michael Klein, Philly.com
Thursday, Feb. 21 marks the debut of Fitler Dining Room, a dinner-only bistro from Dan Clark and Ed Hackett (the Pub and Kitchen, Avalon's The Diving Horse) at 22d and Spruce Streets, where Meme was (and Melograno before it relocated).
The 32-seater's look evokes post-industrial '20s and '30s. Two beer taps are set in the dining room - small-batch crafts - plus 12 to 20 bottles. Artisan wines (about 40 bottles and 10 by the glass) will include an enviable champagne selection as well as after-dinner ports, sherries and the like.
Exec chef Robert Marzinsky has worked as chef de cuisine at Pub & Kitchen and The Diving Horse, and more recently assisted with the opening of Stateside on East Passyunk.
Michael Klein, Philly.com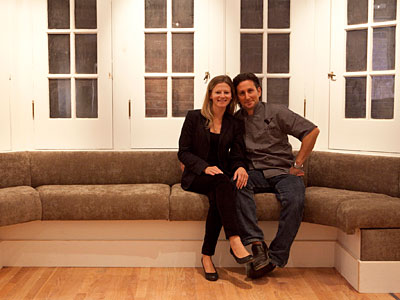 The plaudits keep rolling in for Vedge, Rich Landau and Kate Jacoby's vegan destination on Locust Street.
Alan Richman, the restaurant critic (and former Philadelphia Bulletin writer), has named Vedge to #3 on his list of the dozen best new restaurants in the nation, in the March issue of GQ.
Given GQ's manliness, this is a bit of a surprise.
Michael Klein, Philly.com
Critics may have loved Pascual "Pat" Cancelliere's Italian/Argentine BYOB at 943 S. Ninth St. in the Italian Market, but critics don't pay the bills.
And so, Cancelliere tells me that Wednesday, Feb. 13 was his last day after two years. Cancelliere spent the better part of two years building the restaurant, and even for a time toyed with the idea of obtaining a liquor license.
Cancelliere, who had open-heart surgery last summer, said he'd take time off and get a job.
Michael Klein, Philly.com
To everyone in Northeast Philly/Eastern Montgomery County who has suffered through years of mediocre Jewish deli food - cold, stuck-together sliced corned beef, greasy latkes, and matzo ball soup so salty, it tastes as if Lot's wife had bathed in it - you have to try Schmooze in Jenkintown.
First off, its contemporary, vaguely industrial motif looks nothing like the glaring-lit, drop-ceiling delis of yore, including Murray's, its predecessor in the shopping center on the Fairway next to the Whole Foods.
Second, it's clear that care is taken in the food from chef Mark Harris, who like his business partner Jeff Kalinsky, is a veteran of Betty the Caterer. (Betty is kosher; Schmooze is not.) They also sell Junior's Cheesecake.
Michael Klein, Philly.com

Hiroyuki "Zama" Tanaka of Rittenhouse Square's Zama has selected coZara as the name for his second restaurant, coming to Drexel's Chestnut Square development at 3200 Chestnut St. this August/September.
He says coZara means "small plates"; the izakaya will serve ramen, noodle, donburi, yakitori and dumplings.
Michael Klein, Philly.com
A sales brochure from Precision Realty Group making the rounds is seeking a tenant for 1519 Walnut St., at one time in the heart of Center City's restaurant row when such giants as Le Bec-Fin, Circa, Susanna Foo and Striped Bass were destinations.
For the last several months, it has been trading as Tira Misu, a Roman Jewish restaurant. Chef Alberto Del Bello opened it in 1995 as Il Portico, a swish Italian. At the time, he ran Tira Misu on Fifth Street near South.
Del Bello brushed off my suggestion that Tira Misu's days may be numbered, saying, "I'm going full speed ahead here."
Michael Klein, Philly.com
Day by Day, the Rittenhouse lunch/brunch landmark, is marking its 32d anniversary with throwback pricing next week.
It's clear that the inflation rate in menu pricing is much lower than other sectors.
In 1981, when Day by Day opened at 21st and Sansom Streets, you got a dessert for $2.50. Now it's twice that.