Archive: February, 2013
Michael Klein, Philly.com
Lights ... Camera ... Doughnuts.
The ABC show The Chew - with chef Jason Roberts - is doing a morning-to-noontime shoot at the Federal Donuts shop on Sansom Street.
The episode airs at 1 p.m. Wednesday, April 17.
Michael Klein, Philly.com
Matt Zagorski has left his post as executive chef at Hickory Lane, across from Eastern State Pen in Fairmount, which he opened in early 2012.
He's landed with GuestCounts Hospitality, aka Cuba Libre.
Despite his fine-dining background (Striped Bass, Lacroix), Zagorski is perhaps best known for burgers (from his stints at Rouge and 500º).
Michael Klein, Philly.com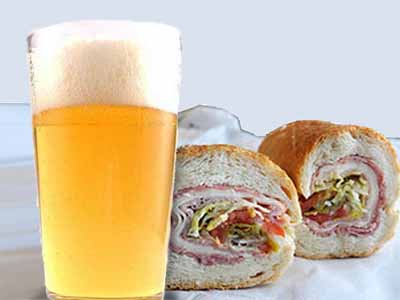 Another South Street hoagie shop?
Not quite.
The Primo Hoagie outlet that is fixing to go into 326 South St. is also applying for a liquor license. It won't be a bar. I hear that it hopes to sell bottled and canned beer.
Michael Klein, Philly.com
Two out of three ain't bad: The new restaurant at 927 Race St. is called Happy Noodle Bar.
There's plenty of happy from the sweet staffers, and oodles of noodles, including Beijing-style soups. "Bar"? Nah. Not a drink or even a counter to enjoy said noodles.
Snug storefront - which was Nan Zhou Hand-Drawn Noodle House before it was evicted and relocated a block away - is clad in that ubiquitous wood-and-fieldstone motif.
Michael Klein, Philly.com
Here's one from the No Good Deed Goes Unpunished Department:
Chef Peter Woolsey beat up his stove long enough at Bistrot La Minette, so he ordered a new one. Childhood buddy Laura Frangiosa is opening The Avenue Delicatessen in Lansdowne and needed a stove. A used one would do.
Frangiosa accepted Woolsey's old stove, which he disconnected and hauled out of the kitchen.
Michael Klein, Philly.com
Adam Kanter knows his rum, not only having owned Rum Bar but from his homebrewing experiment in the basement of that former restaurant that brought a visit from the state police. (Apparently you cannot distill rum without a license.) With Rum Bar closed - and destined to become Tria Taproom this summer - Kanter needed work. Now he's running the beverage side at Bainbridge Street Barrel House at Sixth and Bainbridge Streets.
Jennifer Choplin did not survive the train wreck that was the Butcher & the Brewer. The edgy chef, who also has Watkins Drinkery and Resurrection Ale House on her resume, has landed as chef at SoWe at 22d and Carpenter Streets.
Michael Klein, Philly.com
Fourth and South Streets was a different place in October 1996 when The Latest Dish opened with the nightclub Fluid above it on Fourth between South and Bainbridge.
"There was much less competition and activity in that part of town," said Tony Schiro, who opened Latest Dish/Fluid with a since-departed partner. "Things now..."
His voice trailed off.
Michael Klein, Philly.com
The "big list" of James Beard Award semifinalists - which will be winnowed by Beard voters to finalists on March 18 - has been released.
No Philly restaurant is up for the best-restaurant honor this year.
But Vernick Food + Drink - Greg and Julie Vernick's hot number at 2031 Walnut St. - is the lone Philly entry out of 29 semifinalists for best new restaurant