Archive: February, 2011
Michael Klein, Philly.com
Today (2/7) only, Kimmel Center Presents is waiving the fees on tickets for Broadway Series and Kimmel Center Presents performances.
Though fees vary, buyers of a Kimmel Center Presents ticket must pay $8 to $10 and buyers of a Broadway show must pay $13 to $15.
Included today are STOMP, Mary Poppins, Next to Normal, plus some featured performances (Savion Glover's SoLo in TiME, John Mellencamp, PIFA's A Passing Wind, Rennie Harris Puremovement, ?uestlove of the Roots with guest Keren Ann, and Jerry Blavat's Rock & Roll Extravaganza), and events during the inaugural Philadelphia International Festival of the Arts (April 7 to May 1).
Michael Klein, Philly.com
Bravo is casting for both Season 9 of Top Chef and the second season of the spinoff Top Chef Just Desserts.
Open calls for chefs and pastry chefs will be held in cities across the country starting on Feb. 27.
The Philly date is Wednesday, March 2 from noon to 3 p.m. at the Sofitel, 17th and Sansom Streets.
Michael Klein, Philly.com
The satirical paper the Onion is coming to Philadelphia on March 3, but don't expect such headlines as:
RIDE THE DUCKS SIGNS DEAL ON PENNYPACK CREEK
or
Michael Klein, Philly.com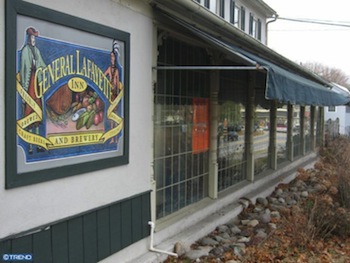 The General Lafayette Inn at 646 Germantown Pike in Lafayette Hill, which shut down last fall, is on the market.
The listing reads:
Own part of History! The General Lafayette Inn is the fifth oldest tavern in the United States, built in 1732. The transaction of the two lots would include the restaurant building, five-bedroom Bed and Breakfast, and two bedroom cottage that sit on two acres of land. Established business that was open prior to October 2010. Fully functional kitchen, liquor license, large dining room, two bars, upstairs room that can be used for Rehearsal dinners and other parties, as well as micro-brewery and equipment.
Michael Klein, Philly.com
Takeru Kobayashi, generally regarded as the world's fastest eater, spent the weekend in Philly.
He appeared at Wing Bowl 19 to snarf a steak. For the record, it was from PJ Whelihan's.
Kobayashi, 32, transplanted from Japan to New York about eight months ago.
Michael Klein, Philly.com
Hold your horses on Fathom Seafood House, the Mike Stollenwerk seafooder coming to Fishtown. Electrical issues. Place had to be totally rewired throughout and will need another inspection before opening. Stollenwerk is taking advantage of the delays by ramping up the interior design.
---
Cantina Feliz in Fort Washington has opened for weekday lunch. Here's the menu. Cost ya $12.95 for two courses.
Michael Klein, Philly.com
January is the cruelest month for restaurants, they say, and two more have bitten the dust.
Chef Charin, which Charin and Pongsavat "Pong" Pitakanon opened in 1995 at 126 Bala Ave. in Bala Cynwyd, buttoned up over the weekend. The couple have retired to Thailand, according to their landlord.
Johnny Apples on Buck Road in Holland, Bucks County -- a pub of no relation to the New York Timesman -- is closed. The building, sans liquor license, is being offered at $850,000.